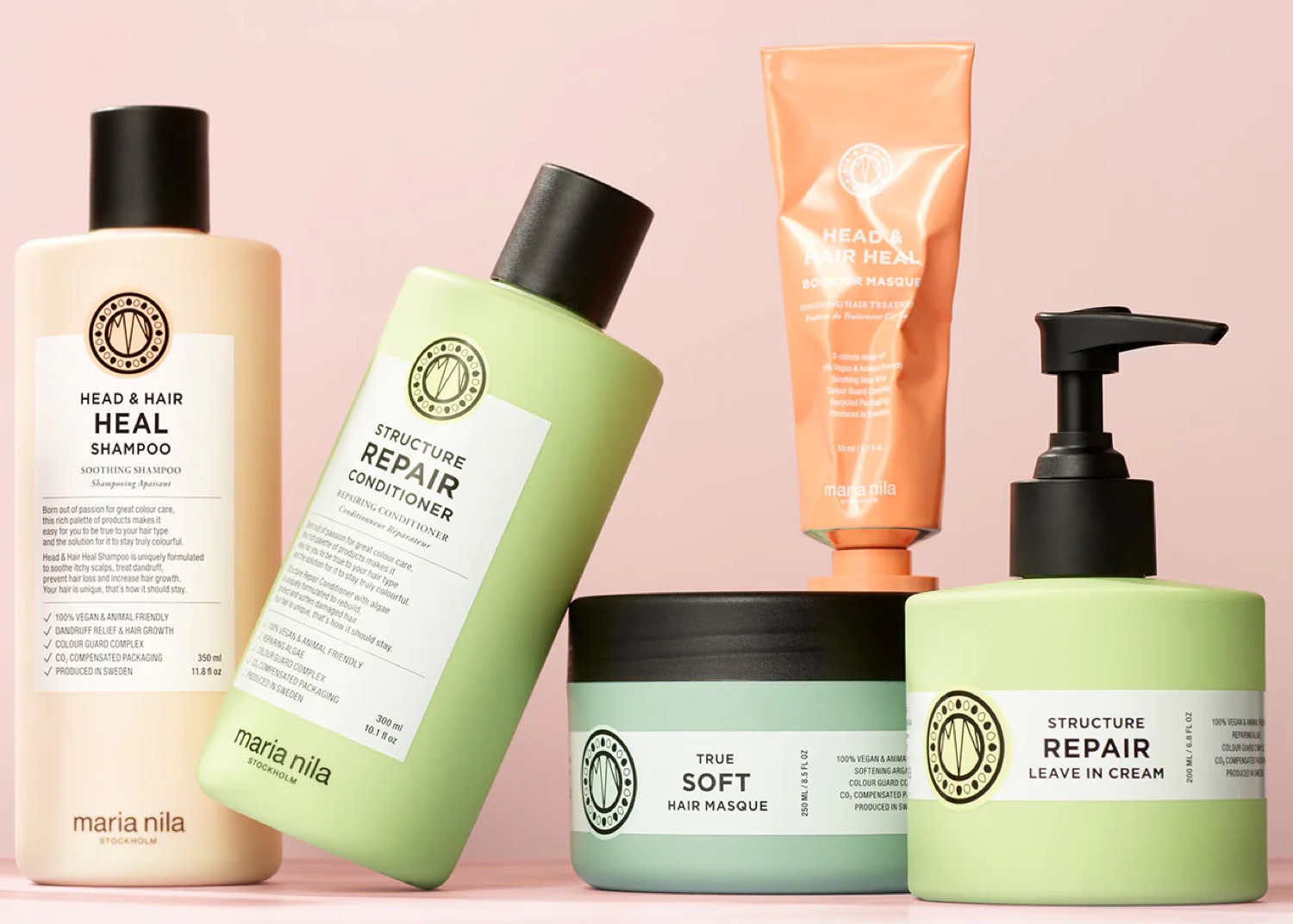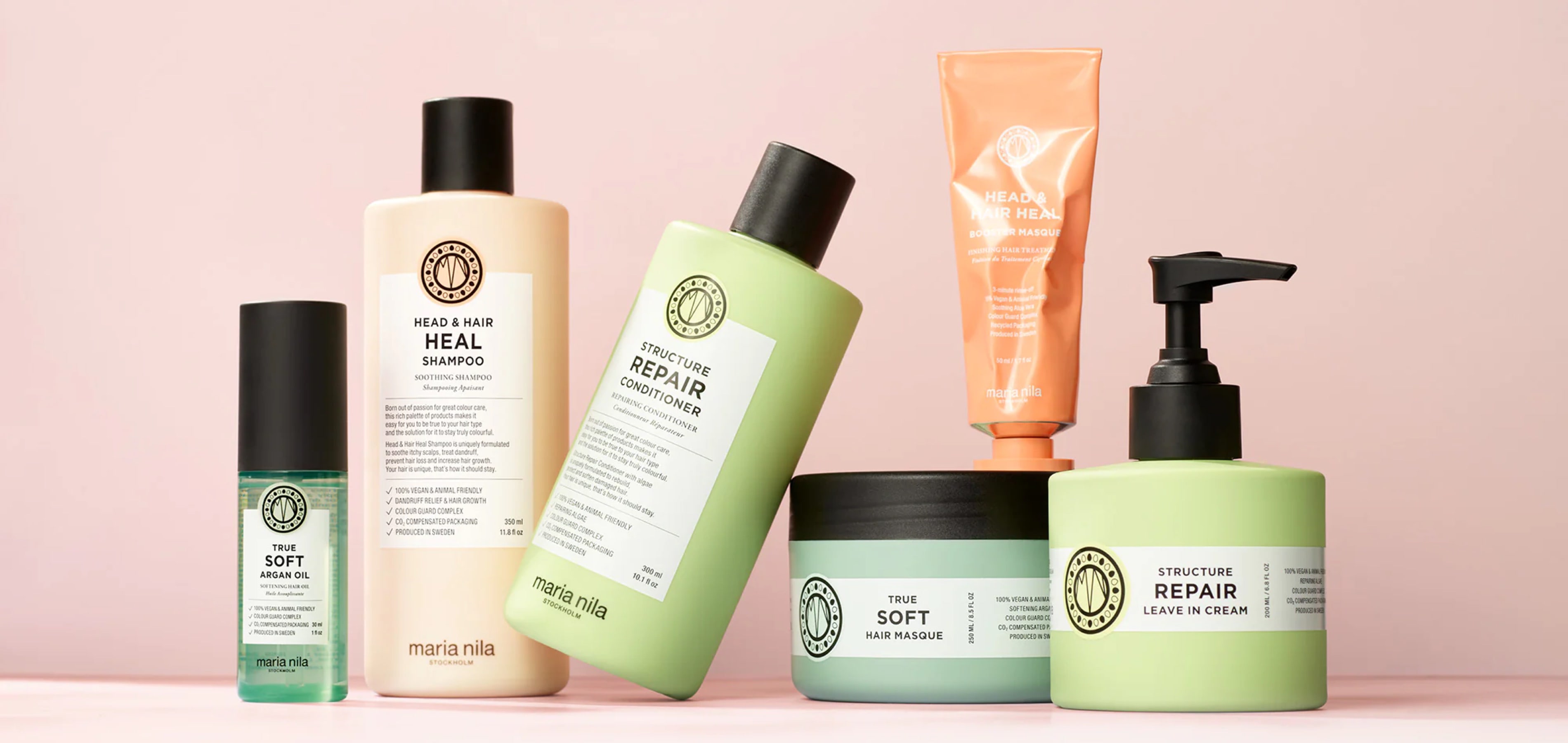 Maria Nila
Embrace friendly beauty with Maria Nila, a Scandinavian brand with 100% vegan, cruelty-free, climate compensated packaging, animal friendly and colour-protecting hair care. Switch up or enhance your hair colour with Colour Refresh Masks or target your concerns with shampoo, conditioner and hair treatments housed in CO2 compensated packaging.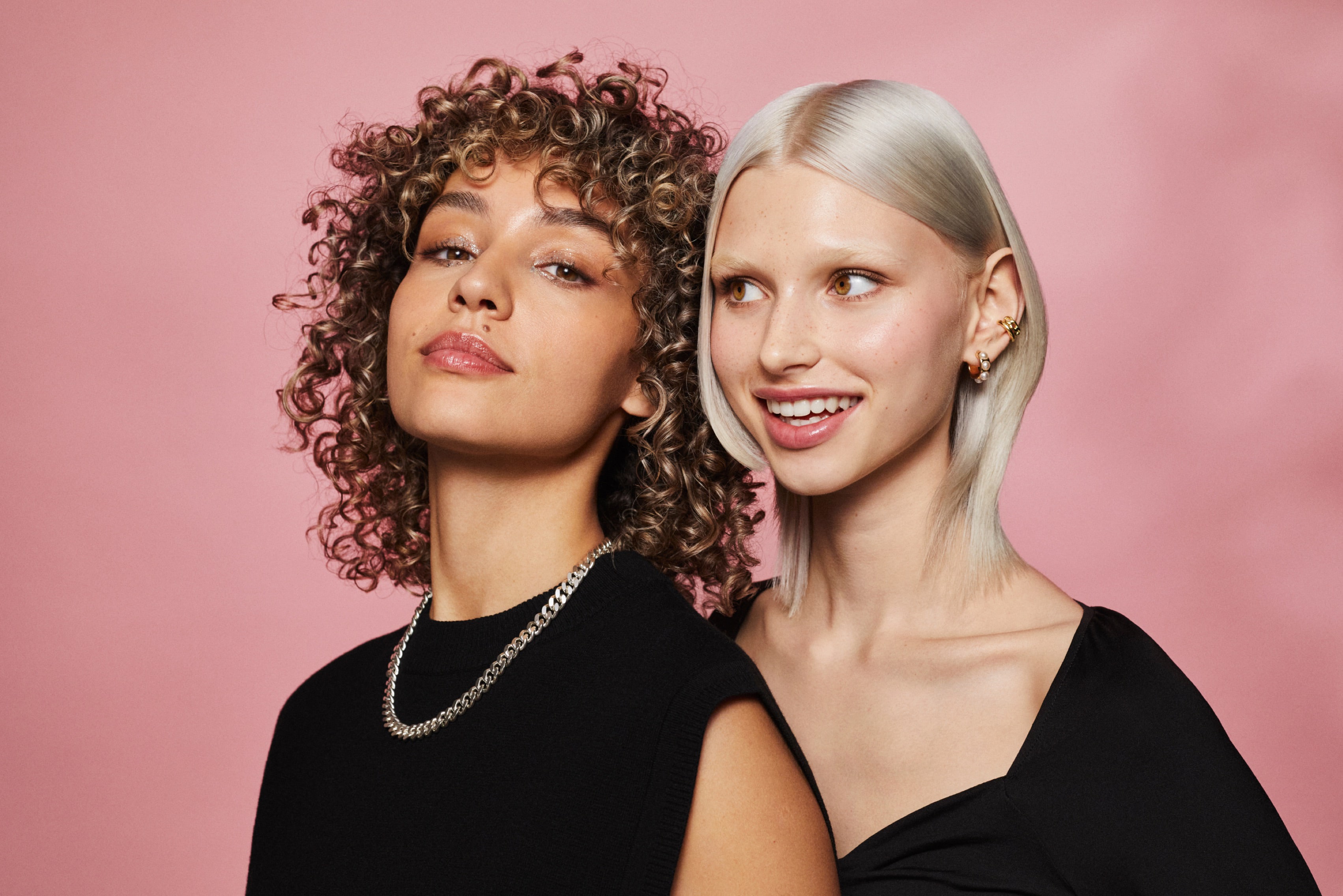 Behind the Brand
Hairhouse is a proud stockist of Maria Nila with products to target every hair care concern. Best-selling Maria Nila collections include:
Born in Sweden in 1999, Maria Nila is a vegan hair care brand leading the way in sustainable beauty and vegan hair care products. All shampoos, conditioners, hair masks, colour bomb masks and styling products are 100% vegan with gentle formulas and natural ingredients to enrich and transform all hair types.
Hairhouse is a proud stockist of Maria Nila with products to target every hair care concern. Best-selling Maria Nila collections include:
True Soft
The Maria Nila True Soft range contains argan oil to moisturise dry and frizzy hair, including the True Soft Shampoo, True Soft Conditioner and True Soft Masque. They're all designed to soften and nourish parched locks while protecting your hair colour.
Eco Therapy Revive
Eco Therapy Revive is the ultimate detox for your hair, complete with the Eco Therapy Revive Shampoo, Eco Therapy Revive Conditioner and Eco Therapy Revive Masque. It cleanses oil, dirt and product build-up from your hair and leaves it feeling light, refreshed and super healthy with organic ingredients.
Head & Hair Heal
The Maria Nila Head & Hair Heal Shampoo, Head & Hair Heal Conditioner and Head & Hair Heal Masque work together to soothe inflamed scalps, eliminate dandruff and stimulate hair growth for fuller, healthier hair.
Luminous Color
Maria Nila is a known colour expert with stunning Colour Refresh hair masks. The Luminous Colour Masque and Luminous Colour Shampoo and Conditioner contain pomegranate and a Colour Guard Complex to protect colour-treated hair and prevent colour fade.
Structure Repair
If your hair has been damaged or weakened, the Maria Nila Structure Repair range is your answer. The range includes the Structure Repair Shampoo, Structure Repair Conditioner, Structure Repair Leave-In Cream and Structure Repair Masque, all made to soften, repair and rebuild damaged hair with strengthening algae.
Pure Volume
The Maria Nila Pure Volume range puts the oomph back into flat hair. Give your locks body and fullness with the Pure Volume Shampoo, Pure Volume Conditioner, Pure Volume Masque, and Pure Volume Mousse with Provitamin B5 to boost and strengthen.
Sheer Silver
Beat brassiness in blonde and grey hair with the Sheer Silver Shampoo, Sheer Silver Conditioner, Sheer Silver Hair Masque and violet pigment treatment that boosts bleached hair, nourishes the scalp and keeps blonde tones looking cool and fresh.
Is Maria Nila vegan?
Yes, Maria Nila's formulas are 100% vegan, meaning having a sustainable beauty and hair care routine has never been easier. From their range of shampoo and conditioner for every hair type through to their nourishing hair treatments, masques and styling essentials, Maria Nila use active ingredients that care for your hair and hair colour without harming animals or the environment.
If you're building a vegan hair care routine, start with a vegan shampoo and conditioner, then follow up with a hair mask, leave-in cream or hair oil in the same range. Keep it vegan with styling sprays, volume sprays, finishing sprays, heat protectant sprays and sea salt sprays that deliver texture and fuss-free styles.
What are the best Maria Nila products?
The Invisidry Shampoo is a lightweight dry shampoo that has you covered in between washes. Quickly freshen up light or dark hair, absorb oil and preserve colour with a vegan dry shampoo that leaves no trace and smells like delicious passionfruit and apple.
Need a little lift? For stand-out styling every day, the Power Powder is a volumising styling power that adds a ton of long-lasting volume and texture to fine and thick hair types.
What is the Maria Nila Colour Refresh?
Maria Nila Colour Refresh, also called colour bombs, are wildly popular colour hair masks that contain semi-permanent pigments for freshening up and intensifying your hair colour. They nourish and moisturise with argan oil to reduce frizz and leave your hair looking silky and shiny.
Colour Refresh masks are the quickest and easiest way to change your hair colour for parties, special occasions, or when you feel like shaking up your look. All you need to do is apply your chosen colour to damp hair, run a comb through for even distribution, leave it on for 3-10 minutes and rinse. Apply a conditioner afterwards to seal the hair cuticles.
Discover a gorgeous range of colours, from bold to natural. White Mix is the magical colour mask you need if you want to create pretty pastel tones in your hair. Get creative blending any Colour Refresh masks with White Mix to make pastels and unique colours that show your personality. Check out some of the colours we have at Hairhouse:
• Pearl Silver
• Bright Copper
• Autumn Red
• Bright Red
• Pink Pop
• Cacao Intense
• Sand
• Vivid Violet
• Cool Cream
• Dusty Pink
• Black
Is Maria Nila cruelty-free?
Maria Nila is dedicated to "friendly hair care", which means friendlier to you, animals and our planet. Not only are their products 100% cruelty-free and vegan, but they're also sulphate-free and paraben-free.
Do Maria Nila products protect hair's health?
Hairhouse is your one-stop shop for hair products that are vegan and natural. Transform the health of your hair with Maria Nila shampoo and conditioner, hair treatments, styling products and colour refresh masques designed to care for your hair while caring for the planet.
What is the difference between a colour refresh and a touch-up?
A touch-up refers to a root touch-up. It's when you colour just your natural roots that have begun to show after you change your hair colour. A colour refresh is when you have colour-treated hair and want to refresh the colour and make it more vibrant and last longer. It's applied all over the hair to intensify the shade. Maria Nila Colour Refresh can also be used to change your hair colour from light to dark.
Does Maria Nila have sulphates?
Not at all. This sustainable brand from Sweden is committed to making 100% vegan hair care products free from animal products, by-products and artificial nasties, including sulphates and parabens. From the Salty Mist sea salt spray to the Structure Repair Leave-In Cream, discover Maria Nila hair care that's better for you and for the earth.
Pop your favourite new products into the online shopping cart at Hairhouse for fast checkout and free delivery on orders over $50 in Australia.