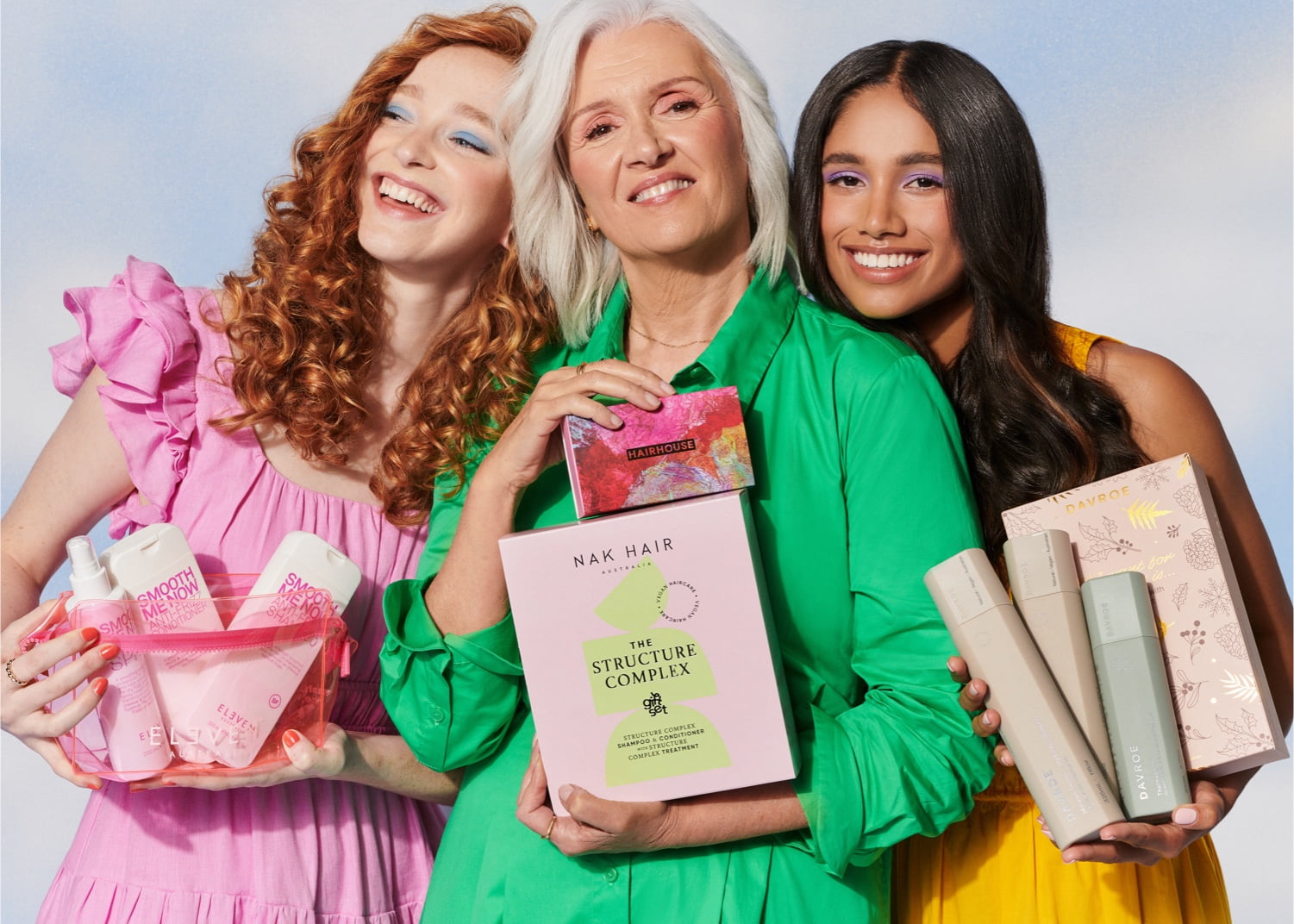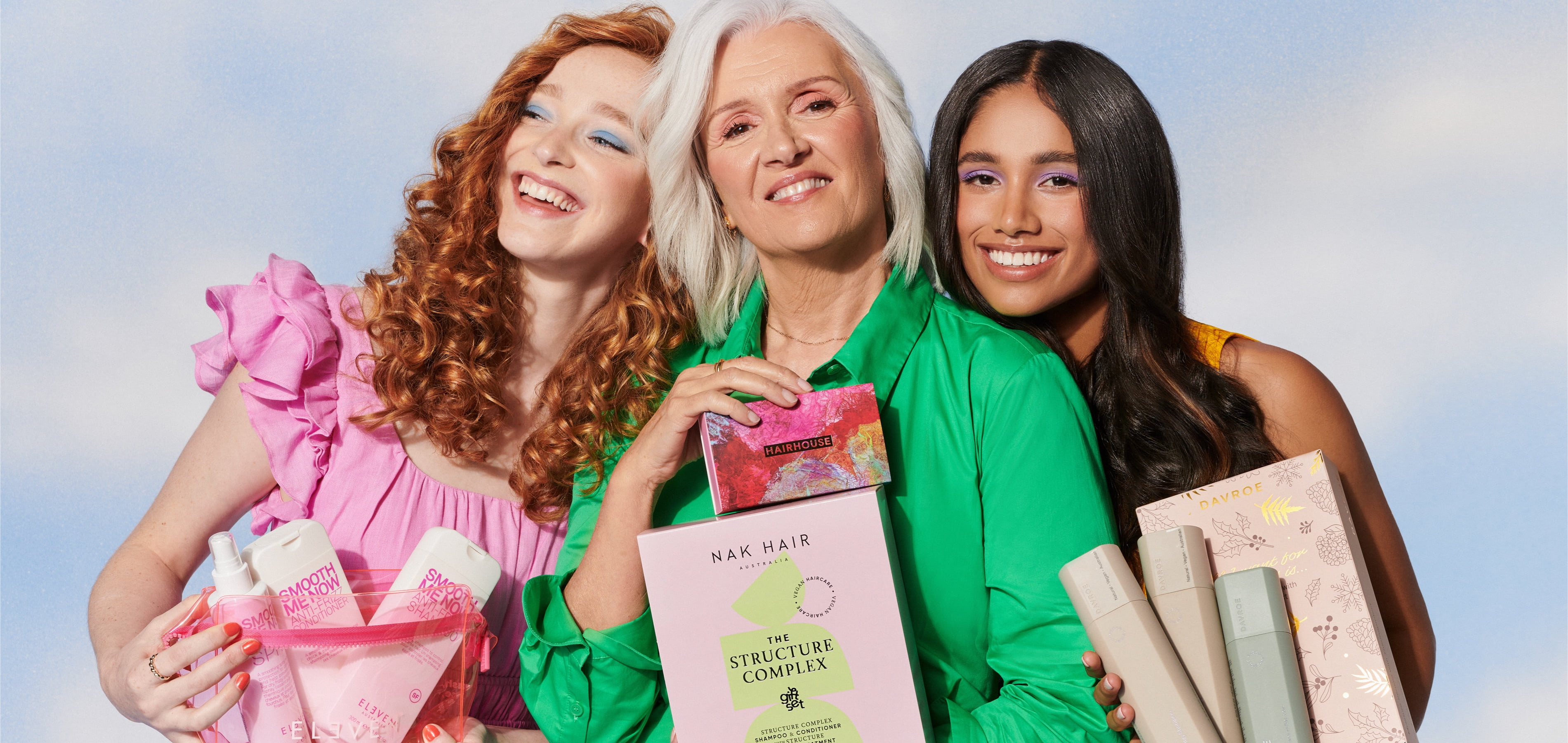 Value Sets & Packs
Hairhouse sets and packs make great gifts and offer value buying. Maybe you need a GHD travel set, a hot roller set, a hair straightener and curler and a brush, or even a hair cutting set. Whether you call it a gift pack, a value pack or a hair set - it's a good buy at Hairhouse.
Showing 60 of 457 results


What Are the Best Hair Care Products?
When there are so many amazing hair care sets and gift sets to choose from at Hairhouse, it can be difficult to know exactly what you need! Whether it's for you or a gift for someone else, consider the condition of the hair and what the ultimate goal is. Then, check out these value for money hair care packs:
1. Blonde Hair – If you've got blonde or grey hair, you'll want to pick up a purple shampoo to neutralise those unwanted gold and brassy tones and keep your colour looking cool and creamy. We've got a huge range of blonde hair care packs from leading brands to get you started. Try our Nak hair care packs for every shade of blonde, including rose blonde, ultra-blonde and platinum blonde, with coconut oil and protein to enrich and strengthen hair.
We've also got De Lorenzo hair care packs, Davroe Blonde Senses, Matrix, Juuce and more available in duo, trio and quad packs with all of the essentials, including shampoo, conditioners, crèmes, thermal sprays and serums to suit every blonde need.
2. Damaged Hair – If your hair has been left damaged by colour treatments, styling tools or products, revitalise it with a hair care pack made to strengthen and protect. Our Davroe hair care packs are loaded with antioxidants and vitamins from plant extracts and protein from rice and quinoa for stronger, shinier locks. The Repair Quad is great value for money and contains Repair Senses shampoo and conditioner, a Moisture Conditioning Treatment and Rebuilder Protein Treatment for the ultimate in hair therapy.
You can also shop our Pure hair care kits that are 100% vegan and designed to nourish brittle ends, boost limp hair and repair previous damage. Packed with organic oils, butter and botanicals, these trio packs are the way to go to restore your hair to its former glory.
3. Dry Hair – Give your hair a much-needed dose of hydration with a Matrix Moisture Me Rich Duo hair care shampoo pack with conditioner. Made with apricot kernel oil and glycerin, it replenishes dry locks and restores balance for a glossy shine. We've also got a hair care pack for dandruff by Alfaparf to soothe itchy, flaky scalps and remove excess oil. For an all-over treatment, the Moroccanoil Signature Hydrating Duo and hair care travel kits include treatments, creams and masks with argan oil and vitamins to nourish and condition hair.
4. Limp Hair – If your hair is flat, fragile and in need of a little TLC, a Kevin Murphy hair care pack will give it the attention it deserves. The Killer. Angels pack comes with a wash, rinse and curl enhancer that's full of essential oils, vitamins and minerals to plump up locks, clean the scalp and leave hair fuller and healthier.
5. Smooth Hair – For silky locks without the frizz, try the Goldwell Dualsenses Just Smooth Duo made to tame unruly hair and leave it soft, shiny and manageable. You can also shop our stunning Kerastase hair care packs made to target a number of hair concerns, including the Discipline Autumn Coffret for sleek, frizz-free hair with shampoo and hair mask.
What Should Be Included in My Hair Care Routine?
The right hair care routine is essential to making sure your locks stay strong, healthy and full of vitality for many years to come. While the right routine for you will ultimately depend on your hair type, hair condition and hair goals, there are a few staples you should consider adding to ensure you're off to a good start:
1. Shampoo – Undoubtedly the most important part of your hair ritual, shampoo cleanses your hair and scalp to remove oil and residue and leave it soft, healthy and manageable.
2. Conditioner – Follow up with a good conditioner to moisturise your hair, remove frizz and untangle knots.
3. Heat protectant spray – These beauties are must-haves if you plan on using hot styling tools, from hairdryers to hair straighteners, hair curlers, hot airbrushes and more. They'll shield your hair from direct heat and stop it from drying out and becoming damaged.
4. Leave-in treatment – Using a leave-in treatment once a week can revitalise your hair and infuse it with rich oils, vitamins and antioxidants to give it shine and bounce.
5. Styling products – From texture sprays, hair creams and gels, pomades and wax, a styling product will help you get the hairstyle you want and keep it in place all day.
You'll find all of these products in our hair care packs by Matrix, Davroe, Pureology, Moroccanoil and more. They're the best way to get all the essentials in one place to save money and get started on your new hair care routine as soon as possible!
Do Hair Care Products Expire?
It may seem like they're able to last forever, but hair care products do actually expire! Most hair care items will last around 3 years and should be used within this timeframe. After this, chances are the quality of the product will degrade significantly and you won't be getting the full effect or benefits on your hair.
Try storing your hair care and styling products in a dry, cool place that's dark to prolong their lifespan.
What Are Included in Hair Care Packs?
You can find a great selection of hair care products in our value packs that will help you target any hair concern. From a basic duo set with shampoo and conditioner to trio and quad packs with repair treatments, hair masks, leave-in conditioners, detanglers, oil elixirs and more – you're sure to find a hair care pack at Hairhouse to suit your exact hair type and need!
Where Can I Buy Hair Care Packs and Sets?
Hairhouse stock the best selection of value sets and hair care gift packs in Australia. Find the perfect gift for a loved one or pick up something for yourself with our hair care and styling products for all hair types, including curly, straight, dry, damaged, blonde, coloured, grey and normal.
If you need to add to your hair styling tools, our Dyson hair care set of premium styling tools will have you covered with hair straightener, barrel brush and detangling comb to perfect any hairdo.
Shop our hair care packs online or visit us in-store at your nearest Hairhouse salon and let our friendly team help you to find your perfect match!