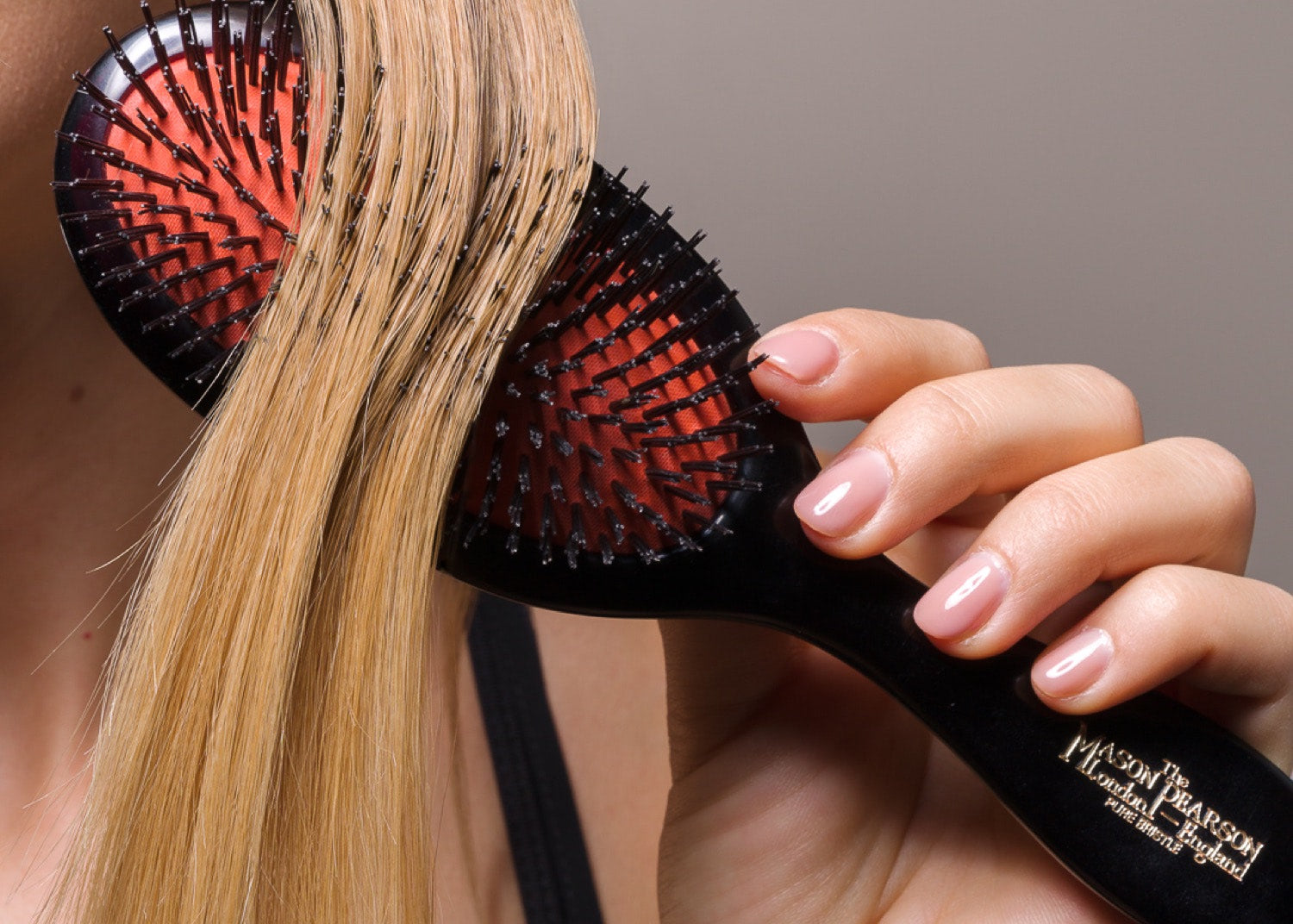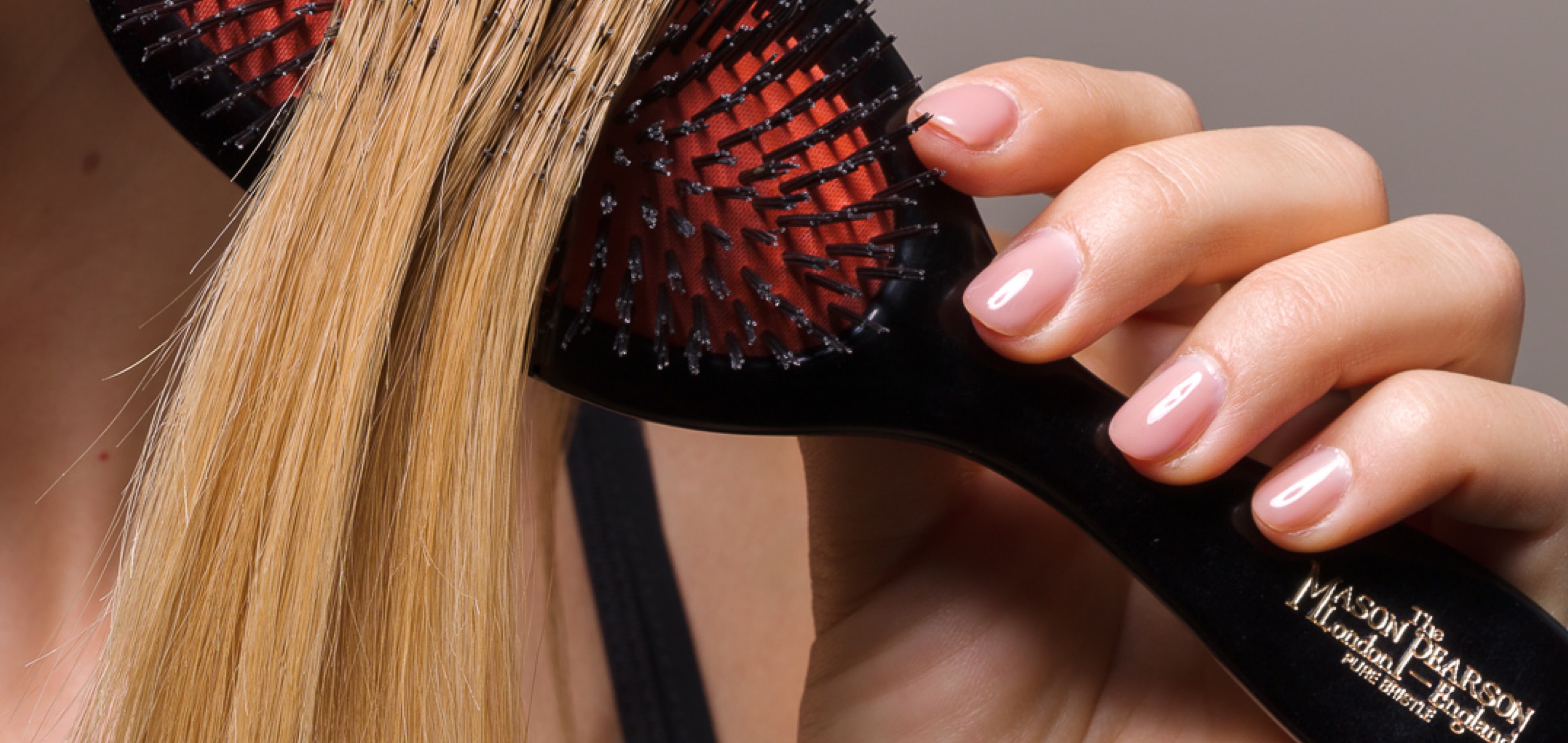 Mason Pearson
You simply can't get more superior care than with Mason Pearson. This iconic brush is created using natural boar bristles and a unique soft cushion to ensure the highest quality and kindest approach to your hair.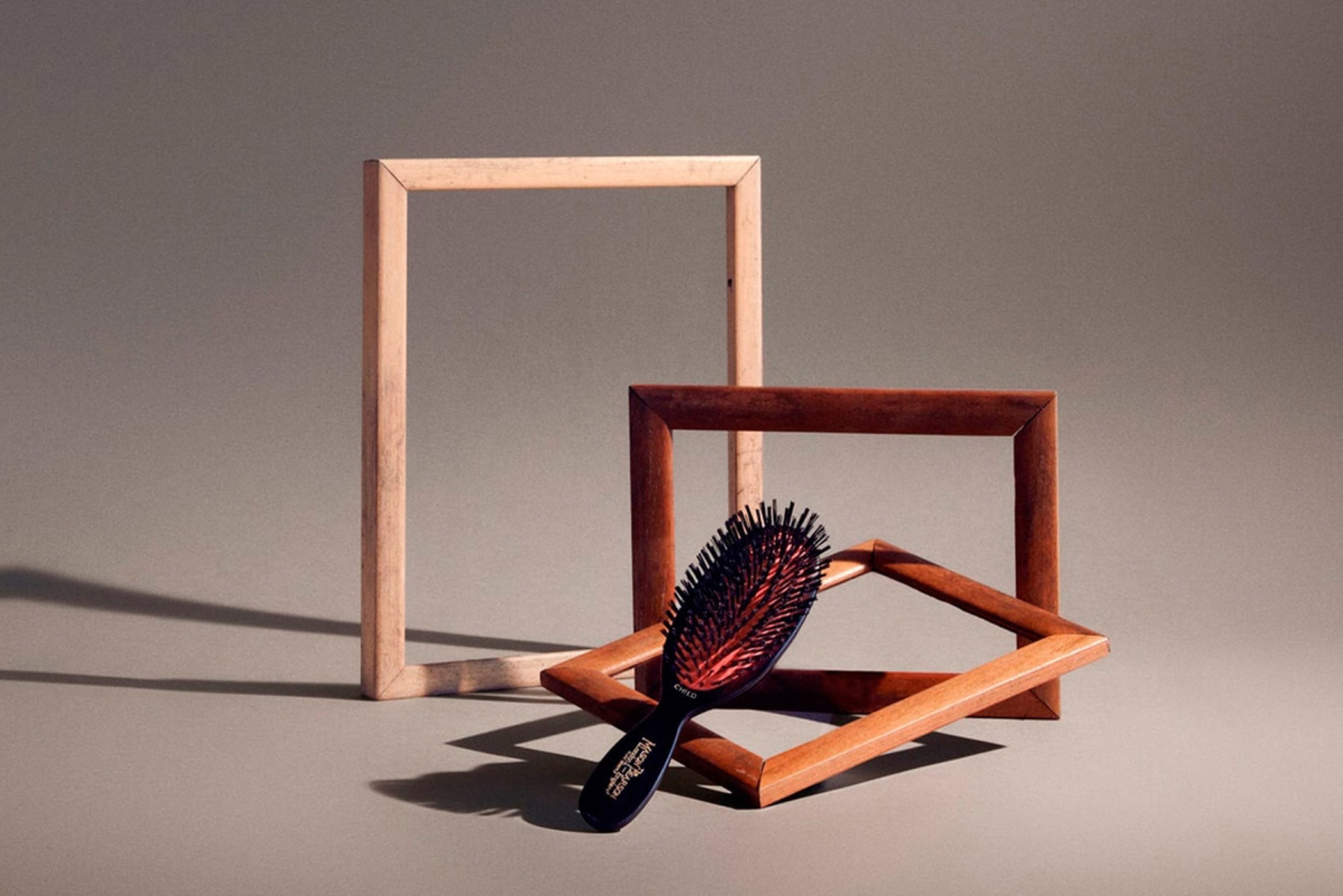 Behind the Brand
Mason Pearson hairbrushes are steeped in craftsmanship and innovation, having led with quality since engineer Mason Pearson founded the company more than 130 years ago! 
Mason Pearson hairbrushes are steeped in craftsmanship and innovation, having led with quality since engineer Mason Pearson founded the company more than 130 years ago!
Since then, the product has become iconic – and has changed very little. Generations of women and men have benefited from the sound design of Mason Pearson hairbrushes.
The unique design – improved in line with the times - features the famous orange pad, which fills with air through a small hole in the brush's tip, giving the hairbrush a luxuriously soft cushion. The high-quality boar bristle ensures no more split ends and a lifetime of use.
Frequently Asked Questions
What size Mason Pearson brush should I get?
Regular hair brushing plays a vital role in shiny and healthy hair. Various Mason Pearson hairbrush sizes cater to all hair types, massaging the scalp with each stroke to produce natural oils, imbibing the hair with a beautiful shine.
A universal favourite, the Mason Pearson pure bristle brushes feature distinctive tufts of close-set bristles that lock in hair as you brush through. A key feature is the 'give' the pure bristles have, meaning that they don't pull on hair, creating split ends and static!
There are three types of Mason Pearson brushes. Here's how to I.D. the best for you!
1. The Pure boar bristle brush is an excellent solution for fine to normal hair or those with 'Sensitive' or thinning hair.
2. The second option is a combination of boar bristle and nylon - a perfect combination for normal to thick hair.
3. And the third brush option is 100% Nylon for thick or harder to manage hair.
Once you've selected the best type of tuft for your hair, then you can choose the best size. There are five Mason Pearson brush sizes which all serve a different purpose. Select from large, medium, handy, pocket, or military! Furthermore, each Mason Pearson brush size varies in length, width, and head to cater to your exact hair length and thickness.
For travel, you can't go past the pocket brush. This one is small but mighty and leaves you with luscious locks no matter where you go!
If your hair is long and thick, then you might consider a large brush with a combination of boar and nylon bristle or pure nylon bristle for best results.
Where are Mason Pearson brushes made?
Mason Pearson brushes are hand-crafted in London's West End! With over 130 years of craftsmanship and innovation, Mason Pearson has maintained its presence and manufacturing in England. The original wooden models are still crafted by hand with great passion and a strong focus on quality.
Are Mason Pearson brushes cruelty-free?
Famous to Mason Pearson hairbrushes is their unique soft cushion design and the use of natural boar bristles. Using pure boar provides the highest quality and kindest approach to your hair!
Mason Pearson sources their boar bristle from both India and China using two methods. The bristle is collected and processed to comply with E.U. regulations on importing Products of Animal Origin.
No animals are harmed in collecting their bristle, and animal welfare is very important to Mason Pearson!
How long does a Mason Pearson brush last?
Mason Pearson products are built with beautiful craftsmanship and only the best materials giving you a high-quality hairbrush. With proper maintenance and cleaning, your Mason Pearson hairbrush should last a lifetime!
How to clean a Mason Pearson brush?
Investing in a Mason Pearson hairbrush will do wonders for your hair, but it's essential to take care of the brush! To clean your Mason Pearson brush, follow these steps using the Mason Pearson cleaner brush that comes with each purchase!
1. First, insert a comb horizontally from one side to lift off any hair and dirt.
2. Repeat this step from the other side and the ends if necessary.
3. Once most of the hair and dirt has been lifted away, take the cleaner brush and line up its tufts with the hairbrush's spaces.
4. Move the cleaner brush through the bristles to clean the rubber and scrub away any remaining dirt.
5. Then, add mild soap to a bowl of warm water and dip the cleaner brush's tufts.
6. Begin repeating the same process to dislodge any of the last bit of dirt.
7. Once clean, shake out any excess water and leave it to dry.
8. Always try to avoid getting too much water onto the hairbrush!
Where to buy Mason Pearson brush?
Ready to upgrade your hair care routine with the highest quality crafted hairbrush and accessories? With Hairhouse's wide selection of Mason Pearson brushes, you can buy your new Mason Pearson brush online or in your local Hairhouse Salon!
Hairhouse offers the best selection of Mason Pearson hairbrushes in Australia, including the infamous Mason Pearson comb, Mason Pearson Universal Brush, and the Mason Pearson Junior Brush.
Check-in at Hairhouse and get your hands on incredible hair brushes from industry-leading brands!