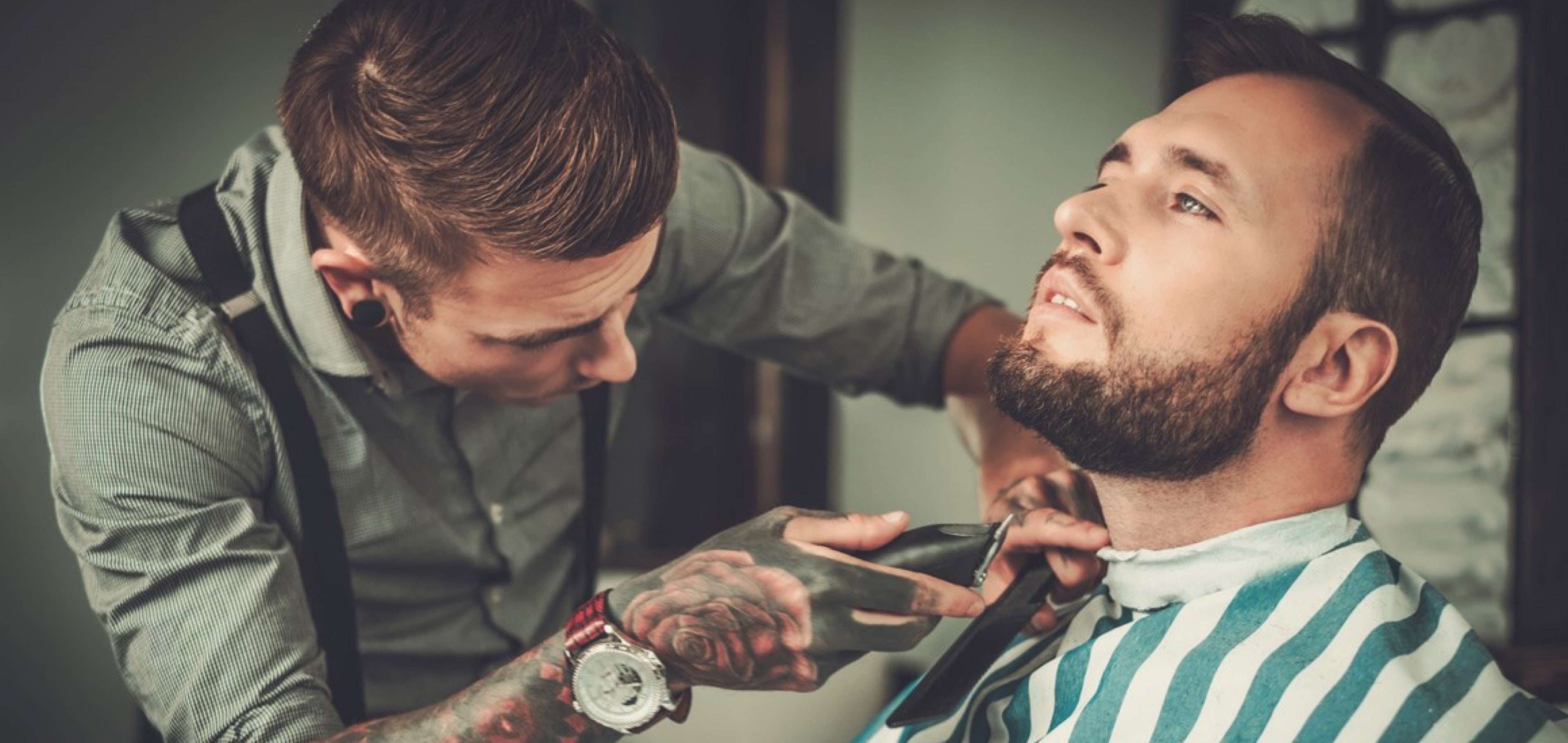 Hair Clippers & Trimmers
Hairhouse hair trimmers and hair cut kits include hair clippers, shavers, and accessories. Top brands such as Wahl, Silver Bullet, BaByLiss PRO, Andis, JRL, and Barbasol offer corded and cordless hair clippers & trimmers in a variety of sizes and price ranges and provide professional barber results.
Is it OK to cut hair with clippers?
Cutting men's hair may seem straightforward. After all, using a hair trimmer for men or men's hair clippers is easy, right? Well, you are right to a certain extent. However, a men's haircut does require a bit of skill.
Men's clippers & trimmers should always be used as directed. In most cases, it involves going against the growth of the hair and starting with the highest number guard before going to the desired length, as explained earlier. Of course, there are some additional things you can do to increase the effectiveness and lifespan of your clippers.
When you buy a hair cutting kit for men, it often includes some hair clipper oil. Do not discard this oil, because this oil actually keeps the blades in good condition. It also means that your clippers can last longer.
Be sure to remove any hair from the men's haircut trimmers and accessories before you store them. Any leftover hair or debris can affect the sharpness of the blades and reduce the lifespan of your clippers.
What are the best hair clippers for men?
The best men's hair clippers are usually found with specialist brands such as Wahl and Silver Bullet. Wahl Lithium Pro Cordless Hair Clippers are arguably one of the best hair clippers for men out there. They also come with great attachments, such as a beard trimmer for men. Wahl, in particular, is known for its electric shavers and high-quality clippers, so it is a good brand to invest in where men's groomer needs are concerned.
Of course, this does not mean you should rule out all other electric hair cutting tools. Many brands have a proven track record when it comes to men's hair trimmers and clippers and, therefore deliver superior hair tools. For example, the Andis PMC Pro Trimmer and even JRL Freshfade 1040 Black Clipper set prove remarkably popular in Australia and the rest of the world. Most of these also come in different sizes to ensure you can tackle different hairstyles and hair types without much trouble.
How do you use men's hair clippers?
Shape, length settings, and even the direction in which you use a hair clipper are important. So, let us cover the basics of a men's haircut and how you can avoid unwanted surprises.
The first thing to using men's haircut clippers is getting yourself familiar with blade guards. These are the special attachments that go over your professional hair clippers. Adding these over the blades will determine the length of the hair, so the different numbers on the blade guards give you a different length. In some cases, you will use different guards to create a faded hairstyle.
For most brands, the lower the number, the shorter the hair. So, a number 8 attachment would leave a lot more length than a number 0. It is also important to note that the number 0 is hardly ever used unless someone is going for the completely bald look.
Once you have selected the right guard, start by washing the hair. Next, towel dry the hair or use a hairdryer to get rid of any remaining moisture. With a comb, make sure there are no tangles, as tangled hair can make using clippers uncomfortable. Don't forget to cover the shoulders with a suitable plastic guard to prevent body hair and head hair from getting stuck on clothes.
First, it's a good idea to start with the longest guard you have to remove some of the growth easily. If you use the shorter guards immediately, it makes it a lot harder to get through thicker hair. Therefore, using the highest number first is often the right thing to do.
Once you get rid of the growth, choose the desired guard length. Then, take the clippers and go against the hair growth. Make sure to use a scooping motion with the blade. This makes the overall hairstyle smoother and more polished.
How do you sharpen men's hair clippers?
Using the oil and keeping your clippers clean is the best way to prevent clipper blades from becoming dull. If you already have dull clippers, then you might be able to revitalise them with some sandpaper or sharpening stones. However, consider that this would void the warranty. So, do not do this if your clippers are still under warranty. Instead, you can take them to the store. When outside the warranty, make sure you sharpen the blades safely, as this is an electrical tool.
How do you put oil on men's hair clippers?
Oiling the blades on a clipper for men is simple. The only thing you have to do is add a few drops to the blades as a lubricant. This reduces friction between the blades. The best place to add the drops is the corner of the top and foot of the blades. Next, turn the clipper on to disperse the oil.
Which is better, hair clippers or hair trimmers?
Choosing between hair clippers and hair trimmers depends on what you need. Hair clippers are designed for cutting longer hair and offer various attachments to help you achieve different lengths and styles. They're great for full haircuts.
Hair trimmers are made for finer, detailed work like shaping sideburns, edging, and getting rid of stray hairs. They are not meant for cutting large amounts of hair. So if you're looking for something versatile for overall hair cutting, go for clippers. If you need to clean up edges and do detailed work, trimmers are the better choice.
Are corded clippers better than cordless?
Both cordless and corded hair clippers have their advantages and disadvantages, and which one is better for you will depend on your individual needs and preferences.
Cordless hair clippers offer the convenience of being portable and can be used anywhere without needing to be plugged in. They are also lightweight and easy to manoeuvre, making them ideal for precision cutting and trimming. Additionally, cordless clippers usually come with rechargeable batteries, which means you don't have to replace them often, and they often have a longer battery life compared to previous models.
On the other hand, corded hair clippers have the advantage of providing continuous and consistent power, which can be important for extended cutting sessions. They also eliminate the need to worry about battery life or recharging time, making them a reliable choice for professional use.
Ultimately, the choice between cordless and corded clippers comes down to your personal preferences, as well as the type of cutting or trimming you will be doing. If you need portability and flexibility, cordless clippers may be a better option for you, but if you prioritise power and consistency, corded clippers may be the better choice.
Shop men's hair clippers and trimmers at Hairhouse
Hairhouse makes it easy for you to buy men's hair clippers, shavers, electric razors, and hair trimmers, plus a whole lot of other beard grooming tools. These are perfect additions to any Australian man's grooming kit and come from top brands like JRL, Wahl, Silver Bullet, and Andis. Check out our trending collection of men's haircare products online or in-store today, and discover the useful accessories and advanced technology that make hair cutting so much easier! Don't forget to add your favourites to your wishlist and proceed to checkout when you're ready.
Complete your grooming kit with Hairhouse
In addition to our selection of men's hair trimmers, Hairhouse has a range of men's grooming products that will enable you to trim, wash, and style your hair to perfection, whether you are going out for lunch, to a wedding, or to the club. Check out our selection of men's hair treatments, men's shampoo & conditioner, and men's hair packs today!
We've also got a range of skincare, haircare, and beauty essentials for everyone, including home hair colours, hair removal products, hair toners, face creams, and hair straighteners. Whatever your grooming and beauty needs are, Hairhouse has got you covered.