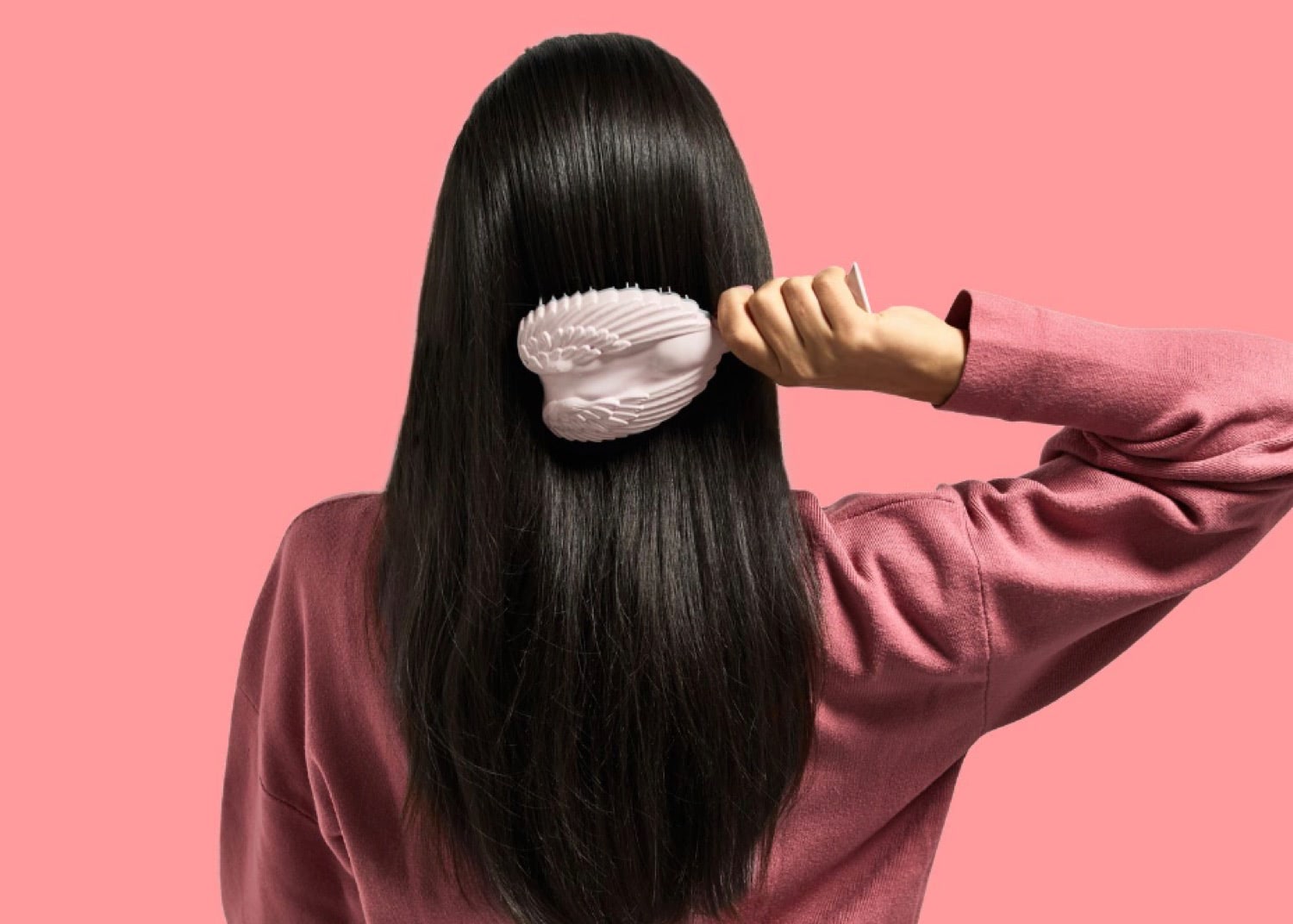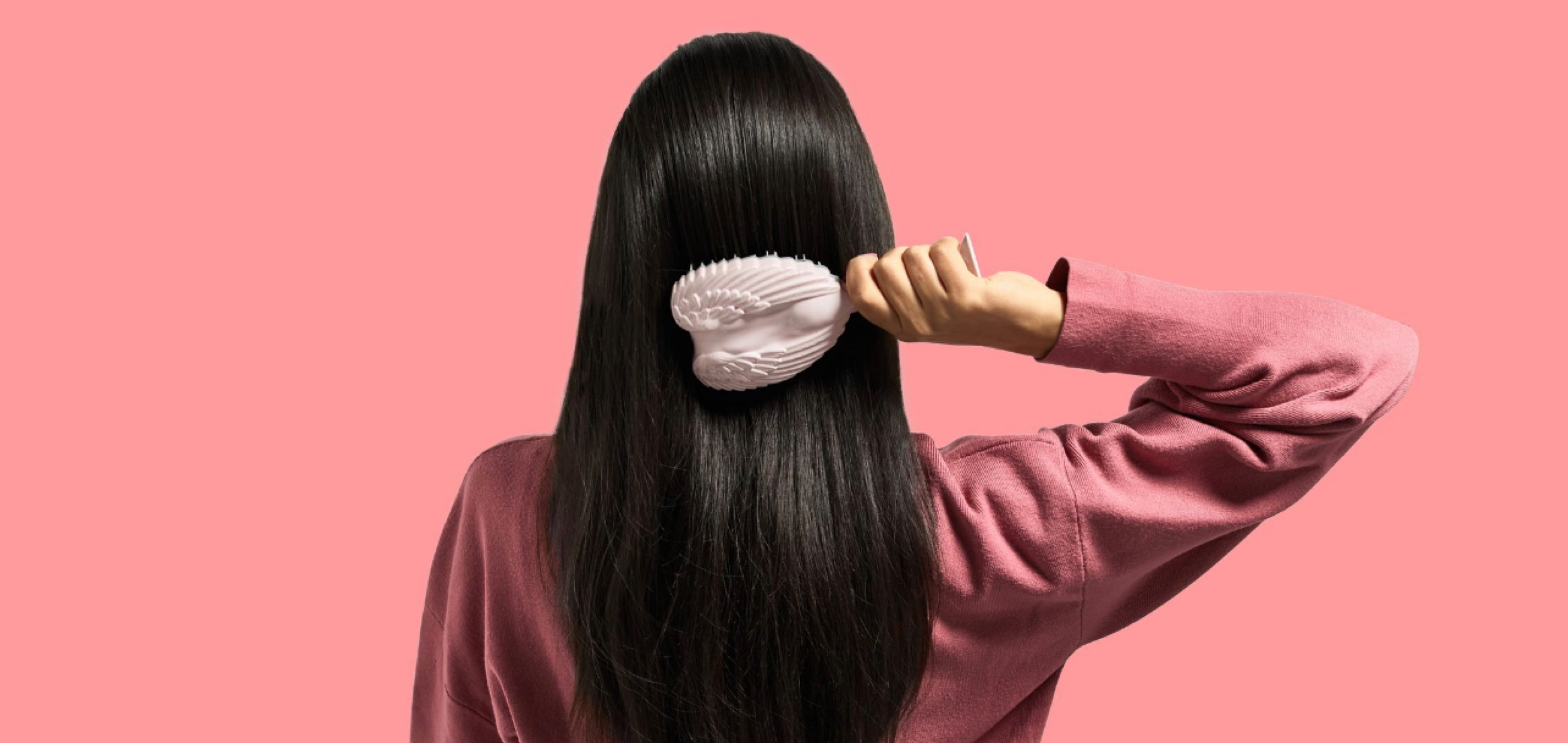 Tangle Angel
The Tangle Angel brush is an evolved version of the traditional detangling hairbrush. With the Tangle Angel 2.0, you get flawless and tangle free hair with extraordinarily little effort! This brilliant brush is also used by the future Queen of England, Kate Middleton. Many reasons to buy one now!
The Tangle Angel brush is an innovatively designed hairbrush, making brushing your hair a heavenly experience. With a unique wing-shaped design, this superstar brush features Memory Flex bristles for smoothing hair without pulling or dragging to minimise breakage. It's also easy to hold with a slender handle and has anti-static technology for reducing frizz and flyaway hair and providing greater control during blow drying.
Used by the future Queen of England, Kate Middleton, this brush is royally recommended. Pick up your Tangle Angel brush in Australia at Hairhouse online or in-store.
What is a Tangle Angel?
The original Tangle Angel hairbrush was born when award-winning UK hairdresser, Richard Ward, wanted to create the ultimate detangling hair brush for his salon, which detangled hair but looked good, too. The unique wing-shaped design was created by Richard Dunn, co-founder of Tangle Angel, as the perfect combination of form and function. The winged head can be held in the palm for stubborn knots, while the long handle gives greater control while brushing.
The Tangle Angel 2.0 Paddle Brush improves upon its predecessor with soft, flexible bristles that hold their shape and an anti-static strip that removes static from hair to prevent frizziness and flyaways. It's also antibacterial and resistant to water and heat.
So, what's the story behind the Rebel skull hairbrushes? The cheekier alter-ego to the iconic angel hairbrush, the Rebel hairbrush removes the handle to fit comfortably into the hand and is ideal for men and women. The idea was to create an edgier, more rock-and-roll version of the cult favourite hairbrush. The skull hairbrushes have the same features as the angel ones—just more attitude!
What products are in the Tangle Angel range?
Hairhouse stocks the most popular Tangle Angel products in the range at great prices for you to get your hands on. Check out our bestsellers:

- Tangle Angel 2.0: This hairbrush is a multitasker. It can be used on wet or dry hair to gently remove tangles without pulling, smooth frizz and assist with styling. The Tangle Angel 2.0 brushes come in great colours, including Soft Touch Black, Gloss Fuchsia and Soft Touch Pink.
- Tangle Angel Rebel: Swap your angels for skulls and unleash your inner wild child with the Tangle Angel Rebel brushes. These ultra-cool hairbrushes have a unique skull design that fits neatly into the palm. They have soft bristles and can be used in the shower and while you blow-dry. The Tangle Angel Revel comes in Pink, White and Black.
- Pet Angel Hairbrush: Your pets can also benefit from a Tangle Angel hairbrush. Treat your furry friends to the ultimate grooming session with a detangling brush that has soft, anti-bacterial bristles and is water-resistant and heat resistant. It can be used on wet, dry, or matted fur and removes knots without pain so your pets can have a shiny, healthy coat every day. It's available in Bronze, Totally Turquoise, Fab Fuschia and Precious Pink.
What are the benefits of a Tangle Angel Hairbrush?
Check out these features that make the Tangle Angel Detangling Brush 2.0 one of the best detangling brushes on the market:
- Memory Flex bristles to ensure the bristles always retain their shape.
- Heat-resistant up to 120 degrees to make any blow dry a breeze.
- Water-resistant for use in the shower. Use it to detangle knots in wet hair or evenly distribute shampoo and conditioner.
- Anti-static technology reduces flyaways and frizziness.
- Long handle that makes holding the brush easy and comfortable.
- A stable base helps to place the brush on bathroom counters and dressing tables.
- Anti-bacterial to prevent bacterial growth in between cleans.
What is the best Tangle Angel Brush?
The Tangle Angel hairbrush is suitable for all hair types, particularly those with curly, wavy or dry hair because anti-static technology reduces flyaways and frizziness for sleeker, more defined hair. It's also great for thick hair as the brush has more bristles around the edge for passing through denser hair and knots. Those with fine or thin hair will love these brushes as the soft bristles can be used to gently massage the scalp for improved blood circulation to promote stronger hair and hair growth.
The Rebel hairbrushes are ideal if you like to feel the knots in your hair as you remove them. They are for all hair types, from straight to curly and wavy.
What is the difference between a Tangle Angel Detangling Brush and a regular brush?
Most detangling brushes don't have handles and feature bristles that are too far apart for effective detangling in all hair types. Tangle Angel 2.0 brushes differ from regular brushes as they have a slender handle and ergonomic design, making them easier to use and more comfortable.
The Memory Flex bristles are more concentrated, which makes working through tough knots a breeze, even in thick or wet hair. The creators go one step further and include heat and water resistance, as well as anti-bacterial properties to keep brushes clean in between uses. Unlike other hairbrushes, the gorgeous design allows you to stand it up proudly on your dressing table!
To use one of the brushes, divide your hair into sections and start from the ends, gradually detangling until you reach the roots. You can use a detangler product to make detangling even easier. To clean the brush, remove all excess hair and run it under warm water to unclog dirt and debris. Then, leave it to dry before using it again.
Where can I buy Tangle Angel?
You can buy Tangle Angel online at Hairhouse with a fantastic selection of colours and styles, including the 2.0, Rebel brushes, and mini hairbrushes for pets. Shop online with free delivery of over $50 or visit your nearest Hairhouse store and let our friendly team give you some expert advice for your hair type!