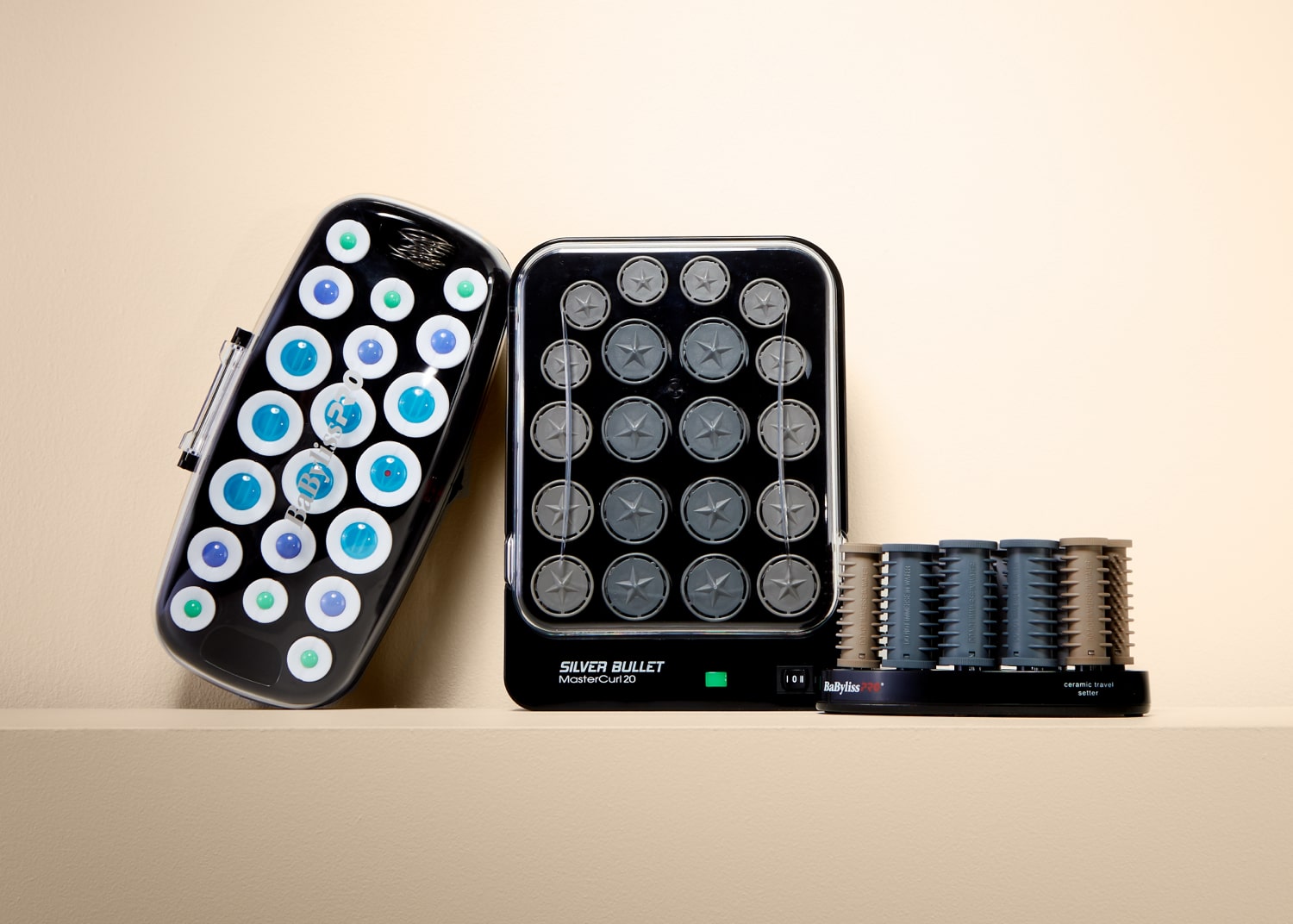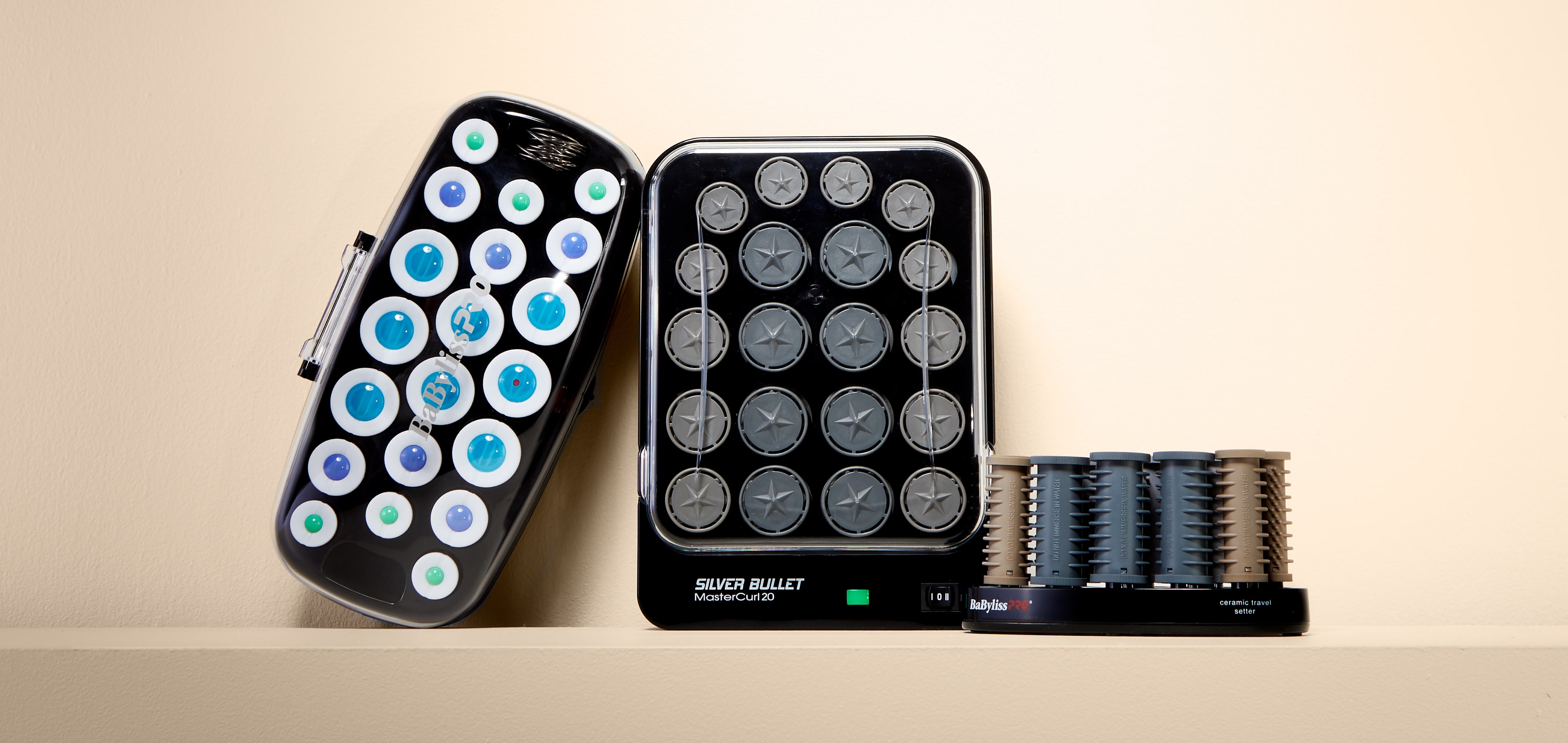 Hot Hair Rollers
Hot rollers are the ultimate hair curling solution for those who want flawless curls without the hassle. They are suitable for all hair types and can create a range of styles, including loose curls, big waves, and defined ringlets. The best part? You can simply set the rollers in your hair and let them work their magic while you prepare for the day.
Hairhouse offers hot roller sets to define curls or waves in short or long hair. Get the perfect curls effortlessly with rollers, suitable for all hair types.
What are hot hair rollers?
The next time you want some seriously pumped-up curls full of shine and volume, why not consider using heated hair curlers? As a traditional method of curling your hair, these hair styling tools have made a major comeback as leading brands like BaByliss Pro, Silver Bullet, and Mermade Hair utilise innovative design and technological advancements to develop hot roller sets that rival the best curling irons on the market.
A hot roller for hair is a tube-shaped tool that you heat up, wrap your hair around, and let cool to create all types of curls, from tight coils to glamorous waves and everything in between. It comes in different sizes to work with all hair types. There are large rollers for thick hair and smaller ones for fine hair to add lift and create more volume.
Hairhouse has got you covered with our range of volumising hot hair curler rollers for all hair lengths. Shop the BaByliss Pro Cascade set of 20 hair rollers in small, medium, and large sizes to create a bouncy curl or loose wave, or pick up the BaByliss Pro Extrovert 30-piece set with four different-sized tourmaline-ceramic barrels for a smooth and glossy texture.
We've also got Silver Bullet Super Pod hair rollers in 48mm and 36mm and heated hair roller clips to use with the advanced Super Pod Heater. Heat up your clips and hair curler rollers safely in seconds with induction heating. They'll be cool to the touch, so you can curl your hair without burning your fingertips!
For bouncy curls, try the Mermade Hair Velcro Roller Kit. This kit comes with six medium-sized 4cm rollers made of soft nylon Velcro that won't pull your hair. They are also heat-resistant up to 180°C, so you can safely use them with hot styling tools.
What are the benefits of using hot rollers?
If you're looking for a new way to style your hair, hot rollers are a top pick. These rollers offer benefits that make them popular for achieving professional hair stylist results. Here's why you should consider using them for your next styling session:
Easy to Use: Just heat them up, use a hair setter, and let them do their work. It is a straightforward process that anyone can manage.
Saves You Time: Once the rollers are in your hair, you are free to do other things. You don't need to stand in front of the mirror holding a styling tool.
Gentler on Hair: Compared to other high-heat tools, these rollers use less heat.
Long-Lasting Curls: If you're after curls that hold their shape, hot rollers deliver. They are especially effective when used with a hair setter or a hairspray.
What is the best way to use hot rollers?
Getting bombshell curls has never been easier with our hot hair rollers. Follow these super-simple steps to get started:
Take your hot roller set of choice. If you want messy waves, go for larger heated curlers. If you want a tighter curl, choose a small heated hair curler roller.
Make sure your hair is completely dry using a hair dryer. Apply a heat protectant spray and comb or hairbrush through for even distribution.
Make a deep side part.
Take a large section of hair from behind the ear, place the roller under it a few inches from the scalp, and roll your hair slowly around it.
Once most of the section is secure, begin rolling up towards the scalp and allow the ends to tuck neatly against the rollers.
Secure in place with a hair accessory, such as a hair clip.
Continue with this method, covering the crown first, then moving to the other side of the head. Always roll the hair away from your face and make sure the rollers sit vertically, not horizontally.
Finish off with a hairspray or a hair setter to set your curls.
What temperature should hot rollers be set to?
The ideal temperature for your hot rollers will depend on the type of heated rollers you have and the type of curl you want to create. Always remember to check the heat settings on your heated rollers to ensure they are appropriate for your hair type.
As a general rule, it is best to stick to the lowest heat settings for fine hair, dry hair, and professionally coloured hair to avoid heat damage and fading of the hair colour. For normal hair, a temperature of 180°C is generally suitable. If you have thick, coarse hair, you will likely need a higher temperature to get the curly hair look you want.
How do you use heated hot hair curler rollers on short hair?
Hot hair rollers for short hair can be tricky as it can be difficult to get the hair to stay in place. Make sure you use smaller-sized hot hair curler rollers, such as those found in our BaByliss Pro Extrovert 30 Piece Multi-Size Set or the BaByliss Pro Cascade 20 Piece Multi-Size Set. This will add volume and produce a tighter curl. If you just want a bit of body and wave in your hair, experiment with medium-sized hair rollers.
Don't forget to prep your hair first. Use a good shampoo and conditioner, and spray with a heat protectant. You can also add a curl enhancer or volumiser to add more texture and encourage a longer-lasting curl.
Are hot rollers better than curling iron?
The best hair curler tool for you will depend on your hair type, the amount of time you have, and the kind of curls you want. If you have fine or colour-treated hair, hot rollers are generally the safer option.
A curling iron may be more effective if you have thick or long hair and want more control over the curl pattern. As your hair is naturally heavier, it will also require a set of large hot rollers to get the job done, like the Silver Bullet Super Pod XLarge Rollers - 48mm with the Super Pod Heater or the large hair rollers in a BaByliss Cascade 20pc Multi-Size Hot Roller Set.
Are hot rollers good for your hair?
Hot hair rollers use a gentler heat for a longer amount of time to give you defined, bouncy curls with less risk of burning your hair and leaving it dry and brittle. Our BaByliss heated rollers are made using ceramic tourmaline, which encourages smooth, shiny hair and eliminates frizz by hydrating hair while it sets.
However, like with curling irons and hair straighteners, heated rollers can still damage your hair if you don't take the necessary steps to protect it first. Always use a heat protectant spray before rolling to coat your locks and shield them from heat damage.
You should also follow a proper haircare routine to keep your hair nourished and strong. Use haircare products like hair oils, hair masks, and leave-in conditioners to seal in moisture and ensure your curls are shiny and healthy.
Is it better to use hot rollers on wet or dry hair?
To achieve the best results, it is best to use hot rollers on dry hair. Using rollers on wet or damp hair can lead to uneven curls and may cause heat damage. Make sure your hair is completely dry before you start curling for beautiful, long-lasting curls.
Buy hot hair rollers at Hairhouse
Hairhouse stocks the best hot hair rollers to give you classic curls and textured waves. Shop our selection by BaByliss Pro, Silver Bullet, and Mermade Hair with various sizes to suit every hair length and advanced features like induction heating to help you get the style you want faster.
Buy heated rollers online today with free delivery over $50 in Australia, or pop into your nearest Hairhouse store and let our friendly team assist you with all of your hair care and styling needs.
Get salon-quality hair styling tools at Hairhouse
In addition to our range of heated rollers, we have a range of hair styling tools that you can use to style your hair perfectly for any occasion. Browse our range of styling tools now, including:
We've also got a range of beauty essentials and skincare products, such as serums, cleansers, exfoliators, toners, and face masks, as well as body care products, from lotions to hair removal products. Hairhouse has everything you need to complete your beauty routine.