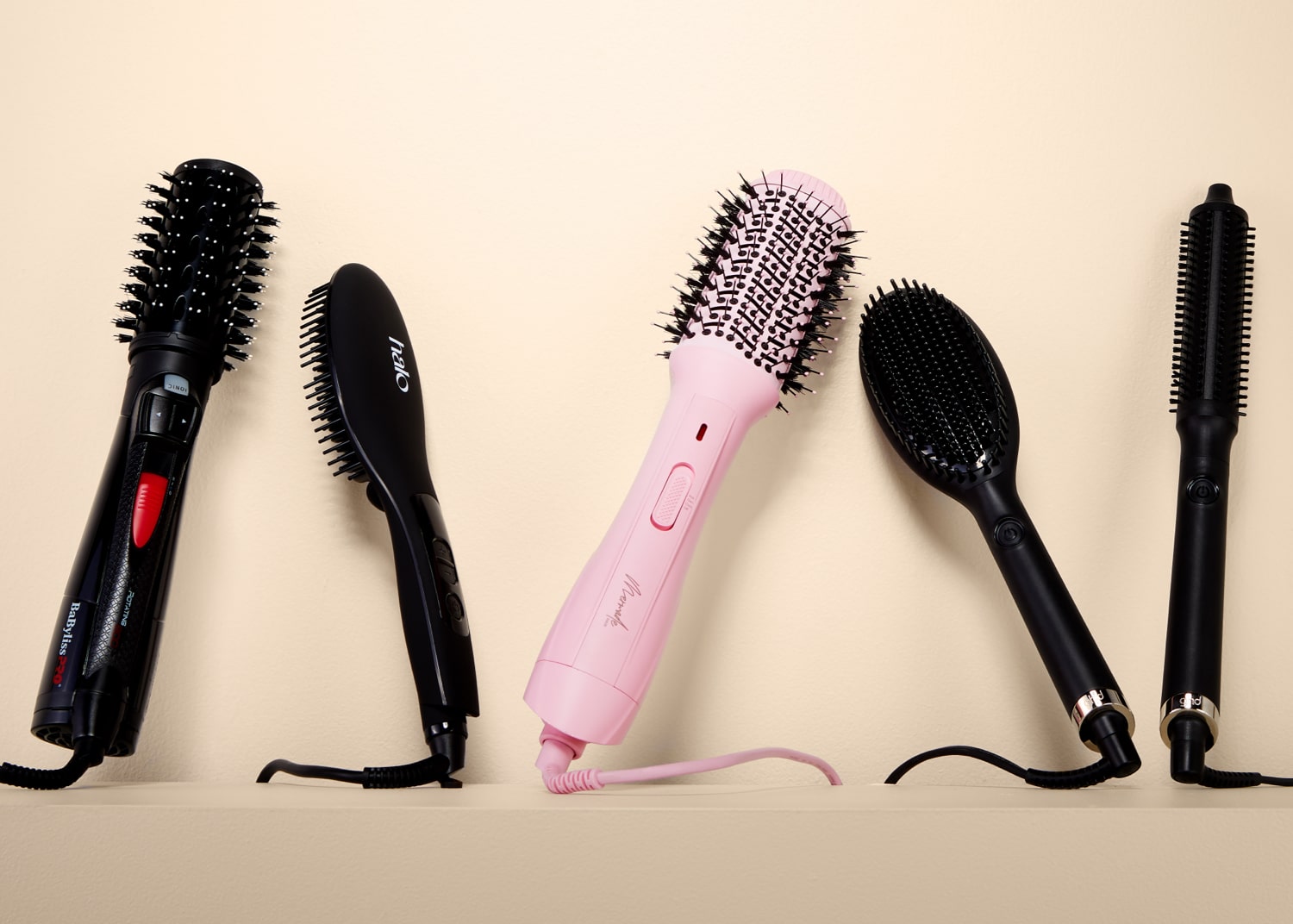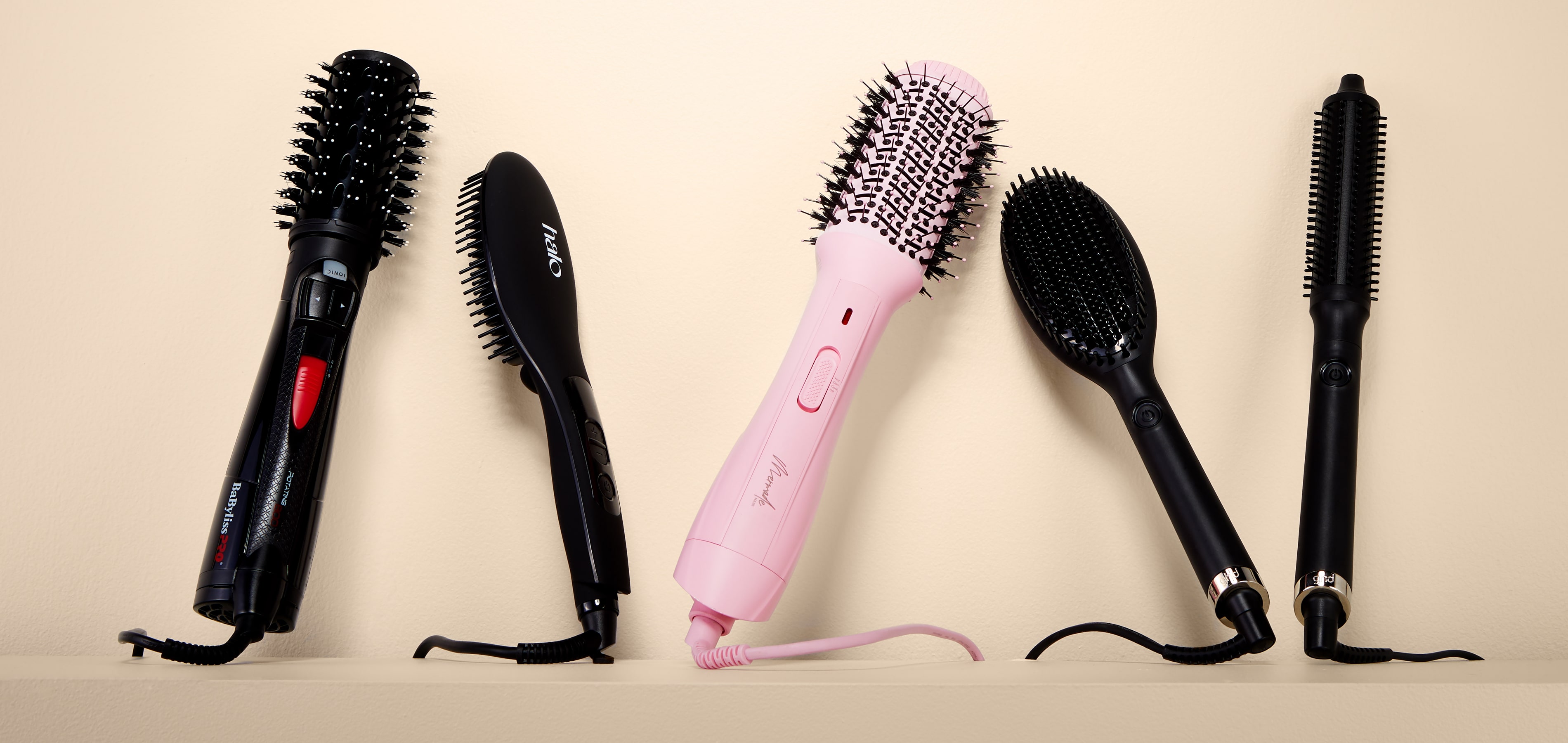 Hot Brushes
Designed to simplify hair styling - saving you time and effort - blow dryer brushes, waves and curl brushes, volumising hot brushes, and rotating hot air brushes are your daily go-to for gorgeous hair in half the time.

Paired with your favourite haircare products, experience the ease of use and excellent results of heated brushes from Hairhouse.
Is a hot brush good for your hair?
A hot air brush is also referred to as a hair straightening brush, and this immediately tells you a bit more about its function. This hair tool basically fulfils the same function as a flat iron, relaxing molecular bonds of the hair to get the hair straight. A combination of ceramic bristles and plates glides through the hair, creating that naturally straight look.
The design of the hot brush gives you better control and minimises direct heat exposure. It is a safe and effective choice for different hair types. When used properly, you can get great results without damaging the hair with excessive heat.
How do you use a hot brush?
While using a hair straightening brush is often simpler than a flat iron, there are some tips and tricks to make the process easier and quite effective. So, let us get started!
First of all, hot brushes need some time to warm up before you use them. Naturally, they only become effective when they are warm enough. If you have curly or thick hair, and your hot brush is not hot enough, you will find yourself going over the same piece of hair many times before it is actually straight. So, use those heat settings to their maximum potential and let the brush warm up first.
Secondly, some believe that a hot brush does not require sectioning. If you have quite fine hair, that might be the case. However, most will still have to section to ensure their hair stays in place for the rest of the day. For the best result, always use straightening brushes from the root to the tip of the hair. Do not go too fast, either. Otherwise, your hair may lose some of its volume. Your hair should also be relatively dry before you start using a hot brush.
Once you are done with your heated brush, make sure you leave it in a safe place. Like a hair straightener, it should be left on a heatproof mat and unplugged. Ideally, a hair straightening brush dryer or any other heated tool should not be left unattended until it has cooled down.
Is a hot brush better than straighteners?
There is some evidence that hair straightening brushes are less damaging to the hair compared to flat irons. The reason for this is that a basic or even a rotating hot brush does the job a little faster, which means less lengthy contact with extreme temperatures. After all, if a styling tool heats up to above 280 degrees celsius or another extreme temperature, contact with the hair should be at a minimum.
One of the problems with hot hair styling tools is that they can damage the hair cuticle. As a result, it changes the structure of the hair proteins, which in turn damages the hair and makes it brittle. Therefore, it is vital to have the proper tools as well as haircare products to avoid such types of damage.
There are many hair straightening tools that are made with your hair's protection in mind. Choosing the best hair straightening brush may take some time, but there are always some trusted ones to go back to. For example, the Cloud Nine The Original Hot Brush, Silver Bullet Genesis Hot Air Brush, and ghd Glide Hair Straightener Brush Limited Edition In Pink Peach.
In addition to the right hair styling tools, you will need the right haircare products. There are plenty of products that protect your hair against heat before you start styling, such as heat protectant sprays. There are also products that can repair damaged hair. A good brand for this is Olaplex, which is also available at Hairhouse.
Is it better to use a hot brush on wet or dry hair?
The answer to this question actually depends on the type of hot hair brush you use. However, no hot brush can be used on extremely wet hair, so you should always at least towel dry your hair no matter which hair styling brush you have.
In some cases, your hair must be completely dry before you use hot styling tools. For example, hair tools with ceramic plates can be too hot for wet hair. If you do use them on wet hair, it could cause breakage and damaged hair.
The large majority of hot styling tools need to be used on dry hair. To avoid confusion, it is always best to read the instructions that come with your hot hair brush. Remember, not every hair styler tool has the same features. So, do not assume that a hot brush can be used on slightly damp hair unless mentioned by the manufacturer.
How do I choose a hot air brush?
Choosing the right hot brush is important for achieving the best results. First, consider your hair texture. If you have fine hair, you will want a brush with softer bristles to prevent breakage. For those with curly or thick hair, a brush that can produce higher heat and equipped with sturdier bristles is ideal.
It is also essential to look for a hot brush with adjustable heat settings. This feature lets you customise the heat level based on your specific hair texture and the style you want. The material of the bristles matters, too.
The size and design of the brush are other factors to consider. If you travel frequently, a compact design might be more suitable.
Lastly, some heated brushes come with added features like ionic technology, which can help reduce frizz.
Which hot brush is best?
We've rounded up the best hot air brushes for smoothing, volumising, and mastering a professional blowout at home for all hair types. Check out these products available online and in Hairhouse stores across Australia:
Which straightener brush is best for curly hair?
If you have curly hair or frizzy hair, the best blow dryer brush for you is one that's infused with ceramic and ionic technology. These brushes gently smooth frizz and impart a natural shine to your hair while detangling and creating bouncy curls with loads of volume.
A favourite among these is the ghd Glide Smoothing Hot Brush, commonly found on wishlists and often purchased with gift cards. Another great option is the Silver Bullet Showstopper Hot Air Brush, which tames frizziness and static while styling.
If you want to detangle your curly locks before using a hot air brush, use a wide tooth comb and work from ends to roots. You can also combat frizziness in curly hair with anti-frizz products and hair treatments, including hair oils, hair masks, and leave-in conditioners.
Stock up on high-quality hair tools from Hairhouse. Visit us in-storeor shop online for a wide range of hair products, from hair straighteners, curling irons, hair curlers, hair clippers and trimmers, hair dryers and hot hair rollers to Dyson Airwrap and Revlon Ionic Hair Dryer!