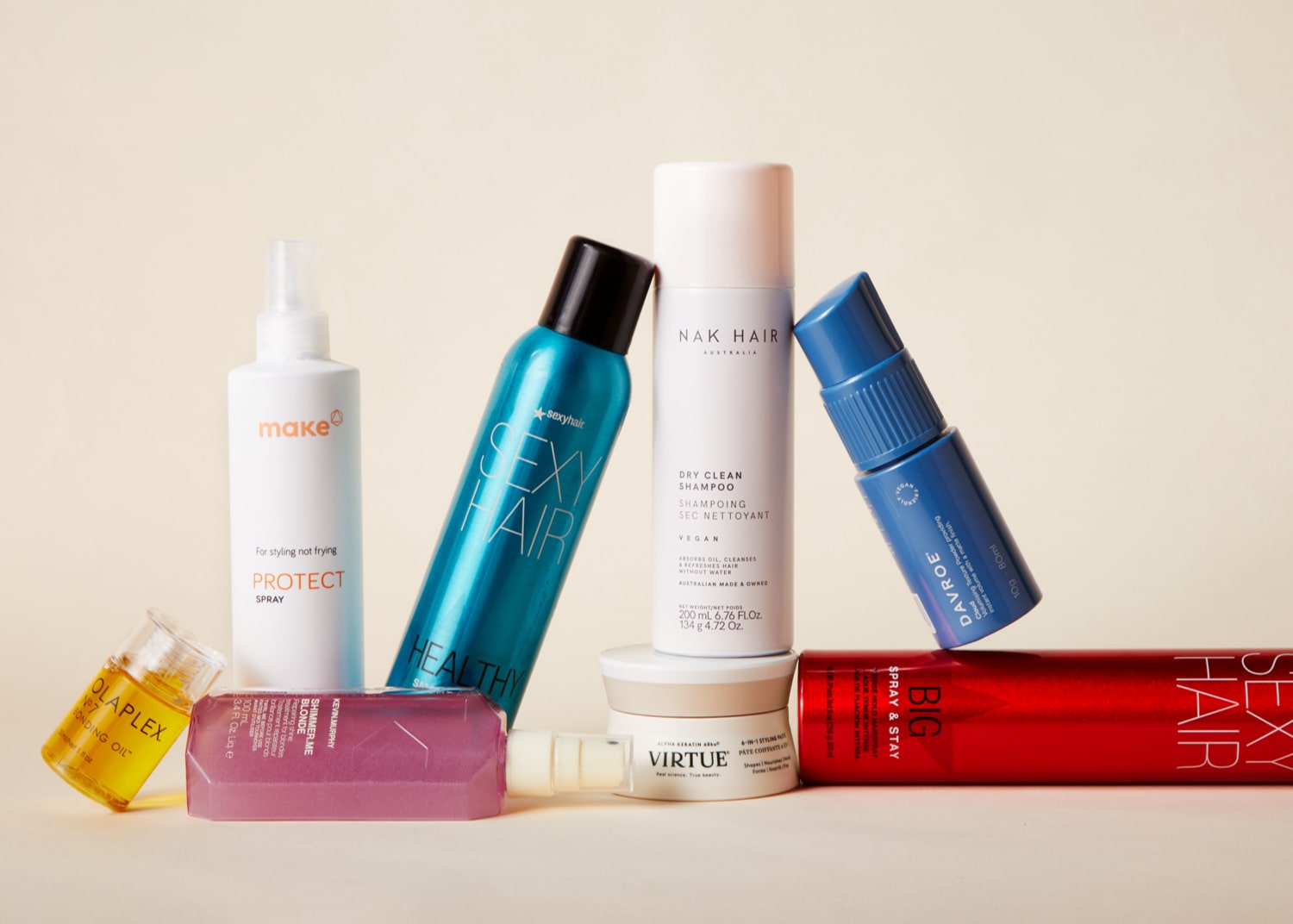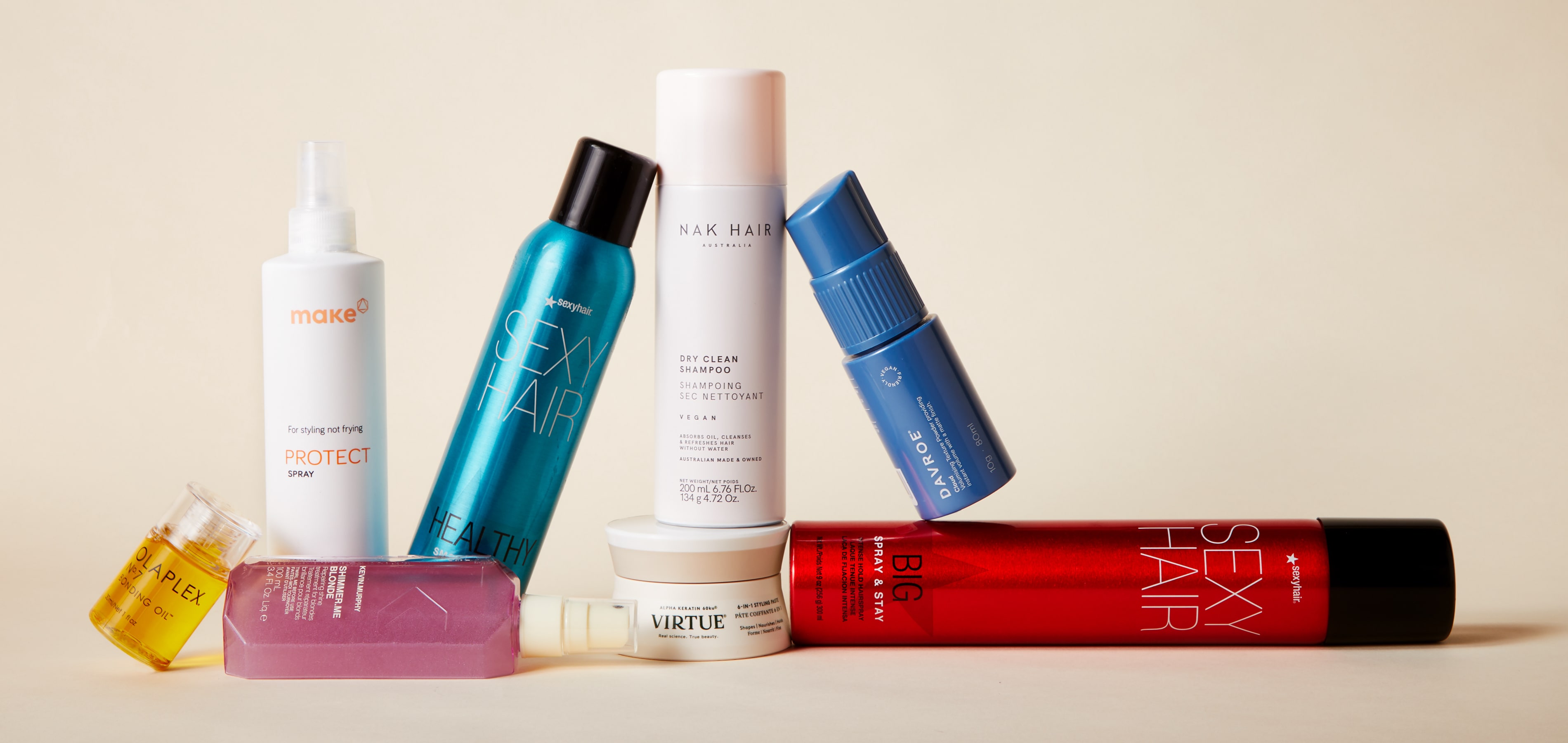 Styling
Hair styling products are your bff! Long, layered hair styles and short hair styles need hair styling products to reduce frizz, add volume or texture, add moisture, increase curl and shine –and more! Whether you have a curly hair style or a straight hair style, hair styling products will help to tame your mane.
Showing 60 of 878 results


What are the different hair styling products?
Hairhouse has a large range of your favourite brands of hair styling products to choose from. Whether your hair type is straight, curly, fine, thick, coloured, natural, wavy or frizzy, we have hundreds of products and a great range of hair styling tools and accessories to help you tame your mane.
We have everything from dry shampoo to volumiser and texturising sprays, detangler, intense moisturising masks, mousse, creams, gels, wax, and even clay, to get your hair into the styles you love.
Try the Moroccan Oil smoothing, restorative or intense hydrating hair masks to boost the moisture content of your locks. For those with fine hair there are plenty of options; try a Kerastase or Systems Professional volumising mask, followed by a Goldwell root booster or a KMS volumising spray. Choose from a range of thickening creams to give your hair body and bounce.
For those with wavy or curly tresses, we have a whole range of Fudge, hair gels, hair mousses and firm hold, humidity resistant products to keep your hair in top condition all through the day and night. Start with a vegan, cruelty free, natural shampoo and conditioner from Davroe to clean and protect your hair whether it's coloured, in need of moisture or oily or check out our full range of salon quality hair cleansing and moisturising products.
What is the best hair styling product?
The best hair styling product is the one which is best suited to your type of hair and Hairhouse has dozens for you to choose from. For wavy hair, you might need a product with flexible hold like Miss Malleable Flexible Hairspray or Paul Mitchell Awapuhi Wild Ginger Finishing Spray. Simply spray, style and you're away. If you need a more firm hold, try Savage Muk or Rough Muk forming cream. Brands like Evo, L'Oreal, Schwarzkopf and American Crew, also have a range of textured hair styling cream to help you create your ideal style.
Hair styling powder can also help your hair on those oily, bad hair days. Spray the roots with a touch of Instant Rockstar or Nak Hair 'Done and Dusted', agitate a little and you're ready to go.
To keep your curls defined, use a combination of hair styling products. Some Moroccan Oil Original Treatment to coat your locks, scrunch the hair with a curling cream like Davroe Curl Creme Definer, Muk Kinky Muk Curl Amplifier or Make Curly Cream. Then dry with a hair dryer (try GHD or Parlux or another from our extensive range of dryers). A diffuser is also an important hair styling tool when doing curly hair to avoid the frizz. Try the Cloud Nine diffuser or one of our other quality options in the Parlux diffuser range.
Which hair styling product to use?
Your hair says a lot about you so it's really important to use products you know you can trust and that are right for your hair. It can be a process of trial and error and sometimes you need to give your hair a chance to become accustomed to a new product. Luckily, Hairhouse has so many options when it comes to hair mousse, powders, creams, hair gel, clay and hair spray that you will certainly find what you need.
Our experienced staff are available at a location near you to help you with any queries. Use the store locator to find your closest Hairhouse store.
We also have a full range of quality hair styling tools to help you recreate the hairstyling techniques that you know and love. From straighteners, curling wands and crimpers, to heated brushes and heated rollers, we have everything you need, and more.
How do I choose a hair styling product?
Choosing the correct products can be tricky because everyone's hair reacts to products (and weather conditions!) differently. Where the Redken Curvaceous Curl refiner might holds the curls tight for one person, another may need a stronger hold product like a Juuce Wake Up Wax. For someone else, a hair styling powder from Wella or De Lorenzo might be enough to give their hair body and bounce and create their perfect hair do. In tropical climates, certain hair types need product that provides humidity resistance to ensure a sleek look.
Ask your hairdresser for advice about the types of products that will work well in your hair. Simply type the particular products you are looking for in our search bar at the top right and dozens of options will appear, from a whole range of quality brands. Then, you can purchase items individually or in our value packs.
You can also pop in to one of our Hairhouse stores for some expert tips and advice. Our friendly and knowledgeable staff will be happy to help you find products that will keep your hair healthy and looking good.
Where to buy hair styling products online?
All of our hair styling products and hair styling tools are available online through the Hairhouse website. Simply navigate around the site, find the products you love and add them to your cart. Before long, your favourite brands of hair styling products will be delivered to your door or post box and a part of your daily home hair care routine.
Hairhouse offers a range of payment methods to enable you to purchase with ease. In store you can use cash, card or credit (including Mastercard, Visa and American Express). Online, you can use PayPal, AfterPay or ZipPay to complete your purchase.
Don't forget your friends and family. You can purchase gift cards in store and e-gift cards online so they can choose the hair styling accessories, tools and products that are exactly right for them. We also have a range of fashionable hair styling clips and accessories that suit people of all ages.