Team tested
Mermade shares how to style the perfect blow wave at home
For an 11/10 blow wave.
Posted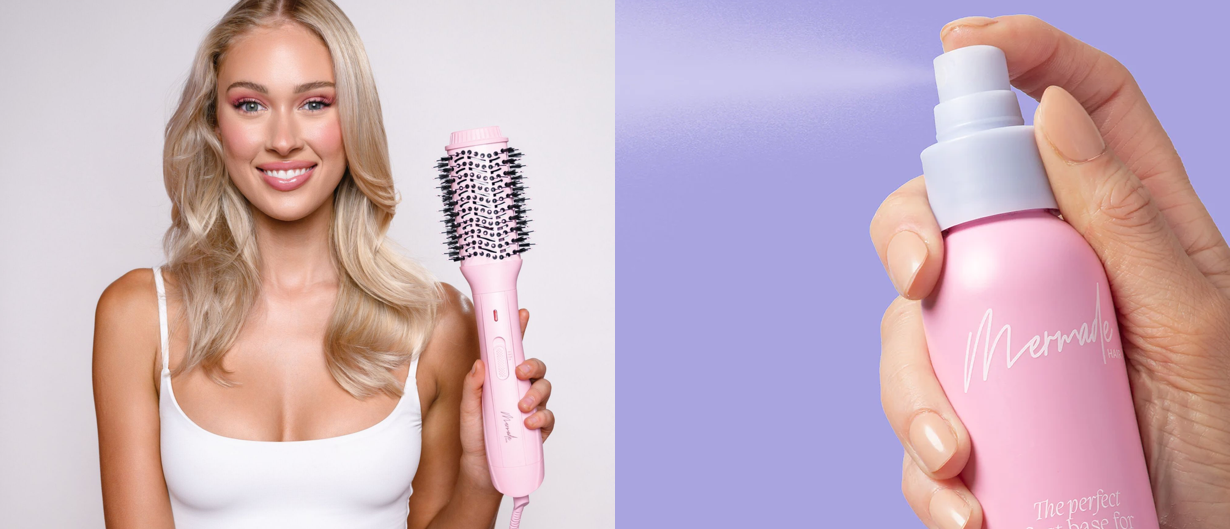 Struggling to perfect your blow wave? Because same. Smoothing my hair with a brush and hair dryer is easy enough—I just can't seem to replicate how my stylist brings body, bounce and perfectly curled ends to my hair. When I attempt a DIY blow wave, either the curls drop too quickly (and I'm talking straight away), or I just end up with chunks of my hair knotted around the brush. 
To help with my hairstyling dilemmas, we thought we'd call in the big guns: Mermade. They spilled that the key to your style shining well into day two (maybe even day three!) depends on your styling products and the correct technique for lifting flat roots, smoothing the lengths, and adding heaps of movement at the ends.
I've broken all the tips and tricks they shared into an easy-to-follow guide on creating an 11/10 blow wave. Here's to salon-worthy blow waves for everyone!
Read next: The styling tools & haircare perfect pairs in our Electrical Event
Even better blow waves lie in your prep step, according to Mermade. They swear by their Styling Primer—always combined with a heat protectant like Mermade Mist—to keep hair luscious, shiny and healthy. Argan oil is the glow-boosting frizz-smoother at play, while a blend of antioxidants simultaneously hydrates and protects hair from environmental stressors (think pollution, humidity, and heat).
Start with clean, towel-dried hair, then spritz over your roots, lengths and ends! I like to use a wide-tooth comb to brush the product through the hair for even coverage. 
Then, Mermaid recommends sectioning your hair with their Grip Clips—or any clips you have at home. Now, this might seem a little gimmicky, but trust us: there are many benefits to sectioning your hair when crafting a blow wave. 
For one, you'll gain better control over your mane, as it'll prevent hair from getting tangled or mixed up in your brush when you're working on a section. It'll also make it easier to really focus on one area at a time, evenly smoothing hair from root to tip. Plus, you'll have better access to each section of hair, so you can get the brush and hot airflow underneath the roots to lift and boost volume. 
For best results, work on 1-inch sections of hair at a time. It'll help you achieve a more consistent style by evenly distributing heat and airflow. 
Ok, so the secret sauce to a blow wave is using a hot brush if you're anything like me (aka uncoordinated), and Mermade's Blow Dry Brush tops the list because it's so lightweight and easy to use.
This Mermade hot brush combines a hair dryer's airflow with a round brush to dry and style hair. And unlike juggling a hair dryer and a round brush in each hand, this styler has a slim-grip handle that won't strain your wrists and leave you feeling like you've completed an arm workout.
Use the 60mm oval-shaped barrel to smooth your hair, twisting the tool in your hand as you move through the lengths to create tension and style soft curves. A real winner, the tool's ionic technology infuses hair with shine and moisture, and its oval shape is perfect for boosting volume. Simply place the bristles directly underneath the roots after sectioning your hair and twirl the brush in your hand a few times for a subtle, instant root lift.
Then, if you're a fan of blow waves with curled ends, take a small section of hair, and wrap the ends around the curling barrel, holding it there for a few seconds: the hot airflow will effortlessly create the bouncy curled ends you're after. 
Once your blow wave is complete, Mermade recommends finishing up with the Super Serum. A multipurpose elixir with hydrating, nourishing and restorative properties, it's perfect for lightly layering on hair because its weightless formula won't weigh it down or leave a greasy finish. Leave it to argan and castor oils to target frizz, smoothing away flyaways and fluff while infusing hair with a beautiful, healthy-looking shine. 
Plus, the best part of the Mermade Blow Dry Brush is that it's suitable for wet or dry hair. That means you can touch up your style on day two or three, which prolongs hair wash day for a little longer.
Available in Pink, Lilac and Black, you can choose a colour that suits your style.