Honestly, I can be lazy with my hair. 
I'm immediately on board if I can get soft, shiny, swishy results with minimal fuss.
So, when I heard that the K18 Hair Treatment was a leave-in lotion applied instead of conditioner that worked its magic in just 4 minutes (!!) I was intrigued.
Putting the treatment to the test, I used the K18 Leave-In Molecular Repair Mask every time I washed my hair for three weeks straight. 
Keep reading for my experience with the K18 Hair Treatment, a hyped-up hero that's flooded with 5-star reviews.
What is the K18 Hair Treatment?
K18 exploded on the hair scene in a big way. With impressive before and after shots, the hero brand secured approval from hairdressers, industry experts and influencers. 
Perhaps the most famous of the bunch, the K18 Leave-In Molecular Repair Mask is renowned for restoring chemically treated hair damaged by regularly lightening, colouring, having chemical services (like hair relaxing) and using hot tools. 
Basically, if your hair is feeling super dry, looks dull and has split ends aplenty, this is the dream hair treatment for your tired, stressed-out strands. 
Of course, anyone can use this leave-in mask, but those with damaged, sensitive hair types will see the best results. Its benefits? Well, the hair treatment works to restore strength, softness, smoothness and bounce to hair. 
Rather impressively, K18 conducted a clinical study, which found that the Leave-In Molecular Repair Mask restored hair's original strength by 91% and original elasticity by up to 94% as part of the bleaching process.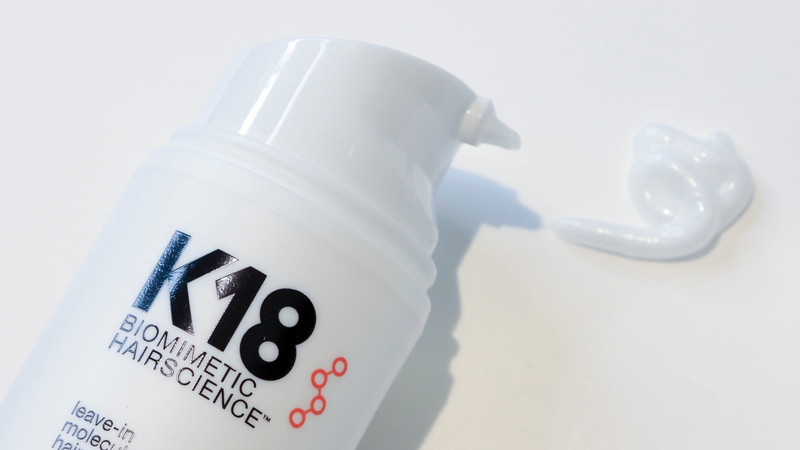 How does it work? 
Now it's time for the science-y bit.
When our hair gets damaged (boo), the polypeptide chains (aka keratin chains) weaken and snap. These polypeptide chains make up the inner structure of our hair strands, so it's really not ideal for these to become compromised.
The hair's core structure keeps strands bouncy and strong, so when they become damaged, the hair loses its shine, softness and resilience. 
Enter the K18Peptide™. A knight in shining armour, this bioactive peptide works to restore damaged hair to its former healthy self. Hint, hint: it's the hero ingredient in our Leave-In Molecular Repair Mask.
What sets this magic peptide apart from others is its size and makeup, which allow it to reconnect any broken polypeptide chains, restructure the inner core, and restore order to unruly hair. High-achiever, much?
My review
First off, let's chat about my hair.
I have naturally wavy, mid-brown locks but over ten years of being bleached blonde has taken its toll. Keeping my hair strong, healthy and vibrant is mega maintenance, meaning I have big expectations.
Usually, my restorative hair regiment tends to involve heaps more fuss. So, it was a breath of fresh hair to keep it simple and double shampoo—an essential step for clarifying strands and scalp, especially if you have a love affair with dry shampoo. 
Truthfully, the K18 Leave-In Treatment is unique to my current line-up of repairing treatments/masks (like the Olaplex No.3 Bond Perfector) because it's applied instead of conditioner and left in the hair.
It did feel odd to skip my conditioner and hop out of the shower. Not that I'm complaining, of course.
I used two pumps on my hair, but K18 recommends starting with one and applying more depending on your thickness and length. Top tip: you need a lot less than you think. A perk I respect, seeing as the dinky bottle doesn't come cheap.Remember (and this is key), it's *essential* that you wait 4 minutes before using heat or other products on your hair—so be sure to let the treatment do its thing. Plus, K18 recommends using the hair treatment for four washes in a row for best results. After that, every four to six washes is perfect for long-lasting results.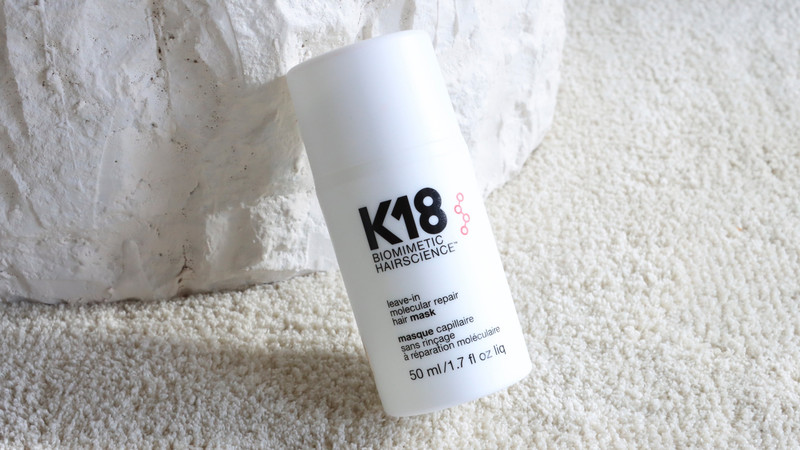 My verdict
Overall, I loved the product. It had a gorgeous floral scent that wasn't overwhelming, a lightweight texture with enough slip to cover the entirety of my lengths, and it didn't feel sticky afterwards. Yay!
My hair instantly felt softer and smoother after using the treatment for the first time. But it wasn't until I'd used it 3-4 times consecutively that I noticed how much healthier my hair felt and looked.
The biggest perk? The hair around my face feels so much stronger. I'm a fiend for using hot tools to tame my pesky, teeny baby hairs, but they feel tonnes stronger now. 
On the days when I don't have time for a full-blown hair care regimen, the K18 4-Minute Repair Mask is my go-to for soft, healthier-looking hair in a pinch. Considering it's left in the hair, the treatment delivers long-lasting results while I'm going about my day. And who doesn't love a fuss-free product?
Although if I'm in the mood for a pampering, luxe experience, a wash-out hair mask remains my favourite way to indulge tired strands.