Fact: it can be tricky finding the *right* hot tool for your hair. Considering different types of hot tools, plate materials (aka titanium or ceramic), barrel sizes and technology isn't a breeze when you're not fluent in hair styling. Of course, you've also got to take your hair into account, whether yours leans frizzy, curly, fine, long or short—they all have their own set of styling needs.
I know it all sounds confusing, so to make it easier for you, I asked our Salon Educator, Astin, to match the best Halo styling tools to different hair types.
Halo is the brand for high-quality styling tools at a reasonable price. Think: straighteners smoothing in one pass, versatile curlers crafting multiples styles and easy breezy hair dryers that fight frizz. You're putting your strands in the right hands with Halo.
Best Halo Styling Tools For Every Hair Type
Best Straightener For Thick Hair: Halo The Farrah Titanium Hair Straightener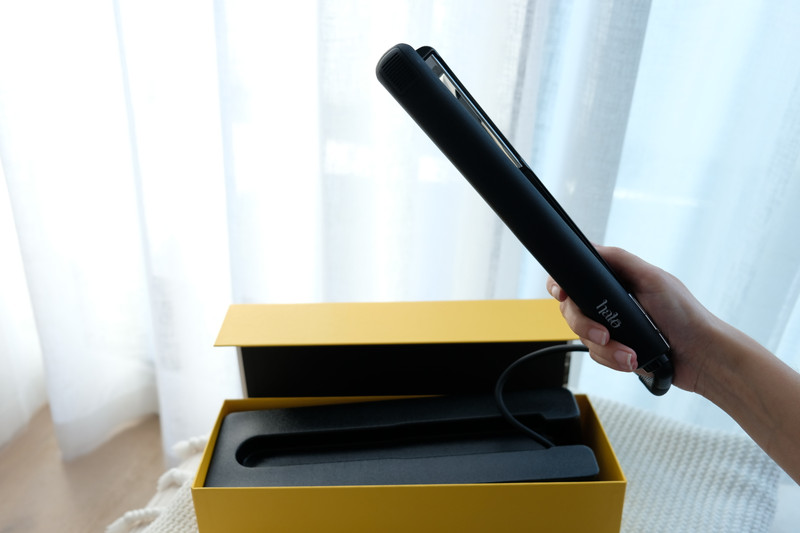 A power-packed straightener is the only tool for the job with thick manes. Otherwise, you'll get stuck straightening the same section of hair over and over and over to get them smooth (a recipe for snapping, splits and breakage). 
The Halo Farrah is a dream for thicky, curly-haired gals thanks to advanced Nano Titanium Technology, which evenly and quickly conducts heat to straighten in fewer passes and reduce styling time—a huge plus for those with heaps of hair. Its advanced floating plates glide through hair without pulling while infusing each strand with moisture and shine for healthy, swishy results.
Its variable temperature controls let you custom style depending on your hair type and texture, and with an auto-shut-off feature, you can leave the house free from the "did I leave the straightener on?" panic.
Best Straightener For Fine Hair: Halo The Kate Ceramic Hair Straightener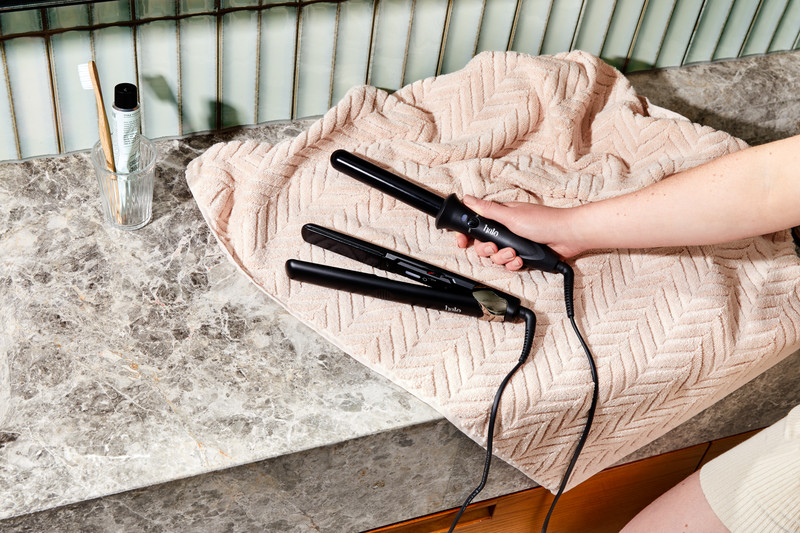 While titanium plates are the best choice for thick, curly or coarse hair, we'd turn to ceramic stylers if your hair is fine to medium, sensitised or colour-treated. The Kate's ceramic plates evenly and gently distribute heat without hot spots to ensure hair is straightened safely without damage.
Truly taking care of hair, The Kate's Japenese Kyocera® Technology emits kinder-to-hair ionic heat waves and far infrared rays to style without blasting excessive heat. Plus, the mineral-infused plates prevent moisture loss for sleek and healthy-feeling hair.
A perk is that you can adjust the variable temperatures by +/-5°C (from 100-210°C), so if you're just refreshing your style, you can do so with minimal heat. Our top tip: 185°C is the optimum temperature to straighten hair for a long-lasting look without overheating.
Best Straightener For Curly Hair: Halo X42 Shine Ceramic Extra Wide Straightener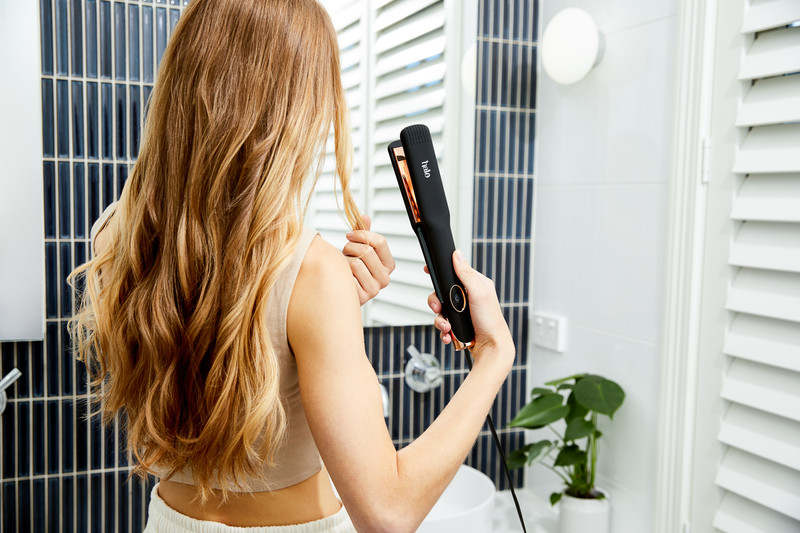 Curly queens: listen up! Frying your coils, curls, or frizz is a thing of the past with the Halo X42 Shine Hair Straightener. Its ionic technology releases millions of negatively charged ions, which infuse hair with moisture and shine for glossy, sleek strands that don't feel dry or crunchy.
The X42 takes a gentler approach to heat styling with far infrared technology emitting wavelengths that heat hair evenly and gently from the inside out to prevent frazzling hair. Naturally, its extra wide ceramic plates are *perfect* for curly hair as they seamlessly pass through without snagging or pulling. It also cuts down on straightening time as you can style larger sections of hair at once. Win, win.
Best Curler For Long Hair: Halo X3 Shine Titanium 3-piece Hair Curler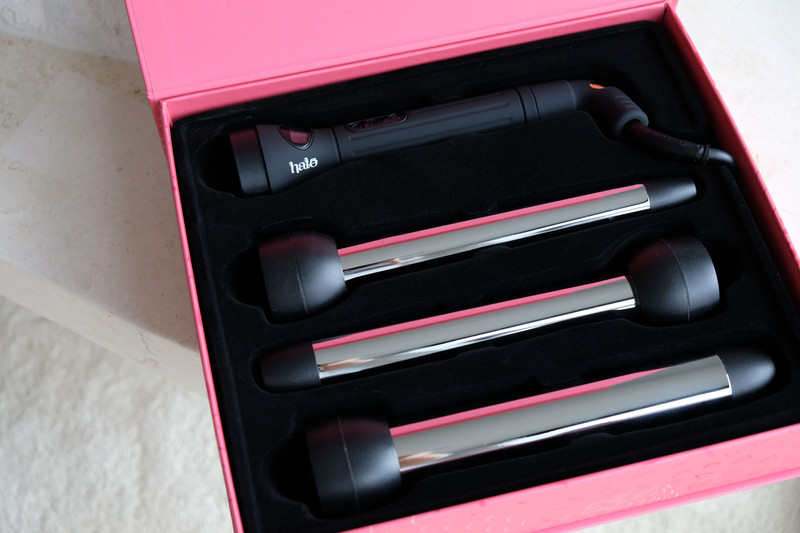 Like the flexibility of switching up your style? Introducing a dream one-does-all styling tool: the Halo X3 Shine Titanium 3-Piece Hair Curler. Featuring three uniquely-sized and shaped detachable barrels (25mm, 32mm, 18-25mm), effortlessly create voluminous curls, loose, beachy waves or tapered and defined curls. 
The titanium-coated barrels heat up fast, maintaining a consistent heat for symmetrical curls and waves, with an ionic generator to infuse hair with shine and protect hair's moisture levels.
This versatile hot tool is ideal for those longer-haired gals needing larger barrels to wrap hair around and features universal voltage, meaning you can take your curl wardrobe wherever in the world and enjoy stunning hair.
Best Hair Dryer For Thick & Curly Hair: Halo Jennifer 3900 Hair Dryer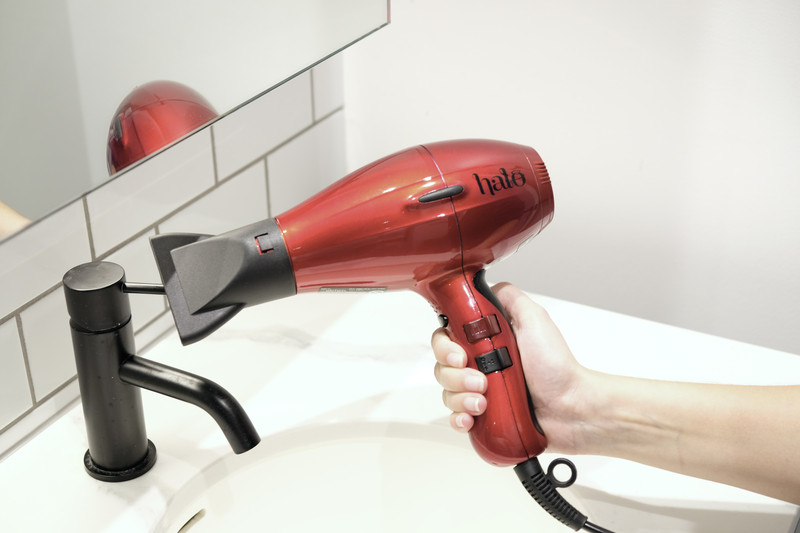 Heaps of hair that takes ages to dry? Meet Halo's Milan-made, power-packed hair dryer, The Jennifer 3900. Reducing drying time by up to 30% (compared to other dryers in its class)—a mega perk for those with thick or curly hair—expect 2,000 to 4,000 watts of power.
An ionic generator produces negative ions, deeply nourishing and nurturing hair throughout the styling process. Plus, its infra-red technology consistently infuses the hair shaft with gentle heat from the inside out, preventing exterior damage to the hair shaft and ensuring a smooth, glossy and frizz-free finish. 
Best Hair Dryer For Fine Hair: Halo Jennifer Lite 
Meet Halo's Jennifer Lite Hair Dryer, the little sister to The Jennifer. A tiny but mighty hair dryer that still delivers a 30% reduction of styling time in a less bulky, lightweight variant—perfect for travel, tight storage spaces or if you hate having an achy wrist during hair drying.
It promises a little less power than OG The Jennifer, making it ideal for fine-to-medium hair types that prefer a gentler airflow. Trust in negative ions to boost moisture, shine, and tame pesky flyaways, while ceramic and infrared heat technology dries hair from the inside out. Custom style with three temperature and two-speed settings, as well as a cool shot to lock your style in place.