Hair Health
Ask How-To: Everything You Need To Know About Frizzy Hair
In a tizz over your frizz? We've got you.
Posted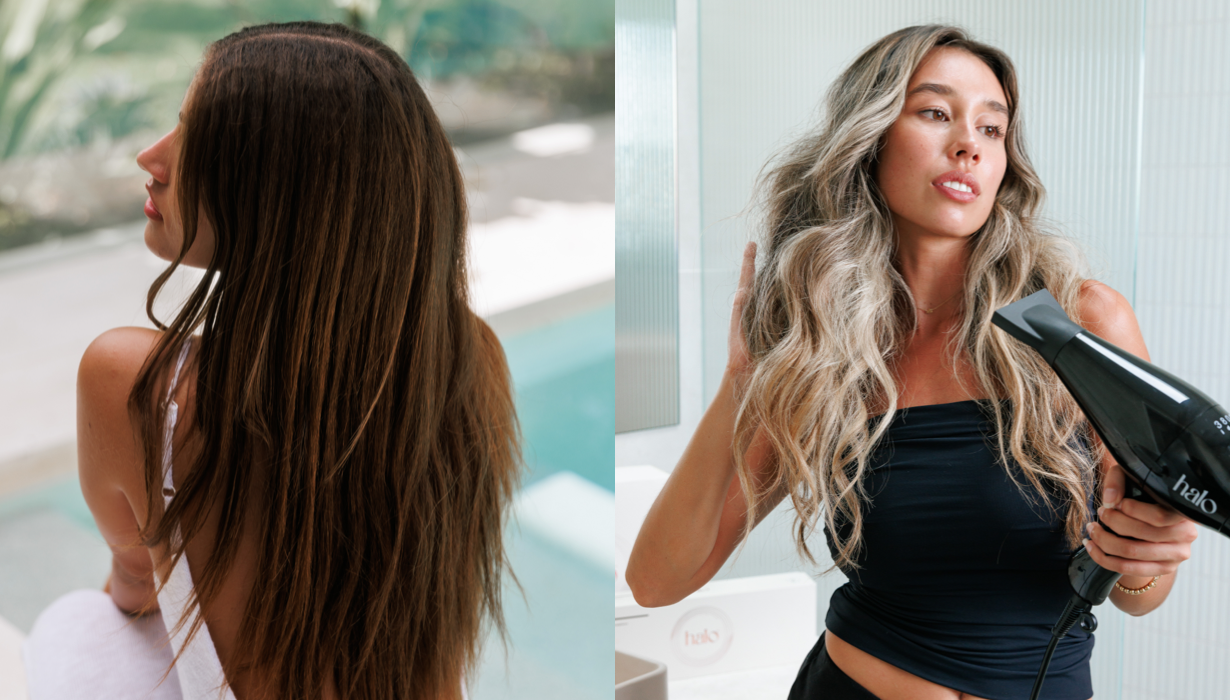 In this article
1. What causes frizzy hair? 
2. How to address frizzy hair
3. The typical signs of frizzy hair
4. Is frizzy hair unhealthy?
5. A simple routine to manage frizzy hair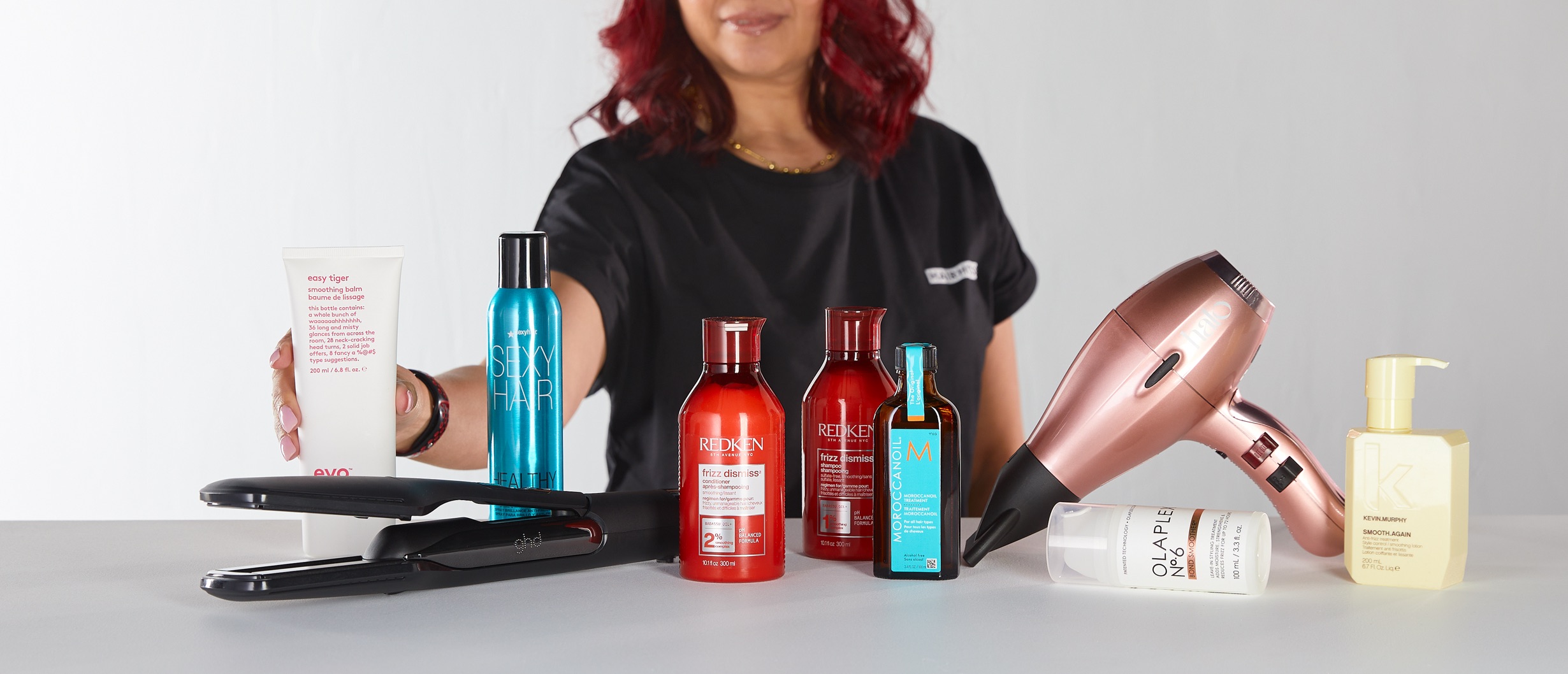 What causes frizzy hair? 
There are a few factors: 
A lack of moisture in the hair: dry or dehydrated strands are more likely to frizz.

Humidity: moisture in the air penetrates the hair shaft, causing it to swell and become frizzy.

Friction: overbrushing or using rough towels can lead to frizz.

Heat tools: hair that's been damaged by excessive heat styling can have a compromised moisture barrier, making the hair more susceptible to frizz and dryness.

Harsh chemicals: using sulfates or alcohol-based styling products can strip the hair of its natural oils, leading to dryness and frizz.
To better understand what happens to your hair when it's frizzy, we're going to get a little scientific. 
Your hair contains hydrogen bonds which account for one-third of the hair's strength; these bonds are quite weak and easily broken by water or heat and reformed by drying or cooling the hair – this is what allows us to style our hair with irons and tongs, but it's only temporary. When moisture – like sweat or humidity – touches hair again, frizz can reappear. 

Given these bonds are quite weak, it's a good idea to invest in a product that can assist in strengthening them while helping to manage frizz – like OLAPLEX's No. 6 Bond Smoother. It contains an active ingredient, bis-aminopropyl diglycol dimaleate, which repairs broken bonds caused by chemical, thermal and mechanical processes including colouring, straightening, regular heat styling and brushing of wet hair.


If you looked at a strand of frizzy hair under a microscope you'd notice the outermost layers of the hair shaft (the cuticle) are weathered, which means moisture can penetrate more easily causing compromised structure, kinks and, you guessed it, frizz.
What are simple ways to address frizzy hair?
Let's start with the simple stuff: turn down the heat in your shower. Sure, a hot shower is heaven for you, but not your hair – it can strip it of its natural oils that are essential to maintain moisture and shine. Lukewarm water from now on, please. 
Wash your hair less – two to three times a week is plenty and will help reduce dryness. When you wash and condition your hair make sure you use a hydrating shampoo and conditioner – lucky for you we have plenty! Try  Redken Frizz Dismiss Shampoo and Conditioner to smooth and enhance shine (watch Redken in action!) . This duo is free from sulfates and sodium chloride, and features sustainably sourced babassu oil. What's babassu oil and how does it benefit frizzy hair? We're glad you asked. The babassu tree is native to Brazil and is rich in fatty acids and vitamin E which help to hydrate not only the hair but the scalp. It's also deeply reparative and moisturises hair so it can shine again.
Try adding  KEVIN.MURPHY's SMOOTH.AGAIN WASH to your shower caddie; it targets frizz and flyaways with the help of a whole suite of oils and butters. Monoi oil – which imparts shine and softness while replenishing hair – sunflower seed extract, which delivers deep hydration while ensuring colour-treated hair especially stays vibrant; murumuru seed butter helps to restore elasticity and retain essential oil, and olive fruit oil (used for centuries in cosmetics) helps mimic the hair's own healthy oils and protects your strands from heat and styling damage.  
Opt for air drying over towel drying – friction is not your friend when it comes to frizz. If you're not patient enough for air drying then give one of our microfibre turbans a go: they're designed to gently yet effectively wick away moisture from damp and wet hair – eliminating the need to "rub" hair dry and helping cut down on frizz and friction. The result? Smoother, shinier-looking hair. It also doesn't hurt to get your hair cut more often: every six to eight weeks will help with manageability and prevent split ends from travelling up the hair strands and causing frizz. 
Treat yourself to a nourishing mask or oil application when you think of it. We love the Moroccanoil Original Treatment because not only does it condition and manage frizzy hair, but it can also be used to style and finish a look. It has a slew of benefits, from deeply moisturising dry, dehydrated strands to adding shine, increasing elasticity and protecting hair from breakage. The vitamin E in argan oil also helps smooth frayed hair shafts and seal split ends while the omega fatty acids work to strengthen your hair. For something with even deeper hydration and styling assistance try evo's Easy Tiger Smoothing Balm before you blow dry your hair.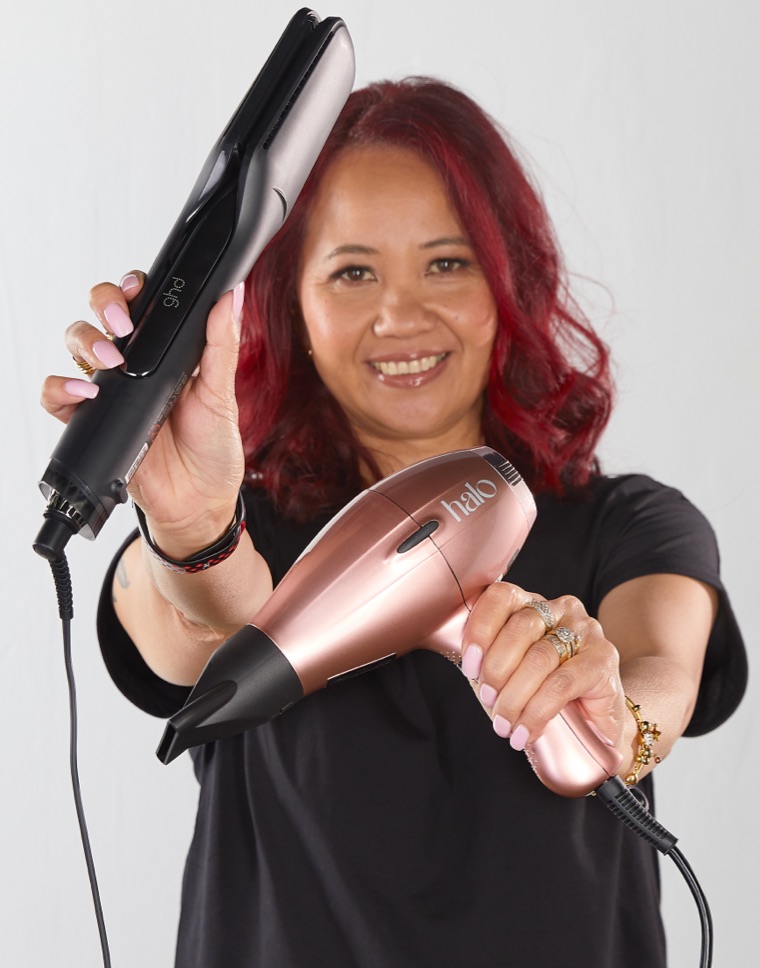 If you can't break up with your heat tool, we totally get it. Try using one that's kind on hair while helping to achieve your favourite styles. ghd's Duet Style 2-in-1 Hot Air Styler uses clever Air-Fusion™ technology to transform your hair from wet to styled – allowing you to dry and style at the same time without compromising the health of your hair. As for a hairdryer, the Halo by Elchim Jennifer 3900 Ionic-Ceramic Hair Dryer - Venetian Rose reduces drying time by up to 30% which means frizz is less likely. And don't forget a spritz of heat protectant spray before you pick up your tool! 
What are the typical signs of frizzy hair?
Frizzy hair can be difficult to manage and may have an irregular or fluffy texture; it could also appear dry, straw-like or rough to the touch. Frizzy hair misbehaves and refuses to blend in – it can stick out or curl in different directions causing uneven and messy textures that don't align with the main body of your hair. For curly hair in particular, typically after shampooing, your curls start to form nicely as the hair dries but the moment you comb through the curls break, lose definition and go frizzy. This is because combing or running fingers through your hair disrupts the hydrogen bonds. The lesson here: don't touch your curls once you've applied your products. 
Is frizzy hair unhealthy? 
The long and short of it is no, frizz isn't an indication of unhealthy hair – it's just hair that's misbehaving. Frizz is often a sign that your strands need more attention and that a hair routine overhaul might be in order. Keep reading to see what we suggest for addressing frizz in a few steps.
Try this simple routine to help manage frizz
Short of having your hair treated chemically to permanently reshape the hair's bonds and prevent frizz, there are more hands-on approaches in the form of products you can use at home to address frizz. Give this a go: 
Step 1: Wash and condition your hair using Redken's Frizz Dismiss Shampoo and Conditioner to gently cleanse hair without stripping its natural oils.

Step 2: To keep your strands looking sleek, apply evo Easy Tiger Straightening Balm to damp hair (that's preferably partially air dried, not towel dried).
Step 3: Dry your hair and style as desired using the Halo by Elchim Jennifer 3900 Ionic-Ceramic Hair Dryer - Venetian Rose – it harnesses an ionic-ceramic system and gently heats the hair from the inside out to reduce frizz. 
Shop the look 

1. Moroccanoil Original Treatment
2. KEVIN.MURPHY's SMOOTH.AGAIN WASH
3. Redken Frizz Dismiss Shampoo and Conditioner
4. OLAPLEX's No. 6 Bond Smoother
5. evo Easy Tiger Straightening Balm
6. ghd's Duet Style 2-in-1 Hot Air Styler
7. Halo by Elchim Jennifer 3900 Ionic-Ceramic Hair Dryer - Venetian Rose