Hair Health
Ask How-To: Everything You Need To Know About Oily Hair
Hair that could be served with bread and balsamic? Let's get to the root of it.
Posted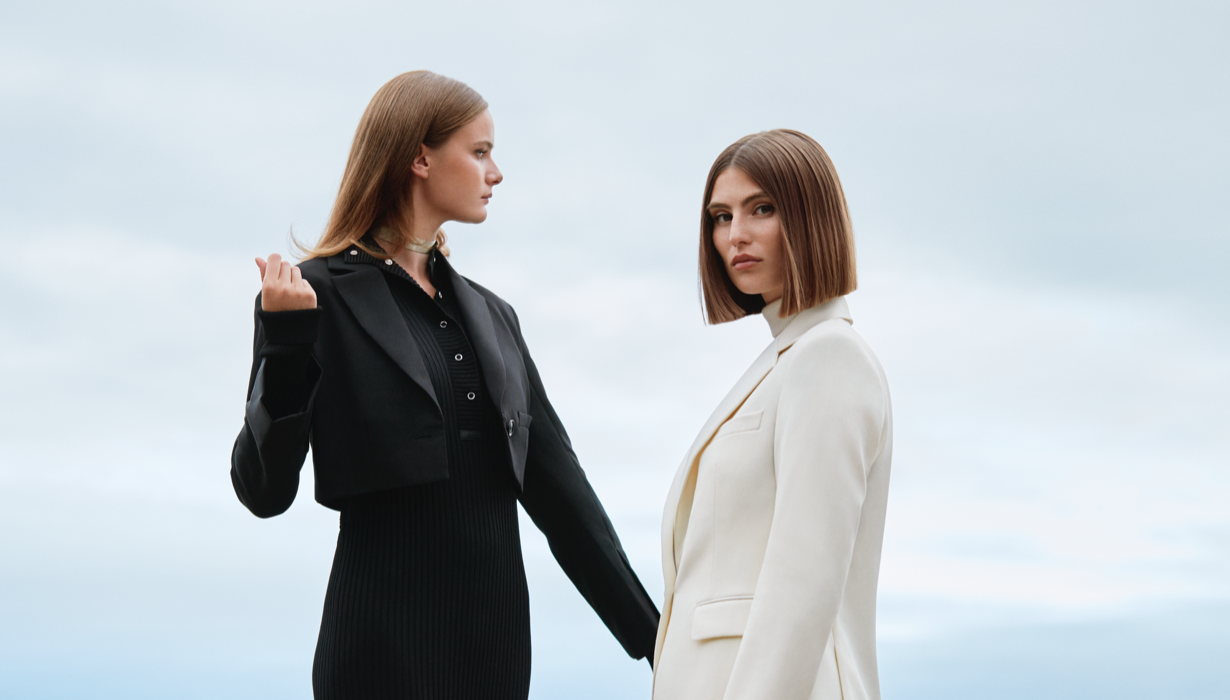 In this article
1. What causes oily hair?
2. What are the typical signs of oily hair?
3. Is oily hair a type like the skin on our face, and can it change?
4. Why is my hair oily only a day after I wash it?
5. How often should I wash my hair if it's oily?
What causes oily hair?
Let's get anatomical. Our scalp is made up of many, many hair follicles. Each follicle grows a hair and is home to a sebaceous gland, a little oil-producing factory that churns out sebum to keep our hair and scalp nourished and balanced. Of course, it's natural that we all produce sebum – it only becomes an issue when our sebaceous glands produce too much. 
Many factors can cause our sebaceous glands to overproduce sebum, including:
Overwashing hair: washing your hair every day might seem like an easy fix for oiliness, but you're only getting into a vicious cycle. Overwashing your hair can strip away natural oils, which, in turn, will signal to your sebaceous glands that they need to produce more sebum and, as a result, make your hair oily – again! 

Hormones: pregnancy, puberty, periods, and hormonal imbalances can trigger our androgens and estrogens (aka sex hormones) to stimulate our sebaceous glands into overproducing sebum. 

Genetics: oily hair can be hereditary, meaning it runs in the family – just like skin types.

Scalp conditions: you're more likely to experience excessive sebum production if you suffer from seborrheic dermatitis or scalp psoriasis. Prioritise scalp health and be gentle with delicate, sensitised areas of skin to prevent exacerbating your condition.

Environmental factors: humid weather on island getaways and heavy pollutants from city living can all influence our sebaceous glands into producing more oil (sigh).

Touching or brushing hair frequently: keep your hands to yourself! Touching, brushing and combing your hair too often can stimulate the scalp, distribute your natural oils and make your hair appear greasier.
What are the typical signs of oily hair?
A telltale sign of oily hair is a greasy appearance – it'll look shiny or slightly wet and stick together in clumps making it a challenge to style how you want it (unless your go-to is a slicked-rick look, of course). Excess oil can weigh down the hair which will cause roots to look limp and flat with no volume. No bueno. You might even experience itching or discomfort as oil can mingle with the dead skin cells our scalp sheds, potentially leading to scalp conditions like dandruff or seborrheic dermatitis.   
Is oily hair a type like the skin on our face, and can it change?
So, oily hair isn't a type like how we describe our skin – we tend to classify hair types as straight, wavy curly – but oily hair can be considered a condition. Your oily hair might be heredity, making it a little harder to shake (sorry), but if it's caused by a hormone shift, humid weather or using the wrong haircare product, your hair's oil levels can change if you can address the root cause. 
Why is my hair oily only a day after I wash it, and how do I address it?
As we've covered, oily hair occurs for many reasons: hormones, weather, or even touching it too much – take your pick!
But the solution to your oily dilemmas might be as simple as focusing on cleansing your scalp. Now, we say scalp because shampoo is only meant to be applied to your scalp – not your mid-lengths and ends – to remove the sebum and dead skin cells that accumulate without stripping hair of essential moisture. Our top tips are to always double-shampoo and thoroughly rinse away all shampoo residue to prevent product buildup.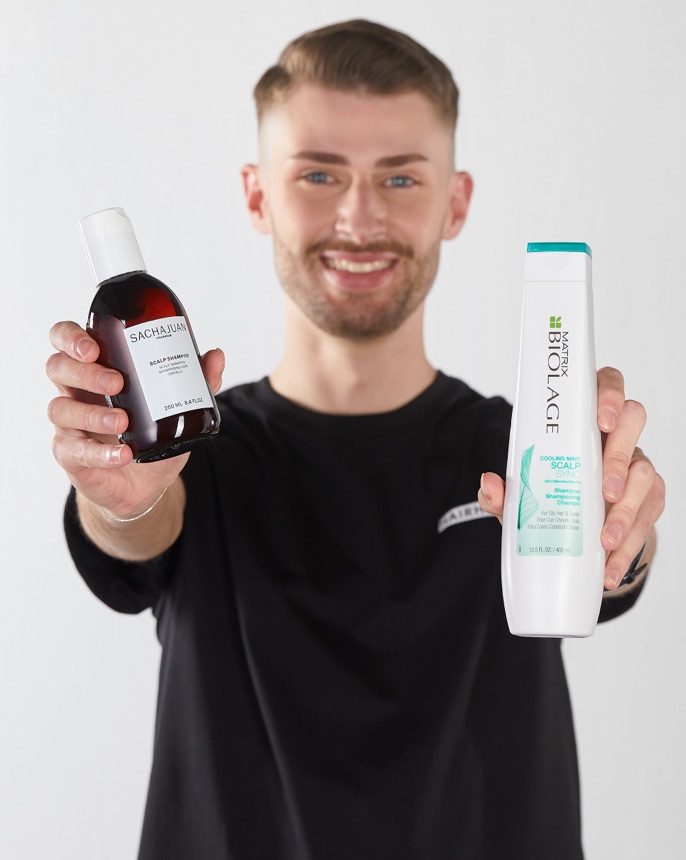 Maybe you're using a shampoo not formulated for oily hair – it could be too moisturising, enriched with thick butters and deeply nourishing oils that weigh hair down. Look for a clarifying shampoo like Sachajuan Scalp Shampoo to address excess oiliness and maintain optimum scalp health. It contains salicylic acid (a beta hydroxy acid) to clear out follicles clogged with sebum, piroctone olamine (an anti-fungal agent) that deals with dandruff and cooling menthol for that oh-so-fresh feeling.
We also love Kérastase Specifique Bain Divalent Shampoo. It's formulated with greasy roots and dry ends in mind, working hard to balance sebum production for healthier, stronger hair.
Then, don't skip the conditioner, just avoid heavy nourishers. Choose a lightweight option like evo's Normal Persons Daily Conditioner – it contains an anti-sebum agent that sweet-talks sebaceous glands into producing less oil. Remember, only apply conditioner to the lengths and ends – not the scalp! – to prevent weighing roots down with nourishment they don't need.
How often should I wash my hair if it's oily?
Honestly, it's all about balance. Wash your hair too frequently, and you risk stripping away too much oil and stimulating the scalp to produce even more oil to compensate for the dryness. Then, don't wash your hair enough, and sebum, dead skin cells and product buildup are left to accumulate on your scalp, potentially leading to other scalp and hair concerns. 
Our sweet spot: washing your hair every second day (if you can push it). If your hair builds up a bunch of oil really quickly after hair wash day, try incorporating a dry shampoo or oil-absorbing haircare product into your routine to prolong your style. Sexy Hair Big Volumizing Dry Shampoo is a weightless dry shampoo that soaks up oil for a fresh, full appearance. Plus, it leaves no residue and comes with UV protection built in.
Remember that everyone's hair is beautifully unique, and finding the right frequency of washing may take some trial and error.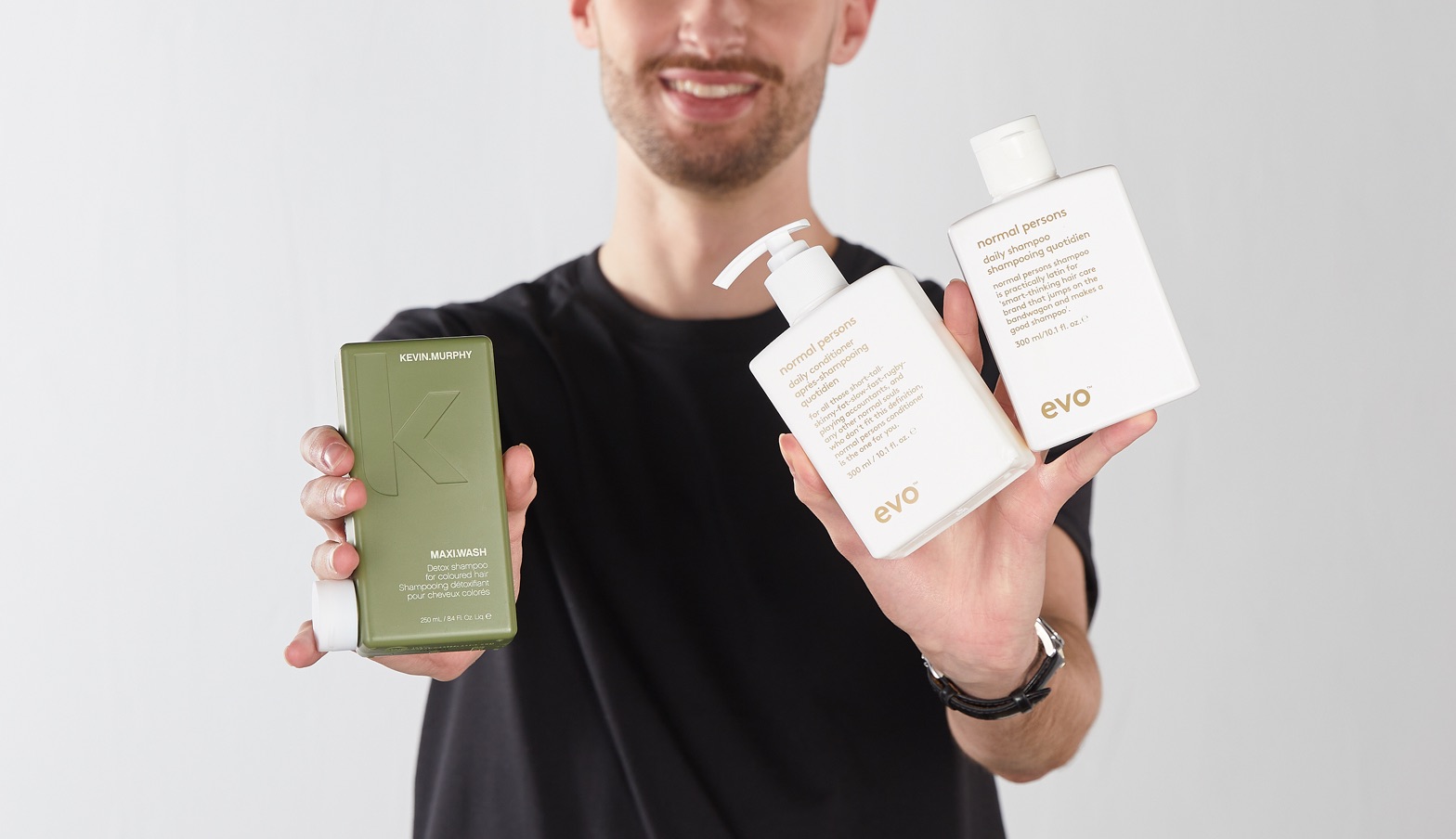 A simple routine if you have oily hair
Step 1: So long as your scalp isn't red, sore or inflamed, give a scalp scrub a go! The Oribe Serene Scalp Exfoliating Scalp Scrub promises your best clean yet — eliminating dead skin, product buildup and oil from the scalp.
Step 2: Double shampoo and massage the scalp with evo's Normal Persons Daily Shampoo. A hydrating shampoo that removes impurities and gently lifts away excess sebum.
Step 3: Or embrace the grease and slick back your hair into a bun or ponytail — an on-trend hairstyle that prolongs hair wash day. Oil makes it easier to style a sleek, slicked look without product.

Shop the look: 
2. Kérastase Specifique Bain Divalent Shampoo
3. evo Normal Persons Daily Shampoo & Conditioner
4. Sexy Hair Big Volumizing Dry Shampoo