Profiles
The Shower Series: Monique Riley
Miss Universe Australia 2022 shares her ultimate hair hack.
Posted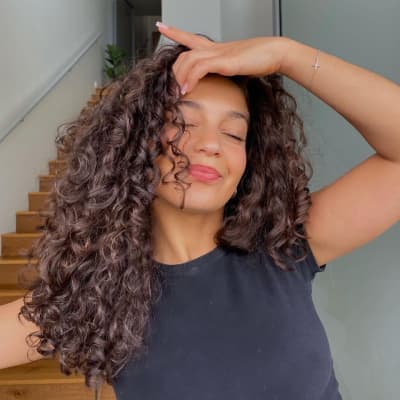 The Shower Series delves into the wash day rituals and gatekept hair hacks of industry insiders, your fave influencers and our Hairhouse stylists.
Ever wanted to glimpse inside a beauty queen's bathroom vanity?
We're kicking off The Shower Series with the freshly crowned Miss Universe Australia 2022 winner and our Hairhouse & Sexy Hair Ambassador, Monique Riley. 
She tells all about her Miss Universe Australia journey, the styling hack she shared with her fellow finalists and the must-have hair care she'd take to a deserted island.
Hey Monique, tell us about yourself.
I grew up living what I like to call the 'Hannah Montana' lifestyle having the best of both coastal and country life. My Dad runs cattle properties in the Queensland outback, while my Mum lives in Noosa close to the ocean, fine dining restaurants and boujie cafes. 
I moved out of home at age 17 to study for my Bachelor of Creative Industries in Brisbane before auditioning for the National Institute of Dramatic Arts in Sydney. After being accepted, I loaded my entire life into a tiny turquoise Suzuki Swift to follow my dream of becoming Australia's next Margot Robbie. I now work part-time as a model, actress, Executive Assistant and help run my partner's construction company. 
Between me and you, I still harbour secret dreams of becoming a professional boxer.
Congrats on your win! How does it feel to be Miss Universe Australia 2022?
Thank you so much. Honestly, it's still so surreal to me. The number of kind messages and support I have received from all around the world is overwhelming and so incredibly touching—ten years of non-stop grinding since graduating year 12 all paid off in one unforgettable night. 
I truly feel so honoured to be able to represent our beautiful country on the international stage and stand up there on behalf of so many incredible women who were on this journey with me.
View this post on Instagram A post shared by ☆Monique Riley☆ (@moniqueeriley)
What inspired you to compete?
My biggest inspiration for entering was the opportunities that Miss Universe Australia can lead you. It's a world-renowned pageant that can open many doors. I'm a big believer in the notion that everything happens for a reason, so when the opportunity presented itself, I had to take it as I knew it could really help with my future acting and modelling careers. 
It's also a great way to network and get to know other like-minded girls and creatives, which I was craving post covid lockdown, and it is a tonne of fun. There is also the charity side of Miss Universe that was really appealing to me to be a part of.
What's next for you?
Honestly, at this stage, I'm just taking every day as it comes. It's a super exciting time, but in the lead-up to the international finals, I'm focusing on remaining in shape, getting in as much walking practice as possible, and gaining more confidence with public speaking. I love throwing myself into the deep end, and I feel like the next 12 months will be exactly that. I'm also extremely excited about all my travels planned for October.
We're thrilled to have you as this year's Hairhouse & Sexy Hair ambassador. Do you have a fave Sexy Hair product?
I'm thrilled to be this year's Hairhouse & Sexy Hair ambassador. Thank you for the opportunity. I did indeed: the Sexy Hair Big Spray & Play Volumizing Hairspray and Big Powder Play are game changers—especially for fine hair gals like myself.
View this post on Instagram A post shared by Hairhouse Australia (@hairhouseaustralia)
Has your relationship with your hair changed over the years?
My relationship with my hair has certainly changed over the years. The older and wiser (thanks to the advice from incredible hairdressers) I get, the more I value my hair's health. When I was younger, I used to love to straighten my hair, apply a lot of hairspray (I'm talking a bottle a fortnight) and wash it every night. 
Now I have grown older, I understand the importance of embracing my natural waves, trying not to use damaging products and using the right shampoo and conditioner. I also take hair and nail supplements to ensure I'm really nourishing them as much as possible.
Walk us through your hair-wash day routine.
I train a lot and do vigorous workouts that cause me to sweat, so hair wash day is one of my favourites, but I try to limit it to 2 times a week. I tend to mix up my shampoos and conditioners every few months, but if I'm using heat on my hair (literally obsessed with my Elchim 8th Sense Run Digital Ultrafast Hair Dryer), I like to use the Sexy Hair Heat Protectant Spray. If the ends feel dry, I go in with the Sexy Hair Healthy Love Oil.
What three hair care essentials would you take to a deserted island?
Firstly, a wet brush: my fine hair gets tangled super easily, so a detangling brush is a must. Secondly would be a hair treatment; I love the feeling of soft hair after you wash it out. The third would be a claw clip or scrunchie because I like to have my hair off my face most of the time.
What is your ultimate hair hack?
That's an easy one—I taught the girls on the MUA national finals trip. I love to put in a hair treatment and use that as the base product to slick back my hair into a nice, neat bun. The treatment gives it a little bit of a wet look, smells divine and works wonders for your hair, all whilst looking fabulous and put together. Another key component of the slick back bun is a round brush with heaps of bristles to really make it look tidy.
Has anyone shared any hair advice that's stuck with you?
I have been fortunate to work with some incredible hairdressers, many of whom have given me great advice. However, what stuck with me was to try to wash my hair as little as possible to ensure I give my hair the chance to produce natural oils that help protect my scalp and nourish my hair. Previous to this advice, I used to wash my hair almost every night.