Hair Health
Ask How-To: Everything You Need To Know About Maintaining Bleached and Coloured Hair
Whether you're bleaching, balayage-ing or trying a new colour, this guide is a good place to start.
Posted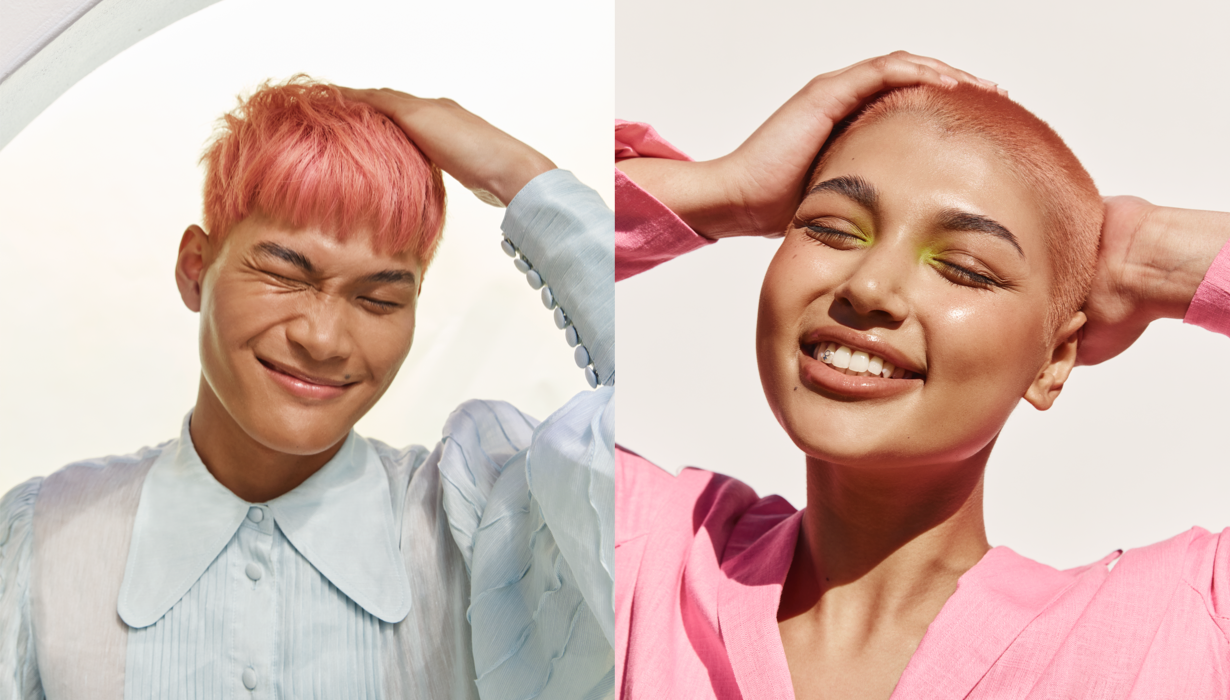 In this article
1. What's the best way to look after and maintain colour-treated hair?
2. How causes bleach and colour damage? 
3. What are the typical signs of colour or bleach-damaged hair?
4. How do I repair damage caused by bleaching or colouring my hair?
5. A simple routine if you have bleached hair
6. A simple routine if you have coloured hair
What's the best way to look after and maintain colour-treated hair?
Turn down the heat on your styling tools: yes, we love our straightener, too – but heat can cause excessive damage to hair that might already be compromised due to colouring. Use your curling or straightening iron and blow dryer on a lower heat setting – it'll make all the difference. 

Choose your shampoo and conditioner wisely: give your strands some TLC and that fresh colour plenty of longevity. Take Sexy Hair's Healthy Hair Colour Lock Shampoo and Conditioner: the aim of this duo is to keep your colour vibrant for up to 75 uses; both are sulfate-free and infused with rose and almond oil to gently repair and add shine

Tone at home: speaking to blonde hair specifically, a purple shampoo, conditioner or treatment is also good to have on rotation. Anything purple-based will neutralise brassy yellow and orange tones and are a great at-home solution for toning hair.

Keep those strands hydrated: the key to colour that lasts is healthy, hydrated hair. Moisturised strands hold colour better for overall lasting results. And did you know the more often you dye your hair, the more susceptible it is to colour fading? Hair becomes more porous each time you dye it, which allows more water to pass in and out of the hair, reducing your colour's vibrancy as it does.
What causes bleach and colour damage? 
Let's start with the difference between bleaching or lightening your hair compared to hair colouring. The easiest way to describe the difference is that hair colouring is opening the hair and then putting colour molecules back in, and letting the cuticle close back up. When bleaching our hair, the goal is to remove as much pigment as necessary for your desired result.

To understand how hair can become damaged from either of these two things, it's handy to know what actually happens when we do it. When bleach is applied the strands swell due to alkaline agents which lighten the hair. Once the cuticle has expanded, the agents penetrate the hair's cortex and dissolve the natural pigments, known as melanin. The longer the alkaline agents are left on your hair, the more colourless your strands look. Bleach can increase the porosity of your hair (which is the ability to absorb moisture) because the cuticle lifts and becomes damaged. Although overly porous hair absorbs more moisture, it also releases it faster, leading to dry, brittle strands and split ends. Bleaching also weakens the structure of the fibre by breaking down the natural protein in hair, resulting in slowed hair growth.

As for colour-treated hair more generally, the damage from permanent colour can come from opening and closing the hair shaft multiple times. During this process, the bonds that hold the structure of our hair together can be compromised. The impact of permanent and semi-permanent dyes can also depend on a range of factors, from your hair's condition beforehand to things like its natural pH level. Either way, altering your hair's structure through colouring or bleaching causes your it to become brittle and lose its strength – it's also more susceptible to heat damage.
What are the typical signs of colour or bleach-damaged hair?
The initial signs are hair breakage, split ends and fragile lengths. The most visible signs are often dull blonde hair that lacks shine, extremely dry hair that lacks moisture and excessively frizzy hair. Bleached blonde hair especially becomes more sensitised, with increased tangling and rougher texture which may feel bumpy and coarse.
How do I repair damage caused by bleaching or colouring my hair?
You probably don't need a reason to sit on your couch with a hair mask on and a cup of tea in hand on a Sunday afternoon, right? Any type of bleached or colour-treated hair will benefit from extra nourishment between washes. A moisture-restoring treatment helps with the straw-like feeling your hair gets when it's overprocessed and dried out.

Up next, focus on bond building. What's that? We're glad you asked. The keratin (protein) in our hair is held together by chemical bonds; the strongest are disulfide bonds which give the hair its structure, strength and stability; hydrogen bonds come next, and are responsible for your hair's texture and shape, as well as its resistance to external elements. Salt bonds are also present and contribute to hair's strength. When these bonds are broken by something like bleach or hair colour they can break. Bond-building haircare works to protect and restore broken bonds by strengthening the links between the keratin proteins that make up your hair strands. Olaplex No. 3 Hair Perfector is a great bond-building product. Bond-building formulas like this one differ from traditional shampoos and conditioners which generally just add moisture back into your hair but don't rebuild the bonds of broken strands.
If things have gotten a little dire with your hair and the split ends are out of control, a quick trim can't hurt. Regular trims can also help encourage your hair to grow – that's a plus! 
A simple routine if you have bleached hair
All hair is healthy enough for bleaching, it's just a matter of treating it correctly and making sure the right products are used – like these!

Step 1: If you've had your hair lightened or bleached, ensure you're using a shampoo and conditioner to maintain that fresh colour. Sexy Hair's Healthy Hair Bright Blonde Shampoo is a violet-based shampoo that counteracts brassiness and hydrates compromised strands. It's also sulfate free! Don't forget to use a colour-loving conditioner too.
Step 2: Once a week apply evo's Fabuloso's Platinum Blonde Colour Boosting Treatment to towel-dried hair – its purple colour is strong, so wear gloves when applying. It instantly refreshes and tones blonde and bleached hair so you don't have to visit your colourist as often. 
Step 3: To help strengthen your strands while they're bleached apply a liberal amount of REDKEN's Extreme Anti-Snap Leave-In Treatment after every shower. It's formulated with amino acids and arginine to strengthen and fortify the hair, and citric acid to condition and add smoothness.
A simple routine if you have coloured hair
Step 1: Swap in a colour-saving shampoo and conditioner into your shower routine. Sexy Hair's Healthy Hair Colour Lock Shampoo and Conditioner help keep your colour vibrant and your strands shiny.
Step 2: Try KEVIN.MURPHY's Repair-Me.Rinse conditioner if your hair is feeling particularly damaged and dehydrated. It's a rinse that's powered by 'soft-state proteins' and enzymes that gently lubricate the hair. It also contains shea butter to help repair and protect against damage caused by colour. 
Step 3: Apply Olaplex's No. 3 Hair Perfector to towel-dried hair once a week, comb through and leave on for at least 10 minutes before rinsing. Follow with your shampoo and conditioning regime. It'll help restore the hair's integrity and prepare it for a colour change.