Hair Health
Ask How-To: Everything You Need To Know About Hair Thinning and Loss
Is your patience running thin with hair loss? You've come to the right place.
Posted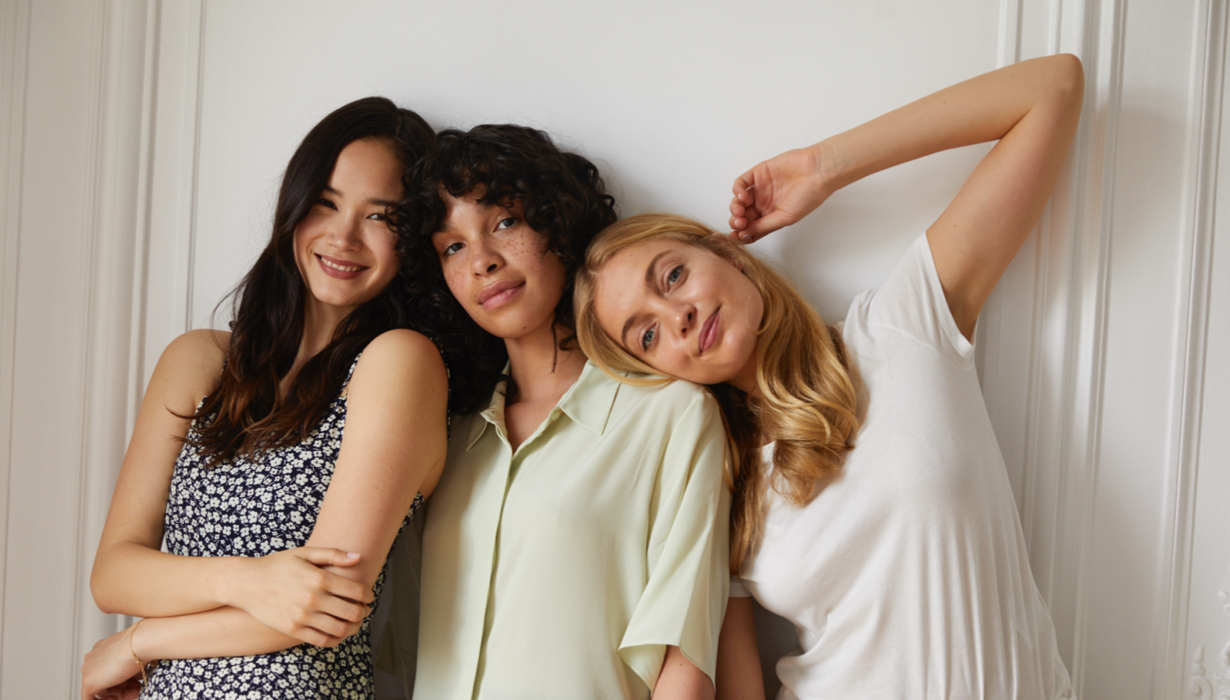 In this article
1. What causes hair to thin?
2. What are the typical signs of thinning hair?
3. What can I do to stop my hair from thinning?
4. Does thinning hair relate to the health of my scalp?
5. A simple routine for fine or thinning hair
What causes hair to thin?
Diminishing follicles: also known as follicle miniaturisation, it's when hair follicles that once produced healthy hairs start generating thinner hairs with fragile shafts. The less-dense hairs can lead to the appearance of thinning; those with hair miniaturisation experience a disruption in the hair growth cycle resulting in shorter hair strands and constricted follicles. The result? Hair thinning and loss. 

Hormonal changes: men and women can both develop hormonal imbalances that can cause hair to thin or fall out – addressing a hormonal imbalance may help.

An unhealthy scalp: to get to the root of your hair thinning or falling out it pays to focus on what's happening on your scalp (more on that further down).  

Rough styling: too much tension and excessive or constant pulling of the hair can lead to something called 'traction alopecia'. Those snatched ponytails look bomb, but pulling too tightly (or adding extensions) can lead to your hair falling out.

Daily heat styling: picking up that tool can also create problems for your hair via thermal damage, making it more brittle, damaged and prone to breakage. Using an effective heat protectant before styling, getting frequent trims and giving your hair some days off from heat styling will all help to prevent hair loss.

Colour treating: over-processing your hair by bleaching and dyeing it too frequently can cause it to break if you're not taking the right steps to keep it protected. 
What are the typical signs of thinning hair?
There are a few ways hair loss can present: significant allover shedding, thinning hair at your hair part (and your part appearing wider) and thinning around the temples or crown of your head. It's quite common to experience hair loss as we age because our active follicles tend to grow finer hair strands – it's kind of like a hair right of passage. So, even if we have about the same number of hairs on our heads, our tresses can appear thinner. Other signs of thinning include a thinner ponytail or your hair appearing flatter even after it's been freshly washed. 
What can I do to stop my hair from thinning?
Healthy hair usually begins with a healthy scalp, so using a specially-formulated shampoo for thinning hair can help improve scalp conditions contributing to hair loss. Try Paul Mitchell's Tea Tree Scalp Care Anti-Thinning Shampoo, it contains a regenerative blend of Kakadu plum (which is rich in vitamin C and helps strengthen follicles and improve blood circulation to promote hair growth), pea peptides, clover flower (soothes scalp irritation) and turmeric (protects follicles from environmental damage). It's also colour-safe and stimulates stronger, volumised hair by giving the appearance of thicker strands – and it gently removes impurities from the scalp for optimal hair growth.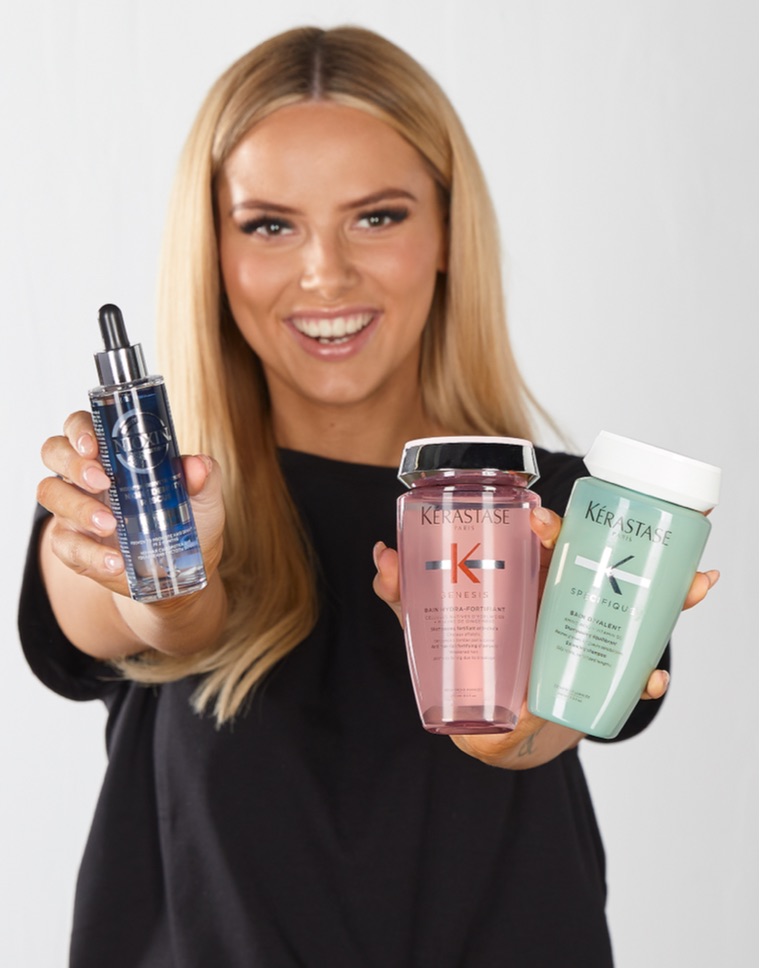 Look for hair and scalp serums that work directly on the follicles and harness active ingredients. Take Kérastase's Densifique Femme 30-Day Program – its unique formula comes in vials, and each one is packed with active ingredients, including yang complex, vitamin B3, B5 and B6, and texturising polymers to provide a daily boost to the thickness of hair. 
B vitamins are especially great for promoting hair growth – their key function of producing red blood cells helps generate new hair and greater tensile strength by transporting oxygen and key proteins to the scalp. And what's tensile strength? The maximum stress a hair can withstand while being stretched or pulled before breaking.
You might be familiar with microdermabrasion for your skin, but did you know your hair can benefit from it too? Our very own Hairhouse Micro Derma Hair Growth Roller is an innovative, skincare-inspired device designed to boost scalp health and help promote new hair growth by stimulating blood flow in the scalp. We promise it doesn't hurt! 

Finally, if it's the appearance of thinning hair that you'd like to address, getting some cute wispy bangs or curtain bangs is a great idea! 
Does thinning hair relate to the health of my scalp?
If your hair follicles on your scalp aren't happy, hair may grow thin or fall out at a faster rate. Each one of our follicles produces oil via the sebaceous gland – how much it produces varies from person to person. To give your follicle the best chance of growing healthy hair, it needs to be healthy, free from dead skin, oil and product buildup – all of these things will have an impact on the quality of hair growth.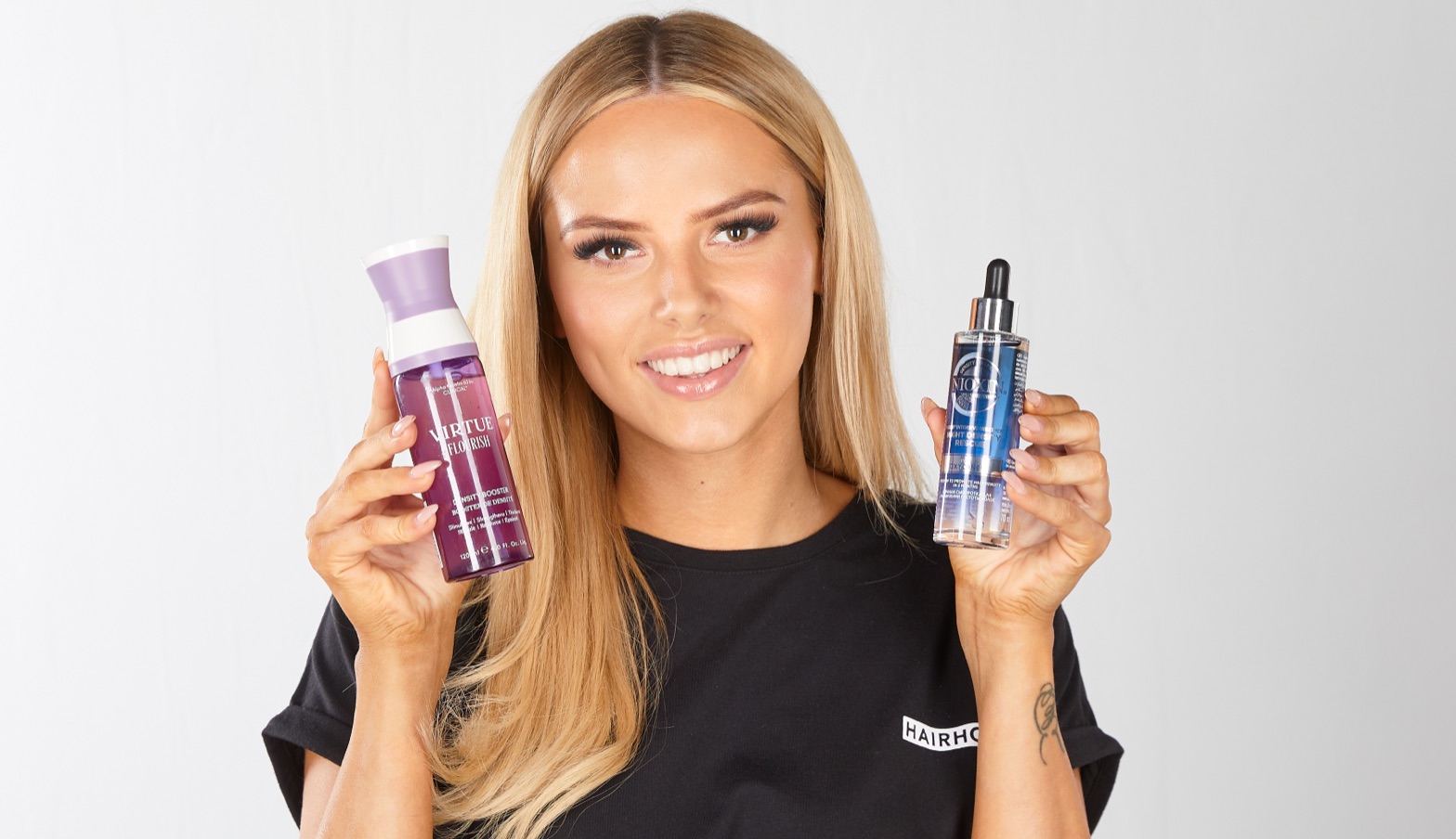 A simple routine for fine or thinning hair
This routine is not only simple but can be achieved using one kit! Virtue's Flourish 90-Day Kit is a two-part system (a treatment plus shampooing and conditioning combined) focusing on scalp health and fibre survival to give you the best results possible. 

Step 1: The first part of the system is a daily botanical-based treatment – simply section the hair and spray directly onto the scalp. It's ideal for fine, fragile hair and directly targets follicles and protects them from damage.
Step 2: Shampoo your hair 2-3 times a week using Virtue's unique formula, which strengthens existing hair and creates an environment for healthy new growth. Plus, it removes scalp buildup, cleanses the hair shaft and clears debris from follicle openings.

Step 3: Don't forget the conditioner! Virtue's conditioner in this set is lightweight, restorative and ideal for thinning hair – its key ingredient is probiotic ferment which nourishes and calms the scalp. 
This kit from Nioxin is similar, but its third step is a leave-in treatment after shampooing and conditioning if that's more your style.
Shop the look: 
1. Nioxin System 2 Trial Kit 
2. Paul Mitchell Tea Tree Scalp Care Anti-Thinning Shampoo 
3. Hairhouse Micro Derma Hair Growth Roller 
4. Kerastase Densifique Bain Densite 
5. Virtue Flourish 90-Day Kit
6. Kerastase Densifique Femme 30-Day Program