Hair Health
Ask How-To: Everything You Need To Know About Grey Hair
We're here to make naturally going grey a breeze.
Posted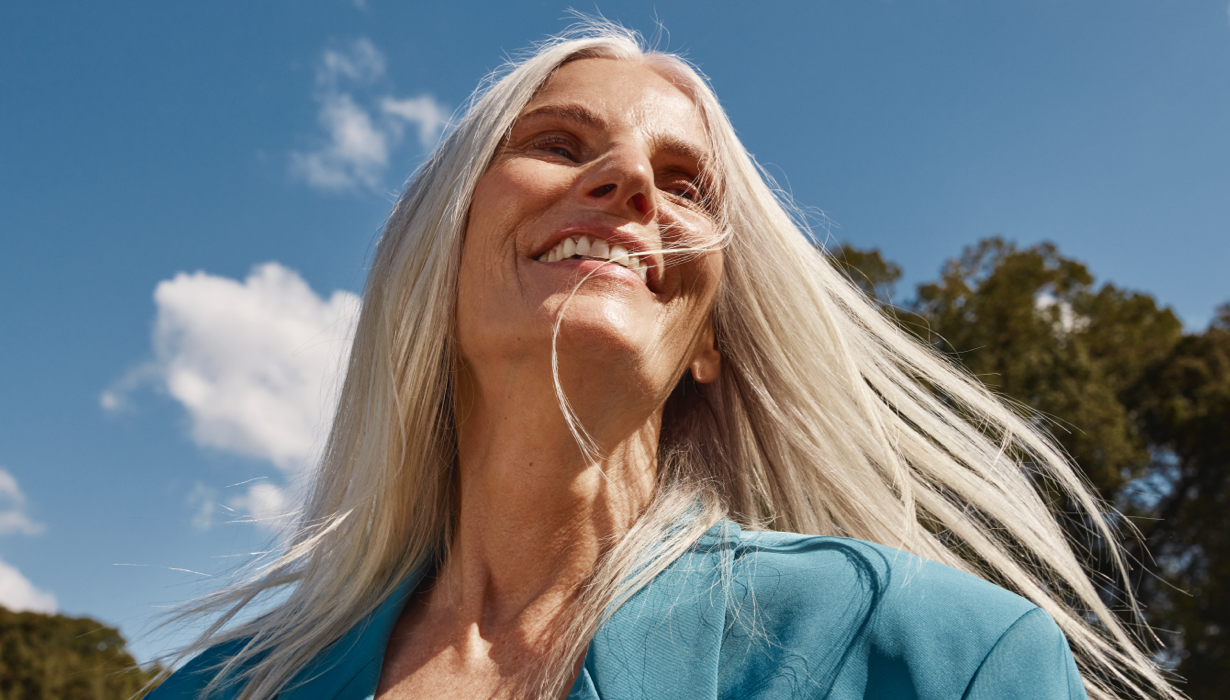 In this article
1. How to maintain and style grey hair
2. What are the typical characteristics of grey hair?  
3: What's the best way to transition to grey? 
4. How do I keep my grey colour looking natural and vibrant?
5. What does grey hair need to stay healthy?
6. A simple routine for maintaining grey hair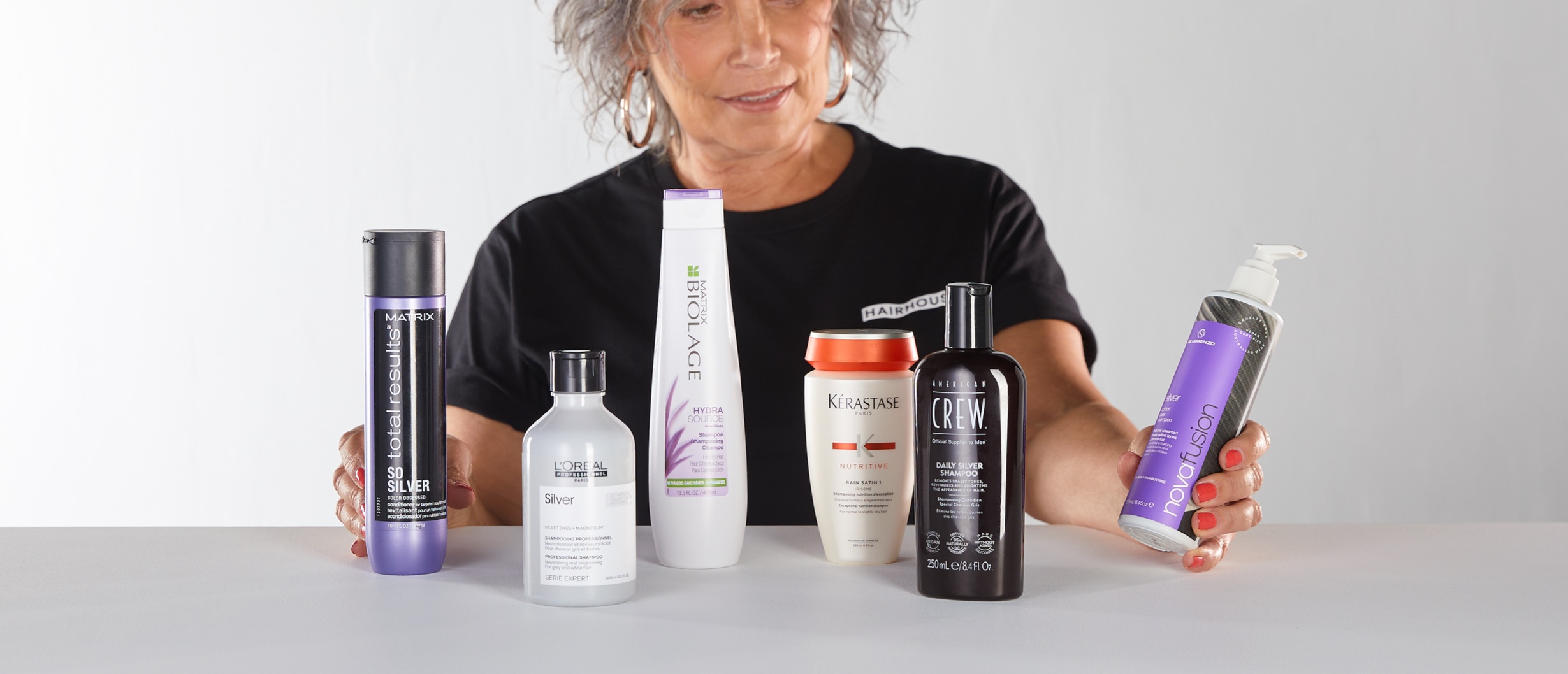 How do I maintain and style grey hair?
Focus on hydration: you may notice when you start going grey that your hair feels dry – this is due to your oil glands producing less sebum (a natural occurrence when we age) leading to hair feeling coarse and dry.

Silver and purple shampoos: similar to lightened or blonde hair, grey hair can sometimes need a little hand staying bright and vibrant. Opt for a formula that eliminates yellow undertones and refreshes grey tones.

No plucking! For the love of your lengths, no matter how tempting it might be, please don't pull out grey strands. It's better to have hair to colour than hair that's thinning due to destroying the root by pulling it out.

Style with lightweight products: if you have finer hair and want it to look bouncy and healthy, stay away from thick serums or ultra-rich pomades or creams because they can make your hair look flat. Instead, try a light anti-frizz shine spray to keep things smooth.

Treat yourself to a trip to the salon: if you want to address your greys, your colourist will be able to advise the best way to top up along the roots and then dye your hair entirely by the time it's around 30% grey.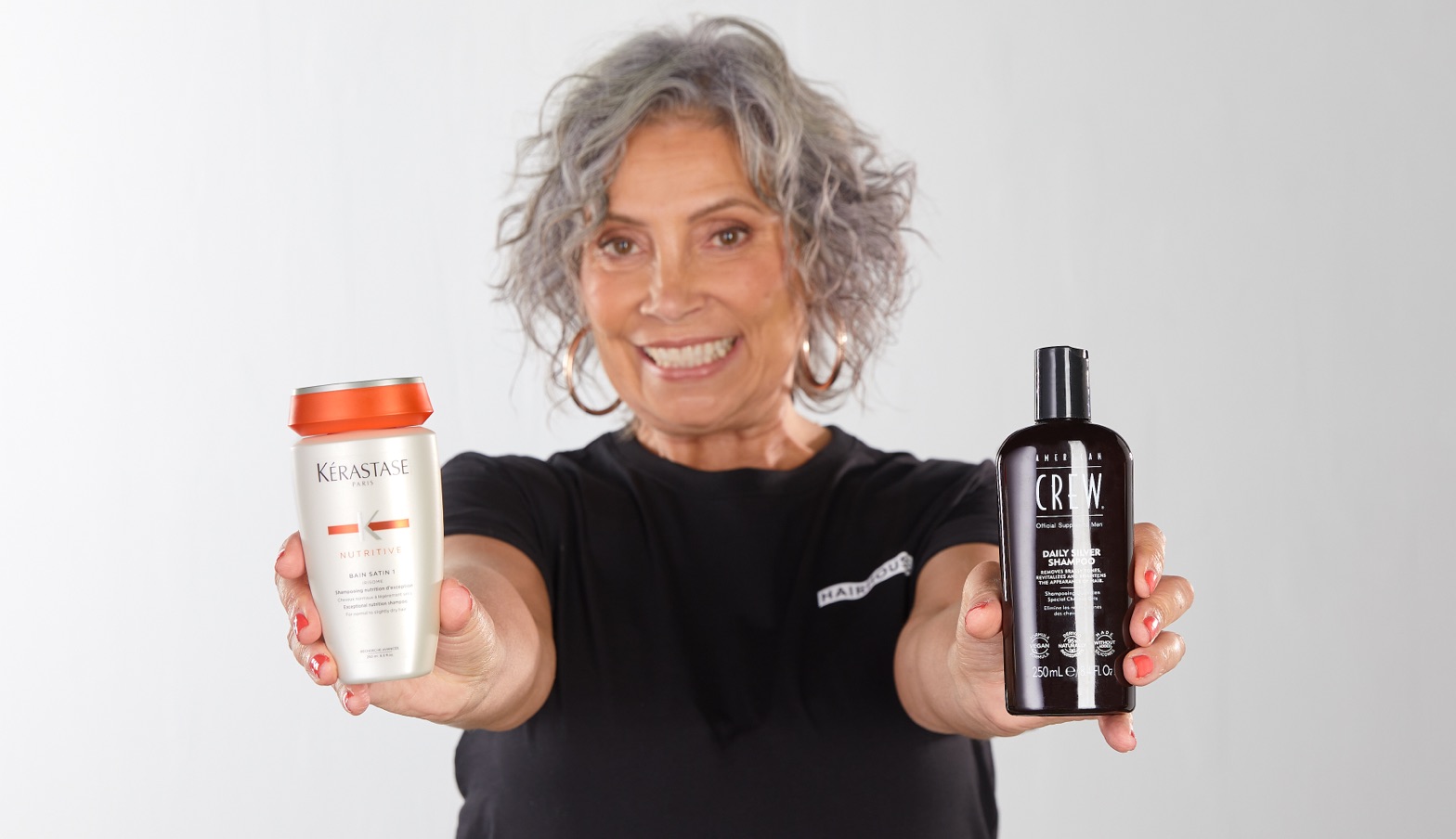 What are the typical characteristics of grey hair?
A combo of age and genetics is the result of grey hair. Your hair follicles contain pigment cells that produce melanin, which gives your hair its colour – and a general biological rule is the older you get the less melanin your body produces;  this doesn't stop some people from going grey at a young age, however. When your body stops generating melanin, hair goes grey, silver or white. Throughout your life, your hair goes through natural cycles of falling out and growing back and, in most cases, after age 35 it's more likely to grow back in grey. 

So we know grey hair appears grey (obviously), silver or white, but what about how it feels? Grey hair is actually finer than coloured/non-grey hair, but it may seem drier because our scalps produce less oil as we get older. Going grey also affects the structure of the hair – it might dry quicker and even hold styles better and longer. 
What's the best way to transition to grey? 
Regardless of how you approach it, ensuring you continue to focus on hydration with your haircare is paramount. From there, you have a few options: topping up the colour on your roots regularly or adding subtle colour all over to make the transition to grey more seamless. This is as simple as a lighter base colour in conjunction with highlights, or go all the way and dye your hair grey, ashy, silver or platinum before transitioning to grey naturally. If any of these sound like an option for you, a trip to see a  colourist is on the cards.
How do I keep my grey colour looking natural and vibrant?
You want to start by using a purple-hued shampoo and conditioner several times a month to keep your colour strong. Clarifying and purple shampoos can keep the grey or white hair looking brighter and will also help prevent the yellowing that comes from the sun. Be careful not to overdo it though, once a week maximum will do the job. 

Try L'Oréal's Silver Shampoo – a deep purple colour to help to neutralise yellow tones, delivering toning results while nourishing and protecting the hair fibre and boosting shine.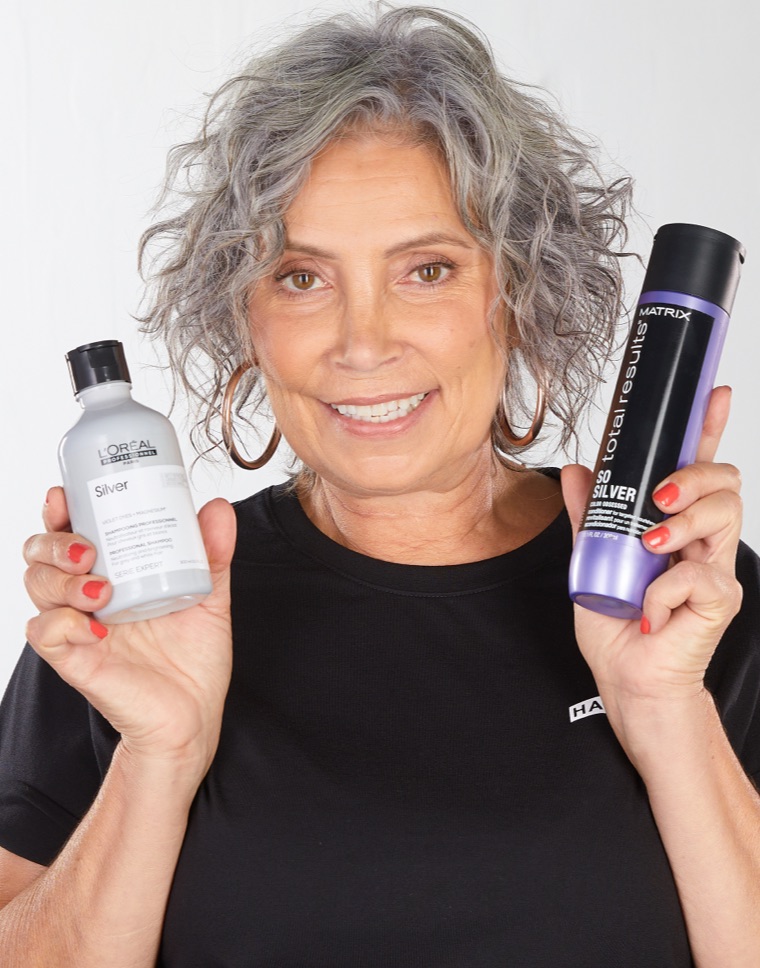 Up next, focus on moisture from roots to ends. This will keep grey hair soft, shiny and healthy. You want to make sure your go-to shampoo and conditioner (when you're not using a purple-hued formula) is hydrating and full of antioxidants to keep those strands looking bright and fresh. We love Matrix BIOLAGE's Hydrasource Shampoo and Conditioner: both products are inspired by the moisture-rich aloe plant which helps optimize moisture balance and prevent future damage and dryness that can often happen with grey hair. You can also focus on smoothing and glossing treatments if you find your grey hair has lost its lustre. 
Grey hair will also appreciate a masking moment. If it's feeling a little thirsty, treat it to a weekly dose of Kérastase's Nutritive Masquintense Epais. It's lightweight but still provides long-lasting nutrition to restore dry, sensitive hair fibres thanks to wheat protein, a hydrator that strengthens the hair shaft, prevents breakage and adds shine.
A simple routine for maintaining grey hair
Step 1: Bring a purple-toned shampoo into your hair wash routine to ensure those yellow tones don't creep up. Try Maria Nila Sheer Silver Shampoo: its violet formula is infused with blackberry extract to help bring shine and strength back to your hair while toning down unwanted brassiness. Use once a week.
Step 2: Apply a weekly mask treatment for added moisture and nourishment beyond shampoo and conditioner. We love Kérastase Nutritive Masquintense Epais because it contains bejoin resin which forms a protective layer on the hair, preventing moisture loss and boosting shine.
Shop the look:
1. Kérastase Nutritive Masquintense Epais
2. De Lorenzo Novafusion Silver ShampooL'Oréal Silver Shampoo 
4. Maria Nila Sheer Silver Shampoo
5. American Crew Silver Shampoo
6. Matrix BIOLAGE Hydrasource Shampoo and Conditioner