Hair Health
Ask How-To: Everything You Need To Know About Dandruff
Heads up: here's what to do when your scalp's being flaky.
Posted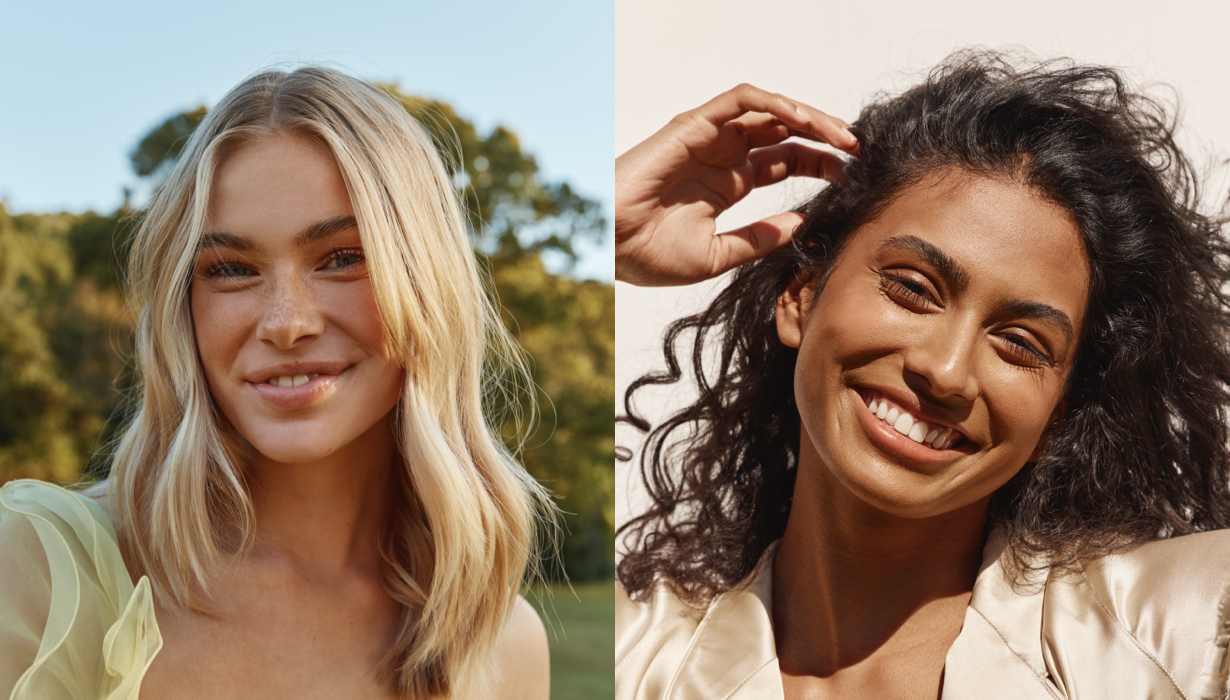 In this article
1. What causes dandruff?
2. Are dandruff and a dry scalp the same thing?
3. What are typical signs of dandruff?  
4. What's the best way to address dandruff and stop it from returning
5. A simple routine to avoid dandruff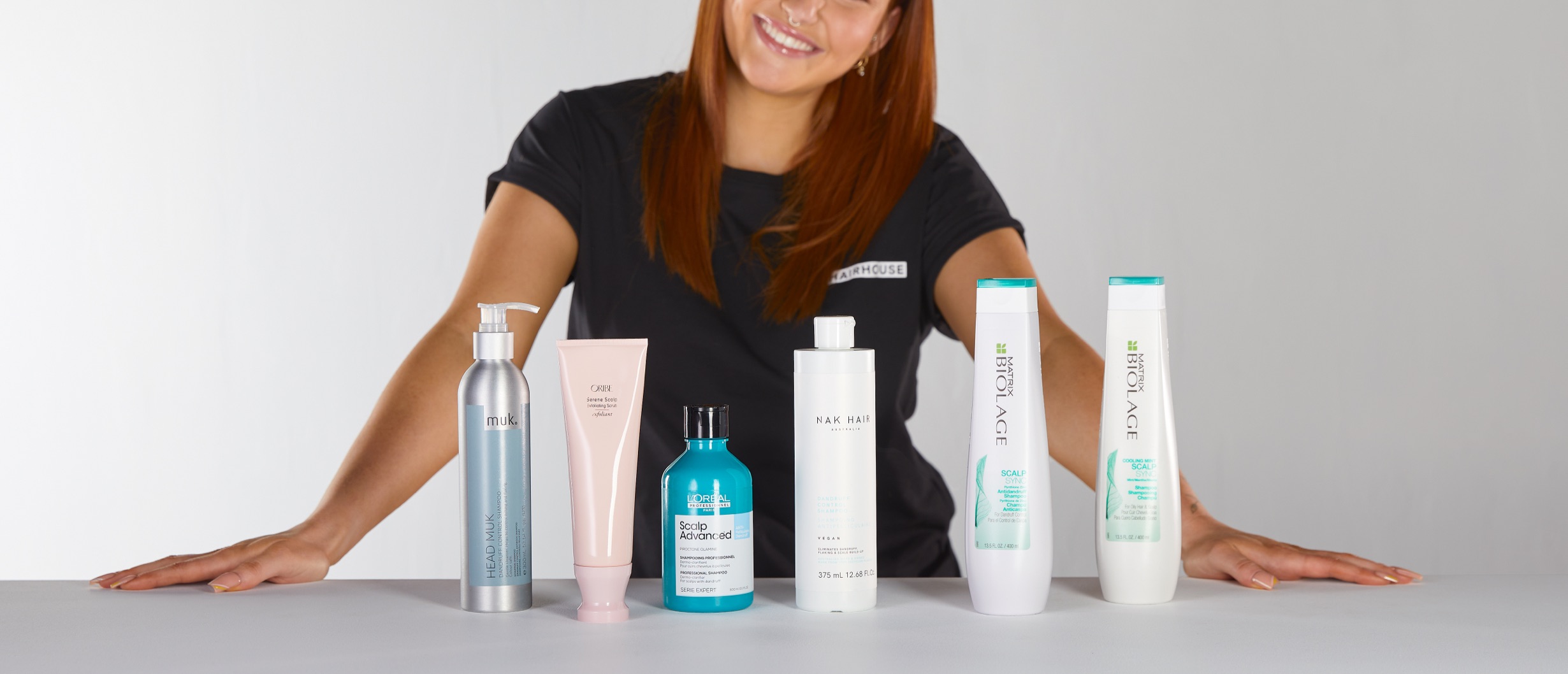 What causes dandruff?
The exact cause of dandruff is a mystery (sorry), but it's most likely triggered from:
Overgrowth of Malassezia: a naturally present yeast-like fungus on the scalp that speeds up skin cell turnover when it feeds on and breaks down sebum (aka oil), as it leaves oleic acid in its place. Our scalp responds to oleic acid as it would an irritant, accelerating skin renewal and causing the shedding of dead skin cells, which stick together to form tiny-yet-visible flakes – voila, dandruff!

Oily scalp: our scalp is made up of many, many hair follicles. Each hair follicle contains a sebaceous gland – a little factory that produces sebum to moisturise the scalp and hair. Oily scalps have been linked to dandruff because Malassezia feeds off sebum, so by overproducing oil, our sebaceous glands create an ideal environment for fungus to thrive. 

Seborrheic dermatitis: it's a common form of eczema that mainly affects oily parts of our body like our scalp and face. Sadly, those with seborrheic dermatitis are more likely to experience severe dandruff symptoms like larger, greasy flakes, inflammation, itching and discomfort. 

Contact dermatitis: using haircare products with harsh chemicals or allergens can cause reactions and irritation, making your scalp inflamed, itchy and more prone to dandruff. The solution? Simple: stop using the product that's making your scalp unhappy.

Shampoo routine: not regularly or thoroughly cleansing your scalp can cause dead skin cells to gather and bunch together, creating those large flakes. However, shampooing too often can dry out the skin on our scalp, aggravating dandruff symptoms. It's all about balance. 
 Are dandruff and a dry scalp the same thing?
Dandruff and a dry scalp can be mistaken for each other because they manifest similarly – noticeable flakes and an itchy scalp. But dandruff and a dry scalp are two different concerns: dandruff is a chronic skin condition that comes and goes, whereas a dry scalp stems from an easily-remedied hydration issue. 
How do you get a dry scalp? Pretty easily. Essentially, the skin on your scalp is similar to anywhere else on your body, and a dry scalp occurs just like dry skin would: from your skin not retaining enough moisture. Shampooing too regularly and using the wrong haircare products can zap much-needed moisture from your scalp, just like being exposed to cool or hot climates (oh, and central heating counts too!).
If you have a dry scalp and want to restore your moisture imbalance, turn to Moroccanoil's Dry Scalp Treatment – an argan-oil-enriched remedy that'll also help with itchy sensations and flaking. It contains salicylic acid (a beta-hydroxy acid) that actively sloughs dead skin cells to prevent flaking, geranium oil (an antioxidant) to soothe irritated and sensitised skin, and vitamin E and argan oil to nourish the hair and scalp, helping to revitalise damaged hair too.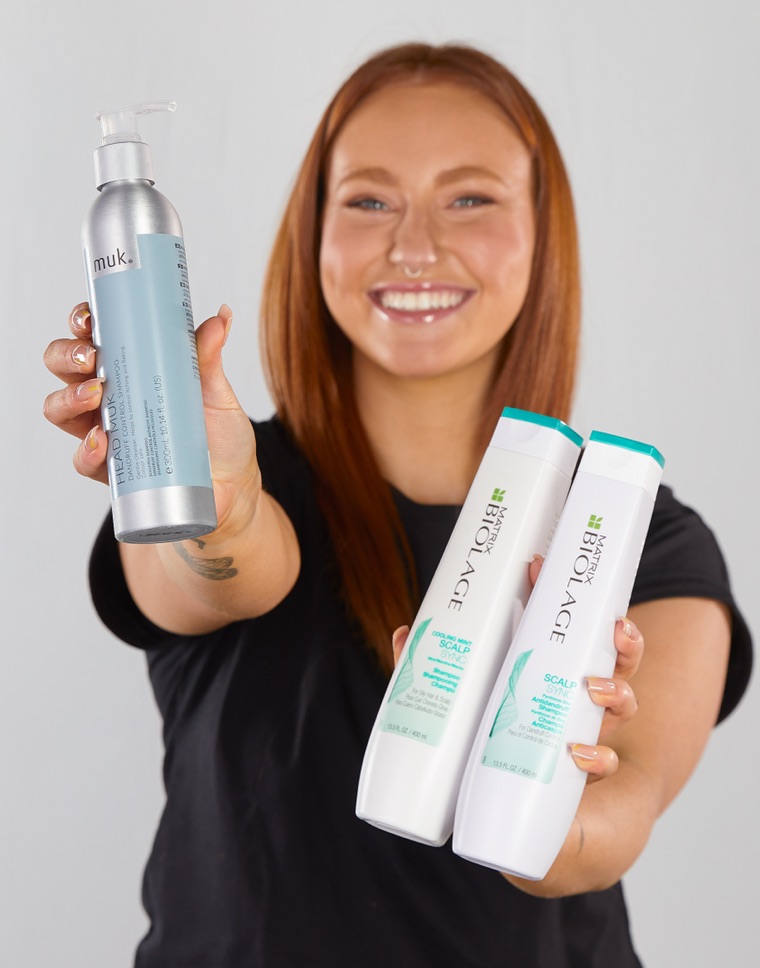 What are typical signs of dandruff?
Dandruff is pretty easy to spot, with white or yellowish flakes being a telltale sign. They can show up on the scalp, hair and annoyingly on our clothes, not the accessory we envisage when we get dressed for the day. Sadly, where dandruff goes, itching, dryness, sensitivity, and redness often follow. Of course, these symptoms vary from person to person, from mild cases of flaking to severe itchiness and scalp inflammation.
For irritated, dandruff-prone scalps, we love Davroe's Scalp Remedy Lotion Spray – a leave-in haircare product that helps to clear dandruff and maintain a healthy scalp. Plus, it's boosted by anti-inflammatory heroes like aloe vera and Kakadu plum, which draw moisture in and soothe the scalp.
What's the best way to address dandruff and stop it from returning?
Product-wise, your go-to approach will be a shampoo alongside a gentle scalp scrub (so long as your scalp isn't sore, red or feeling super inflamed). 
Our pick of the dandruff-control bunch is the ​​L'Óreal Scalp Advanced Dandruff Shampoo. It's enriched with piroctone olamine, an anti-fungal active that fights against the bacteria that can cause dandruff while soothing the scalp and removing dry and oily flakes. Of course, it's free from alcohol, sulfates and silicones, so it won't upset irritated skin or exacerbate dandruff symptoms. A literal breath of fresh air for hair thanks to antibacterial mint leaves, the Biolage Scalpsync Anti-Dandruff Shampoo is another top choice – it contains pyrithione zinc to target dandruff, control the appearance of visible flakes and relieve scalp irritation. 
Plus, your scalp will thank you if you turn down the temp in your shower. Scalding hot water strips the scalp of much-needed moisture and natural oils, contributing to dryness and irritation. And no scratching! Those itchy sensations are horrible, but giving into temptation and having a good scratch will do more damage than good – it'll only irritate and inflame the scalp further. 
Your lifestyle can impact dandruff flare-ups too. It's harder said than done, but limiting stress will help prevent dandruff symptoms, and eating a balanced diet will promote optimum scalp health. Look out for foods full of essential nutrients like vitamins B, zinc, and omega-3 fatty acids.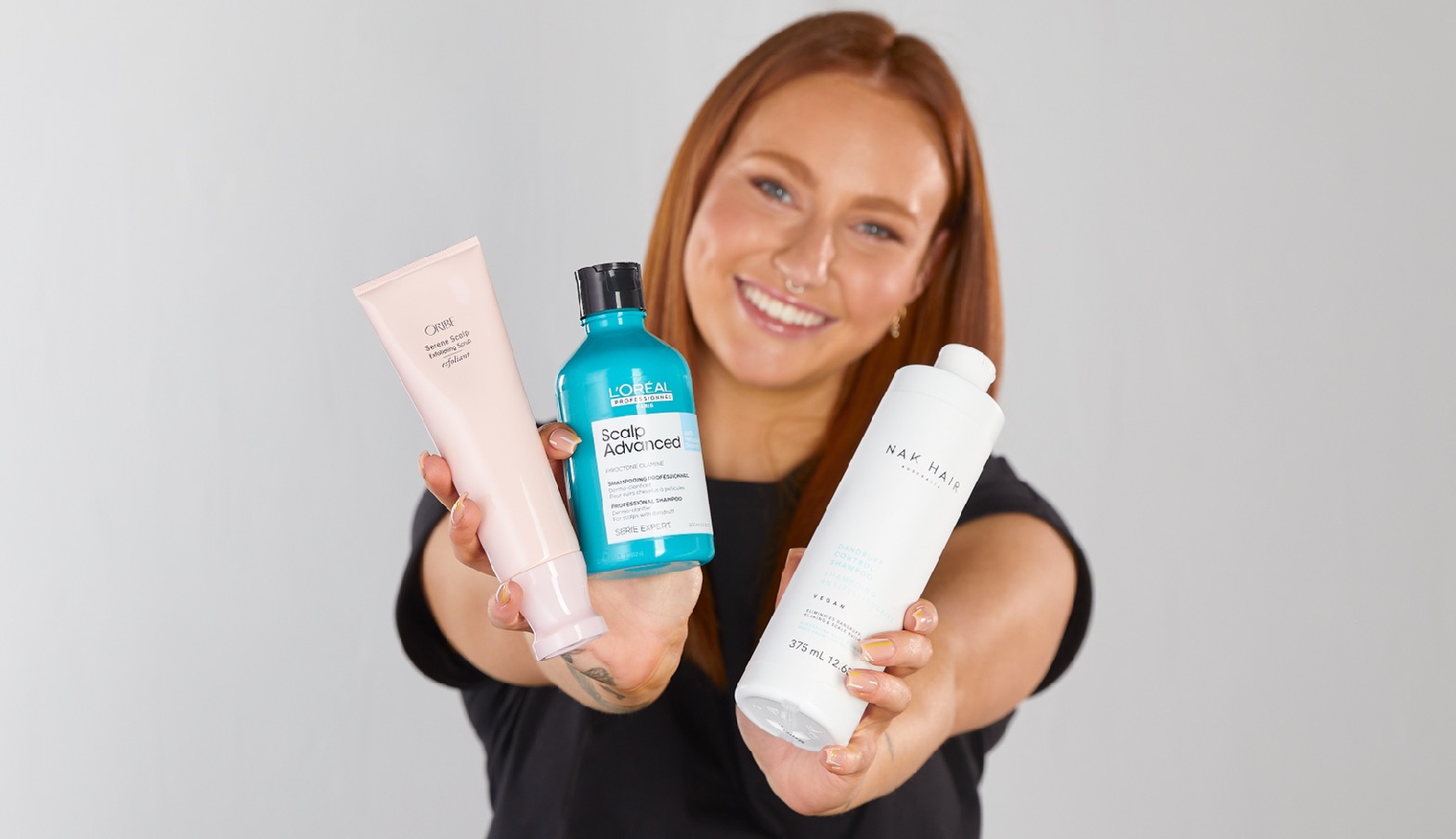 A simple routine to avoid dandruff
Step one: Use the Oribe Serene Scalp Exfoliating Scalp Scrub weekly (before shampooing) to remove dead skin cells, sebum and product debris that builds up for optimum scalp health. It's nice and gentle and contains alpha hydroxy acids and fruit extracts.
Step two: Shampoo with the NAK Dandruff Control Shampoo if you're experiencing irritation – it's a gentle purifying cream cleanser that harnesses nourishing sea minerals and peppermint extract to soothe itching, redness and an irritated scalp environment.
Step three: After shampooing, apply Davroe's Scalp Remedy Lotion Spray. Massage into hair and scalp, leave in for 2-3 minutes and rinse well. Enriched with natural plant extracts of aloe vera and Kakadu plum, it's suitable for all hair types and deeply nourishes and soothes the scalp while controlling flakes.
Shop the look
1. Biolage ScalpSync Anti-Dandruff Shampoo
2. NAK Dandruff Control Shampoo 
3. Morrocanoil Dry Scalp Treatment
4. Oribe Serene Scalp Exfoliating Scalp Scrub
5. Davroe Scalp Remedy Lotion Spray