For those of us with coarse, curly or coily hair (read: the kind that tends to misbehave), it generally takes an army of hot tools and styling products—or a chemical in-salon treatment—to achieve a sleek, shiny and smooth look. For me, a power-packed hair dryer, ceramic round brush and layers upon layers of a protective product are essential for managing my signature kinks, frizz and flyaways, which makes my mane the perfect candidate for trying Elchim's Hot Honey Care Treatment. 
I understand if you're a little sceptical, but this heat-activated hero works magic with hair. While it won't cut out any extra steps, hair feels noticeably softer, more manageable and healthier after blow drying. So, let's get into it. Here's my 101 on Elchim's pod-style hair treatment.
What is the Elchim Hot Honey Care Treatment?
A serum-infused, heat-activated pod treatment designed to slot inside a purpose-built concentrator nozzle. The catch? These nozzles are only compatible with Elchim and Halo by Elchim hair dryers—so this is officially your sign to dig yours out or make a hair investment you won't regret.
These single-use Hot Honey Care Treatments are easy to use, blending drying, hair styling and treatment with every pass. The heat and airflow generated by the dryer diffuse the serum treatment through your hair as you dry and style, smoothing hair and infusing it with a glossy shine without a second thought by you.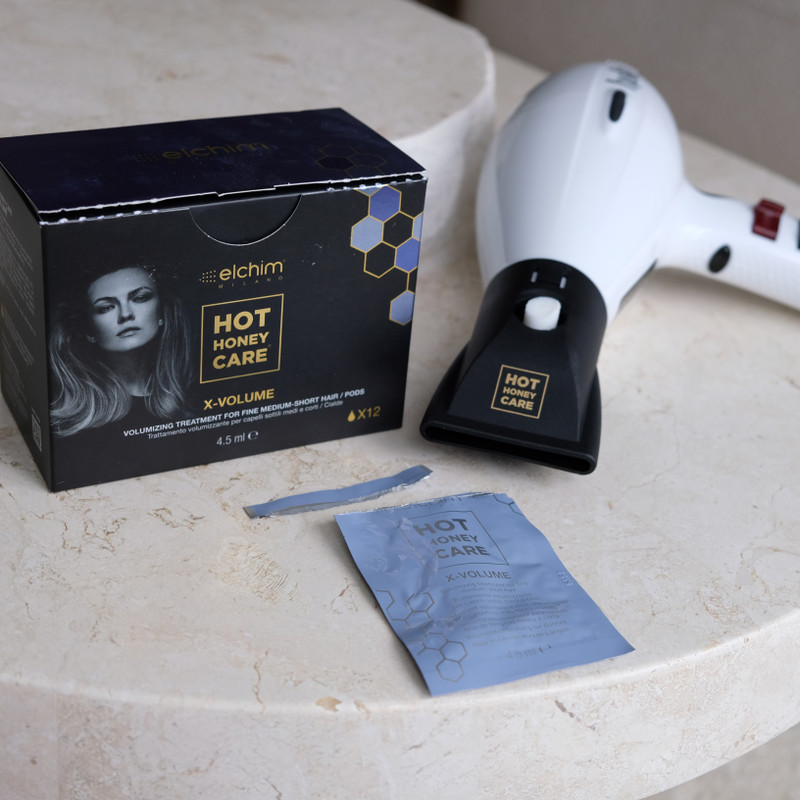 Benefits of the Hot Honey Care Treatment
Each pod is brimming with a blend of active ingredients to care for hair and bring back lustre and shine. Shout out to hero ingredient honey, a natural emollient and humectant which nourishes and retains moisture within hair follicles to prevent hydration loss and smooth the cuticle. It also contains hydrolysed keratin to strengthen strands and hydrogenated castor oil to condition and soften.
The treatment is ideal for thick, wavy, or rebellious hair, but all hair types can enjoy the benefits. It's no-fuss hair styling at its finest with zero mess (aka no oily hands) and gives a weightless feel with no leftover sticky residue in the hair. It'll soften dry hair, boost shine in dull hair and enhance body and bounce, all while speeding up drying time—the perks just keep stacking up. Of course, it's the best for taming static, frizz and flyaways, too (the cherry on the cake for me).
Which Hot Honey Care Treatment is right for you?
The Hot Honey Care Treatment Starter Kit is the smartest choice if you're new to Elchim's Italian-made styling system. It contains the Hair Dryer Concentrator (for use with Elchim and Halo by Elchim Dryers only) and four Sublime Liss Treatment Pods—containing a smoothing serum for frizzy, unruly manes.
Then, you can choose from three different treatments depending on your hair concern: top up on the Sublime Liss Treatment to smooth hair, Ultra Bodifying Volume Boosting Treatment if you have long, fine hair and are looking for lift and body, or Volumising Treatment for fine to medium, short hair to lift roots and promote thickness. Each Honey Honey Care Treatment Kit contains 12 pod treatments. Lucky you.
View this post on Instagram A post shared by Hairhouse Australia (@hairhouseaustralia)
How to use the Hot Honey Care Treatment
Honestly, it's easy breezy—literally. Follow my step-by-step guide for the best results (think: shine, long-lasting body and smooth strands free from flyaways and frizz).
1. Remove the Hot Honey Care Treatment capsule from its foil sachet.
2. Insert the Hot Honey Care Treatment capsule into your Elchim or Halo by Elchim-compatible hairdryer concentrator, ensuring perfect cap closure.
3. Dry and style your hair like normal. Remember the Hot Honey Care Treatment is a no-rinse product and the results will last until your next hair wash day.